NEW YORK ART OPENING & EVENTS
It's Summer so we are taking a partial break from updating this page. We'll still be adding information, but it will be less comprehensive and more select. We hope that you understand, and hope that you enjoy your Summer. Please continue to visit our site with gallery guides for 35 major art cities and guides for every state.

If you have an event that you would like listed, please contact us. We're interested in promoting the arts in New York and have several ways that we can help with your events. Please contact us at and send Press Release email to press@art-collecting.com.

Also, we'd like to recommend: ARTCARDS.CC which is a good resource for art events and openings.

Below is a partial list of art exhibitions, art openings, talks and Pop-Up's that are occuring this month or in the near future. Please beware that some events and galleries require that you RSVP. We work hard to provide you with correct information, however sometimes typos or changes occur. We highly suggest that if you are traveling a long distance to check with the galleries first or their websites. Please note: we do not attemp to list every New York event or openings, only a few selected. The text description with the listings usually come from press release or directly from the gallery website.

We suggest that you support local art galleries, artists, non-profit art organizations and art museums whenever possible. Please tell your art friends about Art-Collecting.com and mention us to galleries when visiting them. Also, be sure to look at our other New York guides which feature additional galleries, museums, art fairs, artists and art services in New York.

OUR OTHER NEW YORK AREA GUIDES

Chelsea | Lower East Side | Downtown | Midtown | Uptown
Brooklyn | Bronx | Queens | Hamptons and Long Island Gallery Guide
Upstate & Other New York Galleries

New York Art Fairs
New York Art Openings and Events
New York Art Museums and Art Centers

New Jersey Gallery Guide | Connecticut Gallery Guide

---

New York Art Openings and Events

May 2 WEDNESDAY

RANDALL'S ISLAND, first access 10am - 7pm (invitation only), FRIEZE NEW YORK, Randall's Island.
Introducing a fresh layout, new curators, and programs, Frieze New York 2018 brings together more than 190 galleries from 30 countries, showcasing the world's most significant artists, a series of talks, and the city's most talked about restaurants, all in a bespoke structure in Randall's Island Park. Hours: Thursday Preview, May 3: 11am-8pm, Thursday Private View, May 3: 5pm-8pm, Friday, May 4: 11am-7pm, Saturday, May 5: 11am-6pm, Sunday, May 6: 11am-6pm. Make sure you have a ticket and Previews and Private Views are invitation only. Transportation Changes, please note, due to construction works on East 90th Street, Frieze ferries only depart from East 35th Street ferry dock this year. Buy your ferry tickets here. Please note, there is no self-parking on Randall's Island. Purchase tickets here. May 2 - 6, 2018.


CHELSEA, Twilight Vernissage 9pm - Midnight (Ticket admission), SUPERFINE ART FAIR, 459 West 14th Street.
Cotton-candy-clad champagne, popcorn, and whimsical treats. Promising talent, Superfine! exhibitor, and world-renowned body painter Trina Merry will perform a live recreation of two pieces from her "Lust of Currency" series which examines the role of art, commerce and society in a commoditized culture. ON DISPLAY by Heidi Latsky Dance: a live deconstructed art exhibit/fashion show that turns a cast of diverse and extreme bodies into a sculpture court breaking down the boundaries between performer and sculpture Ethereal handpan sounds by Color of Rhythm. Noon to 7pm Thursday - Sunday. See their website for special programs. Purchase tickets here. May 2 - 6, 2018.


----------------------------------------------------------------

May 3 THURSDAY

PIER 94, VIP Preview, (By invitation only) 2pm-5pm ART NEW YORK, Pier 94, 12th Avenue at 55th Street.
Art New York, presented by Art Miami, returns to Pier 94 from May 3-6 offering noteworthy and fresh works by important artists from the contemporary, modern, post-war and pop eras, featuring paintings, photography, prints, drawings, design and sculpture. The 2018 edition will see over 85 international contemporary and modern galleries from 30 countries come together to represent over 1,200 artists including CONTEXT, a platform for a selection of new and established contemporary galleries to present emerging, mid-career and cutting-edge talent. Art New York begins with an elegant, invitation-only VIP Preview event benefiting the Joe Namath Foundation and the Hope for Depression Research Foundation. The special preview offers collectors, art advisors, curators, and media the opportunity to examine and acquire the finest works available in the market before the fair opens to the public that evening. Purchase tickets here. May 3 - 6, 2018.


UPTOWN, VIP Preview, (VIP Cardholders only) Noon-8pm TEFAF NEW YORK, Park Avenue Armory, 643 Park Avenue.
Established in 1988, TEFAF is widely regarded as the world's pre-eminent organization for fine art, antiques, and design. This year's Fair features 90 of the world's most illustrious dealers in modern and contemporary art and design, with 24 new participants, including Gagosian, Gladstone Gallery, Hauser & Wirth, Marian Goodman Gallery, Lévy Gorvy, Matthew Marks Gallery, Mnuchin Gallery, Taffin, White Cube, and more. The Fair provides an unrivalled draw for a community of collectors, museum curators, and art lovers from around the world. Purchase tickets here. May 3 - 6, 2018.


----------------------------------------------------------------

May 4 FRIDAY

LES, Friday Morning Art Walk,10am-Noon L.E.S. EARLY MORING ART WALK, Various locations in the Lower East Side.
Great time to visit galleries and enjoy coffee and crossants and other goodies while enjoy their current show. Some of the galleries open include: Catinca Tabacaru, Clemente, David Lewis, Foley Galery Frosch & Portmann, ICP, James Cohan, Lesley Heller Gallery, LMAK gallery, Massey Klein, McKenzie Fine Art, Perrotin, Pablo's Birthday, Richard Tattinger, and The Hole to name just a few. Sorry no website to point you to, check with your favorite LES gallery to make sure they will be open. Or, just chance it and discover new galleries in the neighborhood. May 3 - 6, 2018.


LES, 6-8pm, Opening Reception, MCKENZIE FINE ART, 55 Orchard Street.
MICHELLE BENOIT, MARILYN LERNER, AND PETE SCHULTE "Group Show". McKenzie Fine Art is pleased to present a three-person exhibition by artists who approach geometric abstraction in their own intuitive and distinctly personal manner. It features sculpture by Michelle Benoit, paintings by Marilyn Lerner, and drawings by Pete Schulte. May 4 - June 10, 2018.


LES, 6-8pm, Opening Reception, NATHALIE KARG GALLERY, 291 Grand Street, 4th floor.
AL HELD "Al Held in Paris, 1952-1953." An exhibition of experimental works in pigment and wax that anticipate the painter's well-known, epic-scaled geometric abstractions. Following exhibitions devoted to the Alphabet Paintings (1961−1967); Armatures (1953-1954); and Black and White Paintings(1967-1969), the current show is Cheim & Read fourth examination of a distinct body of work within Held's oeuvre. In these paintings, Held sought to fuse the improvisational, expressive freedom of Jackson Pollock with the order and geometry of Piet Mondrian; his goal, as he put it, was "to give the gesture structure." This large survey of 27 works will be presented across two venues, with the Nathalie Karg Gallery featuring paintings made in Paris in 1952-53. Cheim & Read's exhibition covers the years 1954 to 1959 after the artist returned to New York and moved into a studio on East Broadway. The exhibitions will run at Nathalie Karg Gallery from May 2 - June 15, and at Cheim & Read from May 17 - July 6.


----------------------------------------------------------------

May 5 SATURDAY

BROOKLYN, 6-9pm, Opening Reception, SARDINE, 286 Stanhope Street.
JAMISON BROSSEAU "Skittles". Brosseau's second solo show at SARDINE, Skittles, will be comprised of minor architectural modifications to the gallery space, and the installation of 140 plywood boxes on individual plywood shelves. The boxes are 9.25 in. x 9.75 in. x 11.5 in., they are split into 7 groups of 20 and represent the colors of the visible spectrum ROYGBIV. The work draws from ideas and imagery relating to topics, like cave painting, trophy rooms, drama masks, death masks, mausoleums, catacombs, colors representing tastes, and grocery store display. May 5 - June 3, 2018.


----------------------------------------------------------------

May 16 WEDNESDAY and May 17 THURSDAY

UPPER EAST SIDE, Benefit Auction for The Studio Museum in Harlem, SOTHEBY'S, 1334 York Avenue.
Few museums are as committed to supporting artists as The Studio Museum in Harlem. Since opening in 1968, the Studio Museum has maintained its founding mission of supporting artists of African descent through its famed residency program and other initiatives. Now, as the museum begins construction on its new home, artists are giving back by offering their works in Sotheby's May auctions of contemporary art. Among the 42 artists donating works are Mark Bradford, Chris Ofili, Xaviera Simmons, Lorna Simpson, Robert Pruitt and Kehinde Wiley. The Sotheby's link above will give your highlights, and the complete catalogue for Creating Space: Artists for The Studio Museum in Harlem: An Auction to Benefit the Museum's New Building. May 16 and 17, 2018.


----------------------------------------------------------------

May 23 WEDNESDAY

LES, 6-8pm, Opening, GALERIE RICHARD, 121 Orchard Street.
KOEN DELAERE "Ants on Shrimp." In each of his eight vertical paintings made in 2018, Koen Delaere has created three-demensional geometrical lines, mostly diagonal lines, which catch drops of paint, creating a spontaneous disorder into ordered patterns and a colorful vigorous energy into peaceful white stripped canvases. May 23 - June 24, 2018.


CHELSEA, 6-8pm, Opening Reception, JANE LOMBARD GALLERY, 518 West 19th Street. Howard Smith "1 + 1 + 1 ... paintings and works on paper". This is the artist's 21st solo exhibition, encompassing his substantial and vibrant body of work. By harnessing, light, expression and pigments, he fuses the material and sublime. Smith states, "My aim is to make art that is alive and breathes, which is visceral and yet has a sense of the ineffable. I would like to convey a sense of the magical in which a painting succeeds in going beyond its basic physicality and enters another realm." May 23 - June 23, 2018.


----------------------------------------------------------------

May 24 THURSDAY

LES, 6-8pm, Artist Reception, PABLO'S BIRTHDAY, 57 Orchard Street. ECKART HAHN "Ropes and Chains." In the paintings of this new series Hahn sets a stage, wherein, by combining elements of underlaying narrative, with a physical tension evoked by masterful representation of materiality, he creates a synergy of form and semantic that transcends a literal reading of his work. A kind of dialectic between the real and the unreal is left as an open question hanging in our imagination - that is, the "fact" of what is perceived, in it's hyper-reality, and the impossible dream-like situation of the scene, introduce a cognitive dissonance that coaxes the viewer into a search for symbolist meaning. May 3 - June 17, 2018.


LES, 6-8pm, Reception for the artist, MARINARO, 1 Oliver Street.
JEFF PERRONE "Let 10,000 Tires Burn: Work 2008-2018". This body of work was set in motion in 2008 as one form of direct action opposing the regime of the more effective evil, which immediately began administering policies typical of the imperial terror state. All the great traditions of calligraphy, including Graffiti Art, take into account the risk of illegibility, abandon, and improvisation. Letters are formal scaffolding, a bone structure that requires a filling-out, making the skeletal juicy. Anchored to the ground by and on Malian mud cloth, woven by men, dyed by woman, sturdy enough to support both the material and the message. Also on exhibition is the artwork of Lindsay Burke. May 24 - June 24, 2018.


----------------------------------------------------------------

May 31 Thursday

CHELSEA, 6-8pm, Opening Reception, MILES MCENERY GALLERY, 524 West 19th Street. BO BARTLETT "Recent work." This series of recent gouaches captures the passing moments of a hazy summer day and transforms them into glistening narratives of wonder. The works depict Bartlett's tranquil summers spent with his wife, artist Betsy Eby, on Wheaton Island off of the coast of Maine, where the only signs of human life in the natural landscape are the renovated fisherman's cottages, which serve as separate studios for the artists. The exhibition will include several major paintings as well as a selection of gouaches. It is accompanied by a fully illustrated catalogue, featuring an essay by Chris Crosman. May 31 - July 7, 2018.


----------------------------------------------------------------

June 19 Tuesday

LES, 6-8pm, Opening Reception, PIEROGI, 155 Suffolk Street.
Daniel Zeller "Recent Drawings". Please join us for a book release event at PIEROGI in conjunction with Zeller's current exhibition. This book on Daniel Zeller's work features an extensive essay by Robert Hobbs. Both Zeller and Hobbs will attend. Please join us for a glass of wine and informal gathering with the artist and author. Zeller's drawings will be on display through June 24th.


----------------------------------------------------------------

June 21 Thursday

CHELSEA, 6-8pm, Opening Reception, BOWERY GALLERY, 530 West 25th Street, 4th FL.
WALTER STRACH "Claiming Territory: Two Acres in the Catskills." Since purchasing this old farmstead in Samsonville, NY, Walter has become obsessed with this place. For the last 18 years he painted what was around him. Walter Strach's process now (at least one of them) is to do the same thing everyday. Get boards, paints and brushes and go to his studio which is his car and go wherever. As most of his property is inaccessible by wheel he sticks to the driveway, lawns and rocky ledges. He ends up painting the same things over and over again (only on his land), ending up with different solutions. In this show the works will show varying degrees of finish; some taking years and others days. June 19 - July 7, 2018.


We're taking a partial Summer break, only an occasional post will be added to this page.
It's summer, we're traveling, taking it easy, and looking at art around the United States.


ANOTHER GOOD RESOURCE FOR ART OPENINGS & EVENTS IS ARTCARDS, CHECK THEM OUT.

---

Chelsea | Lower East Side | Downtown | Midtown | Uptown
Brooklyn | Bronx | Queens | Hamptons and Long Island Gallery Guide
Upstate & Other New York Galleries

New York Art Fairs
New York Art Openings and Events
New York Art Museums and Art Centers

New Jersey Gallery Guide | Connecticut Gallery Guide

Art Galleries around the United States

---

Art Bookstore
Scroll through a selection new books in our art bookstore. We've made a selection of recommended art books published over the past two years. This is a new page for us, and it will be growing, hopefully including a variety of book sellers, new and used.

Art-Collecting.com can also serve as your shopping portal to Amazon.com for all your other Internet shopping - whether for laptops or luggage, cameras, heels, or haberdashery. Just click here: Path to Amazon.
















Amazon's Book of the Month Site for reading ideas and gift suggestions.
Thanks for visiting Art-Collecting.com.

Here at Art-Collecting.com, we love art as much as you do. Please mention us to your friends, to galleries you visit, and feel free to share the site via Pinterest, Instagram, Twitter, Facebook, or other online venues!

---

Home | Art Gallery Guides | Museums & Art Centers | Art Appraisals | Art Fairs
Collecting Information | Types of Collecting | Art News | Advertising | How to be Listed

---

Terms of Use | Privacy Policy | Contact | Mailing List
Copyright 2018 by Art-Collecting.com All Rights Reserved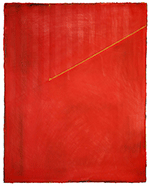 The Possibilities of Line
June 21 - August 4, 2018
Including: Kellyann Burns
McKenzie Fine Art
New York / Lower East Side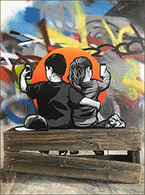 Joe Iurato
Available from
Castle Fitzjohns Gallery
New York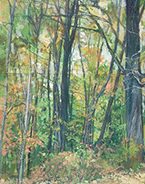 Walter Strach
Available from
Bowery Gallery
New York / Chelsea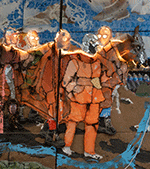 Aaron Fowler
Exhibition
June 23 - August 26, 2018
TOTAH
New York / Lower East Side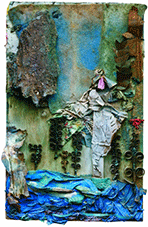 Thornton Dial
Beverly Buchanan
and the Gee's Bend Quiltmakers
June 27 - August 17, 2018
Andrew Edlin Gallery
New York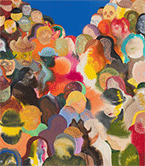 Aaron Johnson
Available from
Joshua Liner Gallery
New York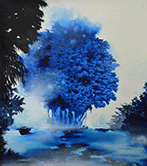 Giulia Dall'Olio
Available from
Massey Klein Gallery
New York / Lower East Side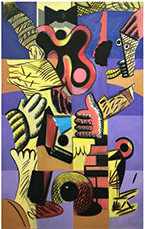 Peter Schenck
Available from
Freight + Volume
New York / Lower East Side


Art Fair
July 5-8, 2018
MARKET ART + DESIGN
Bridgehampton, NY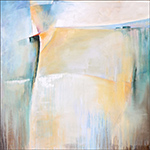 Karen Hale
Painting, Acrylic on Canvas
Zatista.com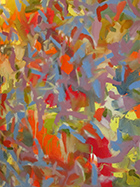 Steven Miller
Painting, Oil on Canvas
Zatista.com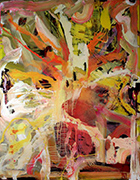 Marina Nelson
Painting, Acrylic on Canvas
Zatista.com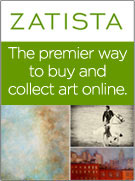 Access to over
4000 original artworks.
Browse Zatista collections

___________________________


Please follow us and share this guide with your art loving friends. Good comments and links on Social Media sites also help us.





To receive our Free monthly newsletter and an occasional email update, register below.