NEW YORK ART OPENING & EVENTS
September is the start of the art gallery season. Sure there are other great weeks but it's always nice when September rolls around and new shows open. Below is a partial list of exhibitions and openings going that you might be interested in. Please beware that some galleries require that you RSVP. We'll be adding links to the gallery websites soon. We work hard to provide you with correct information, however sometimes typos or changes occur. We highly suggest that if you are traveling a long distance to check with the galleries first or their websites.

We suggest that you support local art galleries, artists, non-profit art organizations and art museums whenever possible. Please tell your art friends about Art-Collecting.com and mention us to galleries when visiting them. Also, be sure to look at our guides below for additional galleries, museums, artists and art services related to New York.

Thank you David Gibson of Gibson Contemporary for the list of openings.


New York Gallery Guide | Chelsea | Lower East Side | Downtown | Midtown | Uptown | Brooklyn | Bronx | Staten Island | Queens | Metro Area, Westchester County, Hudson River and Other Galleries

The Hamptons and Long Island | Upstate New York State Galleries

New York Art Fairs
Contemporary Art in New York

New Jersey Gallery Guide
Connecticut Gallery Guide

---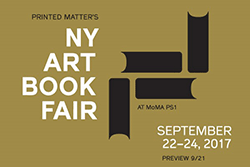 The NY Art Book Fair
Printed Matter presents the twelfth annual NY Art Book Fair, from September 22 to 24, 2017, at MoMA PS1, Long Island City, Queens. Free and open to the public, the NY Art Book Fair is the world's premier event for artists' books, catalogs, monographs, periodicals, and zines. The 2017 NY Art Book Fair will featur over 370 booksellers, antiquarians, artists, institutions and independent publishers from twenty-eight countries. Join us on Thursday, September 21 from 6 to 9 pm, at MoMA PS1 for our opening night preview. The evening will feature special live performances on the steps of PS1 by Upstate Music, BLONDES and Alexis Taylor (Hot Chip). Entry to the Preview will cost $10, proceeds going to support NYABF17. The first 2,000 visitors to pre-pay online or to pay at the door (while supplies last) will receive a Ticket Edition by Emma Kohlmann.. The NY Art Book Fair

---

New York Art Openings

SEPTEMBER 1 FRIDAY

Bushwick, SLAG GALLERY 56 Bogart Street: Marius Ritiu, to 10/1


-------------------------------------------------------------------------


SEPTEMBER 6 WEDNESDAY

Chinatown, 7-9, THE LODGE GALLERY 131 Chrystie Street: "Latent Content Analysis" w/ James Adelman, Allison Berkoy, Arturo Brena, Peter Daverington, Yun Sung Jang, Marshall Jones, Fay Ku, Huston Ripley and Ryan Scully, to 10/6

Lower East, 6-8, PIEROGI 155 Suffolk Street: Tom Burckhardt, to 10/8

Lower East, 6-8, MCKENZIE FINE ART INC. 55 Orchard Street: Jason Karolak, to 10/8

Lower East, 6-8, LESLEY HELLER 54 Orchard Street: Cullen Washington Jr + Dana Melamed + "Soft Power" cur. Katya Grohovsky w/ Sarah E. Brook, Maria Hupfield, Lizzie Scott, Jayoung Yoon, to 10/22

Lower East, 6-8, SPERONE WESTWATER - 257 Bowery: Tom Sachs + William Wegman, to 10/28

Lower East, 6-8, TIBOR DE NAGY GALLERY 15 Rivington Street: Larry Rivers, to 10/29

Midtown, 6-8, UBU GALLERY 416 E 59 Street: Les Mystères du Chambre Noire: Photographic Surrealism, 1920-1950," to 9/29


-------------------------------------------------------------------------


SEPTEMBER 7 THURSDAY

Chelsea, 6-8, MARLBOROUGH CONTEMPORARY 545 W 25 Street: Celeste Dupuy-Spencer, Devin Troy Strother, Harry Gamboa Jr, to 10/7

Chelsea, 6-8, GALERIE LELONG 528 W 26 Street: Lin Tianmiao, to 10/ 21

Chelsea, 6-8, EDWARD THORP GALLERY 531 W 26 Street: "Hold That Thought" w/ Bruce Conner, Robert Frank, Steve Gianakos, George Grosz, Jess, June Leaf, Project Room: Chuck Boyce, 10/21

Chelsea, 6-8, JOANNE ARTMAN GALLERY 511A West 22nd Street: "Deconstructing Allusion" Greg Miller, to 11/11

Midtown, 6-8, MARISA NEWMAN PROJECTS 38 W 32 Street #1602: Adriana Farmiga, to 10/14

Midtown, 6-8, ANTON KERN 16 E 55 Street: Brian Calvin + Mike Kuchar, to 10/ 7

Midtown, 6-8, BERNARDUCCI MEISEL 37 W 57 Street: Kana Minami, Raphaella Spence and Roberto Bernardi to 10/ 7


-------------------------------------------------------------------------


SEPTEMBER 8 FRIDAY

Bushwick, 6-8, ODETTA 229 Cook Street: "Colormania" w/ Paul Corio, Robert Otto Epstein, Ken Weathersby, and Flat File Artists Vincent Dion, Sara Eichner, and Alyse Rosner, to 10/15

Bushwick, 7-9, FRESH WINDOW 56 Bogart Street: "Touched by Nature" w/ Blane De St. Croix, Cornelia Hesse-Honegger, Alexa Hoyer and Wei Xiaoguang Alyse Rosner, Ken Weathersby, to 10/15

Bushwick, 6-9, ROBERT HENRY CONTEMPORARY 56 Bogart Street: Derek Lerner + Gema Álava to 10/22

Bushwick, 6-9, ANTHONY PHILIP FINE ART 56 Bogart Street: Eileen Weitzman, to 10/29

Chinatown, 6-8, FOXY PRODUCTION 2 East Broadway: Petra Cortright, to 10/10

Chinatown, 6-8, PETER FREEMAN INC 140 Grand Street: "Deadeye Dick: Richard Bellamy and His Circle" w/ Milet Andrejevic, Jo Baer, Robert Beauchamp, Jacques Beckwith, Ronald Bladen, James Lee Byars, Dan Christensen, John Cohen, Mary Corse, Emilio Cruz, Walter De Maria, Mark di Suvero, Dan Flavin, Jean Follett, Miles Forst, Robert Frank, Al Hansen, Michael Heizer, Tehching Hsieh & Linda Montano, Neil Jenney, Donald Judd, Alex Katz, Gary Kuehn, Yayoi Kusama, Tadaaki Kuwayama, Alfred Leslie, Lee Lozano, Robert Morris, Jan Müller, Bruce Nauman, Richard Nonas, Claes Oldenburg, Yoko Ono, Larry Poons, David Rabinowitch, James Rosenquist, Lucas Samaras, George Segal, Richard Serra, Myron Stout, Kunié Sugiura, Sidney Tillim, John Tweedle, Tom Wesselmann, Neil Williams, Peter Young, Daisy Youngblood, John Zinsser, to 10/28

Lower East, 6-8, INVISIBLE-EXPORTS 89 Eldridge Street: Vaginal Davis + Louise Nevelson, to 10/22

Lower East, 6-8, DAVID LEWIS 88 Eldridge Street floor 5: Israel Lund & Amy Granat, to 10/29

Lower East, 6-8, RICHARD TAITTINGER GALLERY 154 Ludlow Street: "Experimental Berlin" w/ Claudia Chaseling, Gregor Hildebrandt, Renaud Regnery, Henning Strassburger, Nathan Peter, to 10/15

Mott Haven, 6-9, BRONX ART SPACE 305 E 140th Street: "State Property" w/ Yasmeen Abdallah and Berdscarnival, Nava Atlas, Benton C Bainbridge, Aileen Bassis, Knowledge Bennett, Renee Cox, Walter Cruz, Sophia Dawson, Abdoulaye Diallo, Tasha Douge, Emory Douglas, Nicky Enright, Donelle Estey, Xavier Figueroa, Ryan Garvey, Noté Peter George, Josué Guarionex, Cannon Hersey, Scott Houston, Rush Humphrey, Incarcerated Nation, Duron Jackson, Julia Justo, Suprina Kenney, Alan Ket, Brittany Kathryn Knapp, Adrian Kondratowicz, emma lee, Ann Lewis, Roberto Lugo, Meridith McNeal, Alice Mizrachi, Five Mualimm-ak, Trokon Nagbe, Gigi Ng, Isaac Scott, Bryan Shih, Bayete Ross Smith, Solitary Watch, Pamela Talese, Hank Willis Thomas, Trap IF, Boo Lynn Walsh, Jennie West, Levester Williams, Natalie Colette Wood, to 10/21

Tribeca, 6-8, ALEXANDER & BONIN 47 Walker Street: John Ahearn and Rigoberto Torres / Peter Hujar, to 10/28


-------------------------------------------------------------------------


SEPTEMBER 9 SATURDAY


Chinatown, 6-8, MARC STRAUS GALLERY 299 Grand Street: Hermann Nitsch, to 10/15

Red Hook, 6-8, KUSTERA PROJECTS RED HOOK 57 Wolcott Street: Bonnie Collura, to 10/7


-------------------------------------------------------------------------


SEPTEMBER 10 SUNDAY

Chinatown, 6-8, SIMONE SUBAL 131 Bowery: Emily Mae Smith, to 10/29

Lower East, 6-8, YOURS MINE AND OURS 54 Eldridge Street: Rachel Hecker, to 10/22

Lower East, 6-8, JTT GALLERY 191 Chrystie Street: Dominick Di Meo, to 10/22

Lower East, 6-8, BUREAU 178 Norfolk Street: Ellie Ga, to 10/22


-------------------------------------------------------------------------


SEPTEMBER 12 TUESDAY

Lower East, 6-8, KRISTEN LORELLO 195 Chrystie Street, Lobby, to 10/14

Lower East, 6-9, MITCHELL ALGUS 132 Delancey Street: Colette, to 10/15


-------------------------------------------------------------------------


SEPTEMBER 13 WEDNESDAY

Midtown, 7-9, AC Institute 16 E 48th Street, 4 Floor. "Asia Futurism and the Non-Human Other" by Danielle Wu with Tiffany Jaeyeon Shin, Lawrence Lek, Morehshin Allahyari, Ambika Subramaniam, and Sondra Perry. This will be an open discussion on Techno-Orientalism, a rationale that views Asians and Asian culture as expendable technology. From movies such as "Blade Runner" and "Ghost in the Shell" to artists like Nam June Paik, Asianness has been defined as an eroticized tool to validate white superiority while blackness is un-modern and irrational. We will also examine how Asians and non-Asian artists engage in dis-identification politics to expose the present-day struggles and oppression of the non-human.


-------------------------------------------------------------------------


SEPTEMBER 14 THURSDAY

Chelsea, 6-8, CRISTIN TIERNEY 540 W 28th Street: Alois Kronschlaeger to 10/28

Upper East, 6-8, TILTON GALLERY 8 E 76 Street: Jeff Sonhouse, to 10/28


-------------------------------------------------------------------------


SEPTEMBER 15 FRIDAY

Chelsea, 6-8, Yancey Richardson Gallery 525 W 22nd Street: Anthoney Hernandez to 10/28


-------------------------------------------------------------------------


SEPTEMBER 17 SUNDAY

Lower East, DOWNS AND ROSS 96 Bowery, 2nd floor (NEW LOCATION): Soujourner Truth Parsons, to 10/22


-------------------------------------------------------------------------


SEPTEMBER 20 WEDNESDAY

Midtown, 7-9, AC Institute 16 E 48th Street, 4 Floor. "Archival Specters: Archiving Asian American History" by Parissah Lin and Michelle Ling of Yellow Jackets Collective. A workshop on the uses of Archives in Asian American resistance and community making. We would like to invite participants to bring scraps and ephemera from femmes in their personal history, mythology, and collective history to start the process of producing a collective archive that accounts for erasure of feminized labor, and personal accounts. We will draw on historical figures and both public and private archives to talk about the use of archiving to counter dominant historical memory.

-------------------------------------------------------------------------

SEPTEMBER 21 THURSDAY

Lower East, 6-8, BRIDGET DONAHUE 99 Bowery floor 2: Susan Cianciolo, to 12/3

Lower East, 6-8, Artist Reception: Anita Rogers Gallery new location: 15 Green Street (ground floor between Grand and Canal): Hans Neleman, to 10/7


-------------------------------------------------------------------------


SEPTEMBER 27 WEDNESDAY

Tribeca, 6-8, HAL BROMM GALLERY 90 West Broadway: Rosemarie Castoro + Lucio Pozzi to 11/10



---

New York Galllery Guide | Chelsea | Lower East Side | Downtown | Midtown | Uptown

Brooklyn | Bronx | Queens | Hamptons | Long Island Gallery Guide
Hudson River Valley, Upstate & Other New York Galleries

New Jersey Gallery Guide | Connecticut Gallery Guide

New York Art Museums and Art Centers

Art Galleries around the United States

---

Art Bookstore
And one-stop shop for all of your Internet shopping through Amazon!

Scroll through the divine finds in our art bookstore, treating yourself to a visual feast of richly illustrated coffee-table and other books, magazines, and DVD's about the world of art.

Art-Collecting.com can also serve as your shopping portal to Amazon.com for all your other Internet shopping - whether for laptops or luggage, cameras, hardware, or haberdashery. Just click here: Path to Amazon.




Amazon's Book of the Month Site for reading ideas and gift suggestions.
Thanks for visiting Art-Collecting.com.

Here at Art-Collecting.com, we love art as much as you do. Please mention us to your friends, to galleries you visit, and feel free to share the site via Pinterest, Instagram, Twitter, Facebook, or other online venues!

---

Home | Art Gallery Guides | Museums & Art Centers | Art Appraisals | Art Fairs
Collecting Information | Types of Collecting | Art News | Advertising | How to be Listed

---

Terms of Use | Privacy Policy | Contact | Mailing List
Copyright 2017 by Art-Collecting.com All Rights Reserved

Anthony Hernaddez
Exhibition
September 8 - Oct 21, 2017
Reception: Fri Sept 15, 6-8pm
Yancey Richardson Gallery
New York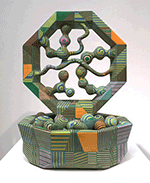 Bayne Peterson
Exhibition
September 6 - Oct 14, 2017
Kristen Lorello
New York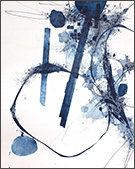 Derek Lerner
Exhibition
September 8 - Oct 22, 2017
Robert Henry Contemporary
Brooklyn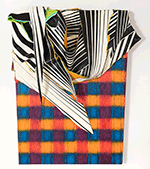 Leslie Wayne
Exhibition
September 7 - Oct 21, 2017
Jack Shainman Gallery
New York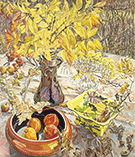 Janet Fish
Exhibition
September 7 - 17, 2017
DC Moore Gallery
New York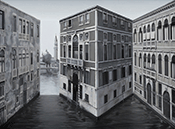 Patrick Hughes
Exhibition
September 7 - Oct 14, 2017
Flowers Gallery
New York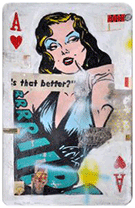 Greg Miller
Exhibition
September 7 - Nov 11, 2017
JoAnne Artman Gallery
New York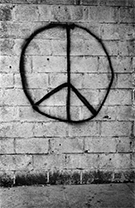 Jim Marshall
Peace: Love, Rock & Revolution
September 7 - 30, 2017
ACA Galleries
New York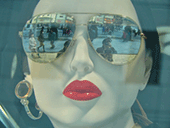 Daido Moriyama
Toyko Color
September 9 - Oct 22, 2017
Luhring Augustine Bushwick
Brooklyn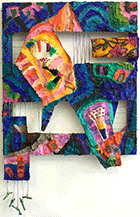 Eileen Weitzman
Exhibition
September 8 - Oct 29, 2017
Anthony Philip Fine Art
Brooklyn


Thomas Buildmore
Sacred Mountains
September 8 - Oct 27, 2017
Woodward Gallery
New York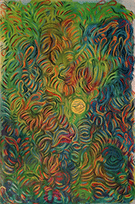 Saira McLaren
Exhibition
September 13 - Oct 15, 2017
Sargent's Daughters
New York


Diane Arbus
From Her Last Series
Available from
Art-Collecting.com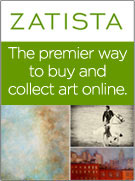 Access to over
4000 original artworks.
Browse Zatista collections

___________________________


Please follow us and share this guide with your art loving friends. Good comments and links on Social Media sites also help us.





To receive our Free monthly newsletter and an occasional email update, register below.


___________________________