ART AUCTION HOUSES
Resource listing of art auctions and art auction houses located around the United States and Europe. You can buy and consign art works to these art auction houses. They regularly feature and offer for sale fine art, paintings, prints, sculpture and other types of art, plus they also auction antiques as well as fine art. If you're looking to buy or sell art at auction you should consider these auction houses.


If you're an art auction house, or an auction house that regularly features art and antiques you might consider a listing with us. To be included in this section, please click "How to be Listed" for registration information.

Alabama | Alaska | Arizona | Arkansas | California | Colorado | Connecticut | Delaware District of Columbia | Florida | Georgia | Hawaii | Idaho | Illinois | Indiana | Iowa | Kansas Kentucky | Louisiana | Maine | Maryland | Massachusetts | Michigan | Minnesota | Mississippi | Missouri | Montana | Nebraska | Nevada | New Hampshire | New Jersey | New Mexico | New York | North Carolina | North Dakota | Ohio | Oklahoma | Oregon Pennsylvania | Rhode Island | South Carolina | South Dakota Tennessee | Texas | Utah Vermont | Virginia | Washington | West Virginia | Wisconsin | Wyoming

International Art Auctions



Non-Profit Art Organization Fundraising Auctions

Online Auctions


If you're an art auction house, or an auction house that regularly features art and antiques you might consider a listing with us. To be included in this section, please click "How to be Listed" for registration information.

---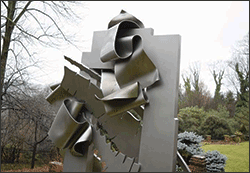 ALBERT PALEY - Outdoor Sculpture - Estate Sale Auction
SOLD, January 2015

An important Albert Paley exterior sculpture in formed and fabricated steel titled Proscenium. This striking outdoor piece is an abstract composition with scrolling ribbon atop diagonal feathers. The sculpture has a dynamic flow yet is elegant and compatible with the natural surroundings, largely due to the soft matte finish. Paley has been working and creating for forty years and was the first metal sculptor to receive the coveted "Lifetime Achievement Award" from the American Institute of Architects, the AIA's highest award to a non-architect. The sculpture is signed at the base and dated 2007. Dimensions: 98.0" W x 126.0" H x 36.0" D. The weight of the sculpture is 2200 pounds. The sculpture is in excellent condition. Auction Location: Hyde Park, Ohio. For more info: https://www.ebth.com/items/1362466-an-important-albert-paley-exterior-steel-sculpture-proscenium, One of 663 total items in this Estate Sale. Online Bidding.

---
---
---

Arizona Art Auctions

Allard Auctions, Inc. - Mesa, AZ


---
---
---

Colorado Art Auctions

Baker Auction - Denver, CO
Leslie Hindman Auctioneers - Denver, CO


---

Connecticut Art Auctions

Applebrook Auctions - Milford, CT
Nadeau's Auction Gallery - Windsor, CT


---
---

District of Columbia Art Auctions

Weschler's Auctioneers - Washington, DC


---

Florida Art Auctions

Baterbys Art Auction Gallery
Our art collection features limited pieces by 20th Century Masters like Picasso, Dali, Chagall, Modigliani, Matisse and Degas among others. Artworks come with a lifetime guarantee to authenticity an unparalleled offer in the art industry. We offer specialized services such as art leasing and fine art home staging. The Quarterly Art Review and Reference guide written and published by Baterbys is an excellent guide. For detailed descriptions of services and other products, please visit www.Baterbys.com. Located in Orlando, FL, telephone (888) 682-9995


Elite Decorative Arts - Boynton Beach, FL
Fine Art Auctions Miami - Miami, FL
RoGallery -Sarasota, FL


---
---
---

Idaho Art Auctions

The Coeur D'Alene Art Auction- Hayden, ID


---

Illinois Art Auctions

Susanin's Auctioneers & Appraisers
900 South Clinton Street
Chicago, IL 60607
(312) 832-9800
info@susanins.com
http://www.susanins.com


Leslie Hindman Auctioneers - Chicago, IL
Wright - Chicago, IL


---

Indiana Art Auctions

Wickliff Auctioneers - Carmel, IN


---

Iowa Art Auctions

Jackson's Auctioneers - Cedar Falls, IA


---
---
---

Louisiana Art Auctions

Matthew Clayton Brown - New Orleans, LA
Neal Auction - New Orleans, LA


---

Maine Art Auctions

Barridoff Galleries - Portland, ME
James D. Julia Auctioneers - Fairfield, ME


---

Maryland Art Auctions

Sloans & Kenyon Auctioneers - Chevy Chase, MD


---

Massachusetts Art Auctions

Copley Fine Art Auctions, LLC - Boston, MA
Grogan & Company Fine Art Auctioneers - Dedham, MA


---

Michigan Art Auctions

Stefek's Auctioneers - Grosse Pointe Farms, MI


---
---
---
---

Montana Art Auctions

Allard Auctions, Inc. - St. Ignatius, MT


---
---
---
---

New Jersey Art Auctions

RAGO Arts and Auction Center
Lambertville, NJ
(609) 397-9374


West Highland Art Auction Brokers
Midland Park, NJ
(201) 891-7170 or Cell (201) 264-7450

---

New Mexico Art Auctions

Santa Fe Art Auction - Santa Fe, NM


---
---

North Carolina Art Auctions

Bruck Auctions - Asheville, NC


---
---

Ohio Art Auctions

Gray's Auctioneers - Cleveland, OH
Treadway Gallery - Cincinnati, OH


---
---

Oregon Art Auctions

O'Gallerie (Auction House)
Portland, OR
(503) 238-0202

---

Pennsylvania Art Auctions

Dargate Auction - Mckees Rocks, PA
Sanford Alderfer Auction - Hatfield, PA
William H. Bunch Auctions - Chadds Ford, PA


---
---

South Carolina Art Auctions

Charlton Hall - West Columbia, SC


---
---

Tennessee Art Auctions

Case Antiques Auctions - Knoxville, TN


---

Texas Art Auctions

Dallas Auction Gallery - Dallas, TX
Heritage Auction Galleries - Dallas, TX
Lewis & Maese Antiques & Auctions - Houston, TX


---
---
---

Virginia Art Auctions

The Potomack Company - Alexandria, VA


---

Washington Art Auctions

Hamilton's Antique & Estate Auctions, Inc. - Tacoma, WA
Pacific Galleries - Seattle, WA


---
---
---
---

International Art Auctions

de Veres Art Auctions - Ireland
Hauswedell & Nolte - Germany
Jansen Fine Dutch Ceramic Art - Netherlands
Liceoart Subastas - Spain
NOVARTIA - Spain


Tajan - France
Grisebach - Germany


---

Non-Profit Art Organization Fundraising Auctions



---
---

Art Bookstore
Our bookstore features a good selection of art books, magazines and DVD's.
Please support us by making Amazon.com purchases through our Art Bookstore.

Amazon's Best Books of the Month / Reading and Gift Suggestions.


Data Base of Art Auction Prices and Artist Information
Are you interested in researching an artist or looking for current auction prices?
Enter the artist name in the above artprice search banner, click search to see the results.
Fee based service, with a one day trial pass costing very little for full access.


If you find us to be a useful art resource, please mention it to galleries when visiting them.
This helps us a lot, especially if you make a purchase because of information found through us.

Thanks for visiting art-collecting.com.

---

Home | Gallery Guides | Museums & Art Centers | Art Auctions | Art Fairs | Art News

Collecting Information | Types of Collecting | Bookstore | How to be Listed

---

Terms of Use | Privacy Policy | Contact | Mailing List
Copyright 2015 by Art-Collecting. All Right Reserved