ART AUCTIONS

Art Auction Houses and Online Art Auctions

This is our first and original page that lists auction information, and have recently added a section specifically listing art auction houses around the United States as well as International auctions. This page still has useful information about art auctions, so check it out. For further listings please visit our new ART AUCTION HOUSE section.


Bonhams
One of the world's fastest growing auction house, it is also the world's oldest and largest auctioneer of fine art and antiques still run by auctioneers. They are recognized worldwide throughout all sectors of the fine art, antiques and collectors market, and several of its departments are already established world leaders within their category.


Christie's
Christie's salerooms have been a popular showcase for the unique and the beautiful since 1766. They provide a variety of services for art collectors and their website has a good FAQ's page that discusses how to buy and sell at auction.


Dorotheum
Every year the Dorotheum hosts approximately 600 auctions. With a staff of over 400 and more than 70 art experts in a wide variety of collecting areas, are at your service not just in Vienna but in a number of branch offices throughout Austria and in the capital of the Czech Republic, Prague.


Los Angeles Modern Auctions (LAMA)
LAMA is the premier auction house for Modern and Contemporary Fine Art & Design. Auctions are held at least two times a year in Southern California and offer material ranging from fine art and furniture to sculpture and decorative arts. The director, Peter Loughrey, is an expert authority in Modern Fine Art and Design and is an appraiser on PBS's Antiques Roadshow. 16145 Hart Street, Van Nuys, CA 91406, email: peter@lamodern.com visit website for additional information: https://lamodern.com/


Phillips
Headquartered in New York and London, with offices throughout the world, Phillips conducts sales in a select number of categories: Contemporary Art, Photographs, Editions, Design, Watches and Jewelry. Additionally, our core art business includes special exhibitions, private sales, advising private estates and corporate clients, museum and arts sponsorships, and consulting.


Sotheby's
One of the world's most prominent auction houses. They provide art collectors with a wide range of services, including trusts, estates and appraisals, plus presenting major art and antique auctions throughout the world.


Swann Auction Galleries
Founded in 1941 as an auction house specializing in Rare Books. Today Swann has separate departments devoted to Photographs, Posters and Prints & Drawings, in addition to Books, Maps & Atlases and Autographs.


Tajan
Paris-based auction house is the largest auction company in France and considered to be one of the largest auction firm in the world. Their web site is informative as well as being written in French and English.


Grisebach
Villa Grisebach is the top-selling auction house for Modern Art in Germany since 1988 with the main focus on photography and art of 19th to 21st century. Further it has remained the unchallenged market leader in German 20th century art. All of this is a result of the great dedication of a highly professional team. Our representatives and offices are located in Berlin, across Germany, Switzerland and North America. There are two suites of sales annually: spring and late autumn.

Other Art Auction Houses
---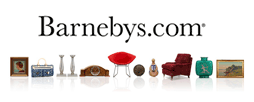 Barnebys.com - All Auctions In One Place
Barnebys is a one of the worlds largest search engine for art, collectibles and antiques. Our service offer users to browse hundreds of thousands lots and realized prices from more than 700 auction houses. Barnebys is a useful website to compare and find out prices of different objects with our price bank and free appraisal service. Website: Barnebys.com. For business inquiry, telephone: +1 929 24 88 134.

---
Auction News and Information
Auction Central News
The foremost resource for news and specialist information within the global antiques, fine art and auction sector, Auction Central News is the premier online destination for authoritative reports, columns, interviews with industry insiders, recent auction prices realized and tips on upcoming auctions. https://www.liveauctioneers.com/

---
Online Art Auctions
Online Auctions
LiveAuctioneers.com provides bidders with unprecedented levels of access to hundreds of auctions and remote saleroom floors the world over. Through its exclusive technology and services suite, as well as it's partnership with eBay Live Auctions, LiveAuctioneers.com connects auction houses and bidders worldwide.

Auction Results
Updated daily, the LiveAuctioneers.com database features thousands of items to be sold in upcoming auctions as well as more than five million fully illustrated and annotated auction results. There is no charge to access this database of auction-archive data.

eBay Art
Special section on eBay for buying and selling art. You can buy and sell anything, including collectible fine art. Several million items on sale daily.

---

NOTE OF CAUTION
Most auction houses now have a web enabled method for bidding online. If you're new to online auction be very careful when you first start bidding with online auctions. Purchase one or two low priced items to get used to the bidding process. Also, make sure that you know the auction rules and what your payment requirements are for successful bids. You might want to check on the estimated shipping costs, the auction house should be able to assist with this.

Interested in buying at Art Auctions, read Maynard Elliott's Ten Rules for Buying Art at Auctions. It provides information on how to successfully purchase and bid for fine art at auctions. The article was written several years ago so keep this in mind and make adjustments for current art auctions.

Greg Allen wrote an article for The New York Times, in 2006 and it's still worth reading:
Rule No. 1: Don't Yell, 'My Kid Could Do That'

---



Data Base of Art Auction Prices and Artist Information
Are you interested in researching an artist or looking for current auction prices?
Mutual Art is a great place to start. They also offer the lowest prices for online appraisals.
They are a well respected source of art information online.

---

About Art-Collecting.com

Art-Collecting.com is an online resource for all art enthusiasts. Art collectors, art travelers and artists will find our comprehensive online Gallery Guides and Museum Guides to be very useful. We feature guides for thirty-seven major art destinations as well as every state. Be sure to look at our Art Fairs Guide and our guides to Miami Art Week and New York Art Fairs which are up online year around.

When exploring around our site you'll find informative articles and guides for specific types of art like Latin American Art, Fine Art Photography and Native American Art. If you're looking for Art Appraisers, Art Advisors & Consultants, Art Auctions or other Art Services we're a good source.

Don't forget to visit our Artist Guides where you'll find links directly to artist websites. Our Painters and Photographers pages are very popular. The guides are very helpful when looking to discover new artists or if you prefer buying art directly from artists.

Here at Art-Collecting.com, we love art as much as you do and are always trying to improve our guides. If you have suggestions or notice listings that should be changed let us know. You can also help by mentioning us to your art friends and to galleries that you visit. Feel free to mention us and post links on your Social Media.

Thanks for stopping by Art-Collecting.com.
Visit our website often and be sure to explore around.
http://art-collecting.com


---

Home | Art Gallery Guides | Museums & Art Centers | Art Appraisals | Art Fairs
Collecting Information | Types of Collecting | Art News | Advertising | How to be Listed

---

Terms of Use | Privacy Policy | Contact | Mailing List
Copyright 2019 by Art-Collecting.com All Rights Reserved