ARTISTS
PAINTERS AND FINE ART PAINTINGS

Welcome to our Artist Website listings; this page features fine art painters.

Artists listed here are serious professionals who often have a degree in art. The artists are open to exploring possible representation by art galleries, private art dealers or art consultants. Their work has often been exhibited; they are always interested in learning of opportunities to participate in exhibitions or shows.

The fine art painters featured on this page have been loosely categorized by style; the styles range from Abstract to Botanical to Southwest/Native American to Whimsical. You will find painters from nearly every state: from Florida to Washington, California to Connecticut.

We are always expanding our listings to encompass other art media and artist categories; we welcome suggestions. When you contact the artists below, please let them know that you found them through Art-Collecting.com.


Art Subject Matter and Styles of Art

Abstract | Animals / Wildlife | Automotive | Botanical / Flowers | Contemporary / Conceptual | Encaustic | Landscapes / Nature | Mixed Media | Neo Pop / Pop Surrealism | People / Portraits / Figurative | Realism | Seascapes / Marine / Nautical | Still Life / Objects | Southwest / Native American / Western | Urban Landscape / City | Watercolors | Whimsical / Humor | General - Variety Subject Matter and Styles


Artist Services

---

Abstract
William Armstrong- GA
Hedy Berman - FL
Allyson Block - NJ






Deborah A Bowen - TN
My Paintings are colorful, vibrant, explosive and for the creative eye there are life of all kinds obscured in the background. I have a style and technique that is like no other. I'm truly excited about my Art more then ever. There are no brushes used, yet my colors blend in a way that no brush would accomplish. Each piece is unique and created from my thoughts and feelings, along with the inspiration of music. My own unique saying is, "Art is an expression of who you are and how you perceive things". Website: http://www.debscreationsart.com






Margo Buccini - FL
Margo is a well established career fine art painter. Holding an undergraduate degree with honors from St. Johns Univeristy, she went on to attain an MA degree in Fine Art Painting from C.W. Post University on Long Island, also with honors. It may seem simple, but you have to begine with a solid ability to draw. Then, choose just the right color combinations Then, don't just slap on one layer. Done in four or five hours? Think again. Margo believes that quality must go in before the name Buccini goes on. And then, her prices will bring a smile to your face and fine art to your home. For more information call (904) 273-1245


Margo Buccini - FL
Jeannette Canale Encina - Chile
CANDE - TX
Glenn Carr - OR
Benjamin Casiano - CT
Andrea Cermanski - NM
Leigh Anne Chambers - VA
Sheldon Ciment - CA
Courtney Cotton - CO






Marcio Decker
Abstract art composed of layered elements with kinetic properties generated with glass lenses. Studios in Miami, New York and California. For more information visit the website: www.deckerfinearts.com or email: Marcio@deckerfinearts.com






Bernard Dunaux - CA
In March 2010, after years of exhibiting his work at galleries across the United States, Bernard Dunaux opened Icon Gallery in West Hollywood's art and design district, right near MOCA's Pacific Design Center. His gallery is a successful extension of his studio practice and enables Dunaux to sell his work directly to collectors. Icon Gallery is a little unusual, as it is artist owned and bypasses the traditional gallery set up and mark up. The work is mainly abstract and is divided in different series. Commissioned work represents around 40% of Bernard Dunaux's output and his list of collectors is international. Location: 8899 Beverly Boulevard, Los Angeles, CA 90048, telephone: 818-264-6919, info@gallery-icon.com website: http://dunaux.com


Ellen French - CA
Phyllis-Gillie-Jaffe - MD
Laurie Goddard - MA
Ravenna Johnson - CA
Justin E Hinte - PA
Tim Hovde - NV
Sue Anne Hoyt - AL
Naz Kaya-Erdal - TX
Karen Kohtz - VA
Haeley Kyong - NJ
Stacy Leeman - OH
James C Leonard - CA
Eric A. Leppanen - ME






Lisa Levasseur - BC Canada
Canadian born business woman, Lisa began painting 2010 and quickly emerged an artist. Known as creator of new art form called PaletteArt™ using special process & recycled paint. Also noted for range of artwork & natural talent in different mediums. Featured in world wide exhibitions, books & magazines. Most recently International Contemporary Masters Exhibition Art Expo-NY & Spectrum Miami. Sincerely appreciate your time and consideration. Thank you and have a great day! Email: artist@ljlevasseur.com, website: http://www.PaletteArt.org


John Lobosco - MA
Kathleen Lowerre - FL
Neil Marshall - GA






Barry Masteller - CA
He studied painting and life drawing during the sixties with artist Walton Craig Titus, additionally studying painting & art restoration techniques with several independent art conservators and artists He established his own painting studio and gallery doing art restoration and hand carved gilded frames specializing in the ancient technique of water gilding. He has had numerous shows and has work in many public and private collections. Including the Crocker Museum of Art, Monterey Museum of Art, Santa Cruz Museum of Art and History and The San Jose Museum of Art. barrymasteller@aol.com website: http://www.barrymasteller.com






Linda Mayne - CA
My approach is to create abstract art with a greater intensity, saturation and luster in colors not generally seen on canvas. I follow the flow of my medium, deciding whether to intercede with the movement of the colors on the canvas or let the painting evolve organically as the colors interact and settle. I then employ layering methods that I have developed over the years, achieving a glass-like result with saturated color creating unique optical properties that combine both intricate detail at close range and great depth from a distance. Some canvases have as many as 30 layers, but all display rich colors and luminous hues. When my painting has come to life, I know it is complete...art with a pulse. email: mayneco@comcast.net website: www.lindamayne.com






Laura McClanahan - NJ
This new series of paintings explores fluid water patterns of life. The paint records the movement as the liquid flows around the obstacles occurring in its path. As we are faced with challenges in our lives, we are called to evolve and float down the river meandering around each boulder as it comes. EVOLVING PATTERNS express the beauty and grace of change in our lives. Represented by Simon Gallery, 48 Bank Street, Morristown, NJ, www.simongallery.com, website: http://www.lauramcclanahan.com






Cathryn Miles / Miles Art Studio - GA
The imagery in my abstract landscapes comes from my immediate environment, especially the colors created by weather and the natural patterning of the earth. Overall, I want to convey the raw, primitive energy of nature and at the same time put forth a concept of beauty as it relates to color and design. Location: Atlanta, GA, Website: http://www.cathrynmilespaintings.com/


Ewa Mikucinska - CA
Vanessa Navarrete - IL
Mariusz Navratil - FL






Leonard Nelson - PA
Devoted exclusively to the work of major Color Field painter Leonard Nelson (1912-1993) from the 1940s to the 1990s. Come explore Nelson's journey from Abstract Expressionism to Color Field. Offering an array of Nelson paintings as well as a wide selection of prints and drawings. Hours: Tuesday-Thursday 10am to 6pm, Friday 10am to 6pm, Saturday 10 am to 5pm. Location: 932 West Lancaster Avenue, Bryn Mawr, PA 19010. telephone: 610 291-8455. Email: info@leonardnelson.com. website: www.leonardnelson.com


C. C. Opiela - CO
Michelle Oravitz - FL
Michael J. Palladino - NY
Aleta Pippin - NM
Dan Schreck - IL
Nancy Simonds - MA
Brian Sommers - FL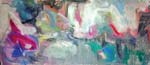 Trixie Pitts - NY
My abstract painting process is one of creating visual representations of my struggles to accept my own value, purpose and strength. To paint with freedom, bypassing my thinking mind is what I strive to do. I try to reach back and reclaim my own unique essence and hopefully express something authentic and healing that is beyond words. Music is instrumental to my creative process and I feel my paintings are quite musical, often feeling like I dance with my arms and brushes.






Tracy Lynn Pristas - IL
An established painter from Chicago whose paintings are in private collections internationally. Her paintings have been featured on Lifetime TV hit series, Drop Dead Diva and the blockbuster movie, The Breakup. Commissioned oils are included in numerous prominent health care collections, Northwestern Memorial Hospital, Chicago, IL , Mayo Clinic, Jacksonville FL. and more.


Anne Raymond - NY
Tyson Anthony Roberts - WA
Wilbur M. Reeling - PA






John Russell - FL
A fine artist and photographer, specializing in abstract expressionist paintings and abstract photography. "John brings his painter's eye to his photography. His work shows an amazing skill in photographing a diversity of subjects, interpreting them both realistically and abstractly." Elinor Stecker-Orel, Associate Dean, New York Institute of Photography, New York, NY. "Good, strong, original work." Mr. Ivan Karp, O.K. Harris Works of Art, New York, NY. Lives in Florida, Email: johnrussellartist@hushmail.com, telephone: (386) 586-7640, Artist Website


Ayesha Samdani - CA
Wolfgang Schweizer - CT
Bill Sortino - NM
Dan Strothers - FL
Sergey Stepanenko - CT






Mimi Chen Ting - NM & CA
Ting creates dynamic systems that seem to behave and organize according to the generative mechanisms of our physical universe and of living organisms, of big bangs and flocking birds. The viewer empathically feels expansion within the welcoming void well beyond the rectangular dimensions of the painting. - Stephanie Grilli, Ph.D., Art Historian. Located in New Mexico and California. Email: mimi@mimichenting.com, Website: http://www.mimichenting.com/


Heidi Thompson - Canada
Phyllis Toburen - WI
Shane Townley - NY
Onna Jeanna Voellmer - AZ
Vladimir Volosov - MA



Animals / Wildlife
Suzanna Antonez-Edens - GA
John Banovich - MT
Susan Bell - CO
Vicki Boatright - OH
Amy Pugh Campos / Salvador Kitti - GA
Victoria Chick - NM
Laura Curtin - CA
Nancy Davidson - CA
Claudette Eaton - VT
Audrey Frank Anastasi - NY
Ritch Gaiti - NJ
Wm. Gamradt - MT
Susan Gore Gardner - GA
Laura Gerry - NJ
Ravenna Johnson - CA
Jennifer Littleton - CO
Carol Lozito - CA
Les McDonald, Jr. - TX
Becky Miller - OR
Tracy Pollock - NJ
Parks Reece - MT
Jessica Wicken - CO
Andrew Woodward - MA
Larry Zack - IA



Automotive
Amanda Fur - TX



Botanical / Flowers
Sally Baker - CA
Diana Benedetti - FL
Jane Levy Campbell - OR
Julian Cardinal - VT
Fiona Craig - IL






Richio Galvez - CA
Artist in San Francisco whose sole/soul inspiration to paint is Vincent Van Gogh! "I have only to look at Van Gogh's art, and as if a sleepwalker guided by some invisible force prodding me to paint, to paint, TO PAINT!." In the past 4 years, I have painted about 40 paintings, and I am ready to shock the world. I paint portraits, landscapes and flowers. Studio located in San Francisco, email: rnhtlr69@yahoo.com or telephone: (415) 349-1007.






Stephen R. Hand - FL
Most of my work is in large format and painting on that scale gives me freedom of melting and moving the colors together. I create with the form of layering multiple colors in order to give true impressionistic works to warm my collector's souls. I want future collectors to experience how colors live together and flow into creative harmony. Color is a blessing. It's powerful, it flows, it melts, and it's what makes the essences of beauty and creation. I love to swim in color and I only use colors that love each other, so it brings out moods of bliss and happiness. http://stephenrhand.com/ Email: stephenrhandstudios@yahoo.com, telephone: (727) 457-2064


Fred Lisaius - WA
C. C. Opiela - CO
Chandana Paravastu - TX
Teresa Pennington - NC






S. PintoSouza - TX
Silvia is painter of Contemporary Realism, who uses mostly acrylic paint mediums on a variety of surface types. Her body of work consists of diverse Series of paintings with themes such as rural and urban landscapes, floral, nature, mosaic paintings, still life, leaves, people, pets, and abstracts. Her art works has been displayed and is in private collections in various countries. It has also inspired fashion since some of her themes are well suited to be used in textiles and accessories. Location: Houston, TX 77042, telephone: (713) 266-0242, email: artist@sps-art.com, website: http://sps-art.com/


Jeannetta van Raalte - NY
Delro Rosco - HI
Julia Sutliff - MD



Contemporary / Conceptual
Juan Alonso - WA
William Armstrong- GA
Anna Ataeva - CA






Diana Benedetti - FL
My pieces are full of vibrant colors with textures that enrich the content of each piece. I use symbols that express reality and fantasy which come together to tell a story of human nature, of our perfection and imperfections. My work is the manifestation of a spirituality that man captures to be able to live life with fullness. email: diana@dianabenedetti.com website: www.dianabenedetti.com


Pamela Bearor-Amiralian - MA
Daniel Brents - TX
Jonah Burlingame - CA
Jeannette Canale Encina - Chile
CANDE - TX
Agustin Castillo - CA
Joanna Dur - WA
Kim Ford Kitz - CA
Becky Frehse - WA
Nathaniel Galka - TN
Laura Gerry - NJ
Laurie Goddard - MA
Vezna Gottwald - CA






Hannah Greenberg - OH
Motivated by the combination of energy and layers of spiritual imagination, my art is designed to inspire. Each individual will have a different experience as they explore my work. With each glance, they will discover something new within themselves as well as the piece. Telephone: (440) 821-3567. Email: hannah@hannahsartprints.com. Website: http://www.hannahsartprints.com


Grace Grothaus - OK
Terril Heilman - NE
Loretta CR Hubley - NH
Paul Hunter - NY






Rebecca Johnson - CA
Is a contemporary painter and sculptor. Uniquely versatile in her knowledge of materials, she expresses her ideas about place and the environment using paint, stone, bronze, and wood. Her work has been shown in Galleries and Museums in New York, San Francisco, Philadelphia, Boston, Ohio, New England, and Northern California and is in numerous private and public collections. She welcomes client inquiries and studio visits by appointment. Email: rebecca@rebeccajohnsonart.com, Website: http://www.rebeccajohnsonart.com/


Angelika Kade - FL
Sterett-Gittings Kelsey - CT
Dan Mackerman - MN
Maidy Morhous - CA
Arthur Norby - MT
Allison Pasarew - MD
Karen Kohtz - VA
Haeley Kyong - NJ
Sherri Lenz - LA
Eric A. Leppanen - ME
Fred Lisaius - WA
Atara London Grenadir - NY
Derek Lynch - CA
Linda Mayne - CA
Todd McKie - MA
Vanessa Navarrete - IL
Douglas Newton - NY
John Ross Palmer - TX
Roberta Pinna - NY
Delro Rosco - HI
Chanse Roselli - CA
Arlon Rosenoff - WA






Karrie Ross - CA
An accomplished and award winning author and fine artist. My mixed media and 3D artwork has been in retail, commercial and residential venues for the past 25 years and I'm familiar with what is necessary for fulfilling a commitment for specialty and commission projects. I work in 2D with my watercolor, oil and acrylic mixed media and 3D with formed and found object sculptures.The underlying influences of my art are gathered from explorations into metaphorical concepts of energy creation, science, participation and being seen. karrie@karrieross.com website: http://www.karrierossfineart.com






Anastasia Rurikov Simes
As an artist, I often find it difficult to explain my paintings. From my earliest childhood, I have been influenced by the advice of my artist grandfather, who told me, "if you really have something important to say, draw it rather than putting it into words. Words will disappear anyway." If I were asked to describe my art in one sentence, I would use the words of Gabrielle Garcia Marquez - "the world was so new that many things had no names and you had to point your finger at them." Website: http://www.rurikov-simes.com/


Alan Salabert - IL
Dominique Samyn-Werbrouck - NM
Marcia Santore - NH
Iris Scott - WA
James Shumate - WV
Sherri Silverman - NM
John Sumner - CA
Aaron Thornton - CA
Mimi Chen Ting - NM & CA
Corey West - CA
Viral One - CA Gail Vollrath - DC
David Warner - CO
Joan Weber - CA
Ron Weinkauf - WA
Payson Welch - ME
Sheryl Westergreen - WA
Robert Bruce Weston - DE
Davyd Whaley - CA
Andrew Woodward - MA
Nicholas Zalevsky - CT



Encaustic
Grace Carol Bomer - NC
Andrea Cermanski - NM



Landscapes / Nature
Andrey Allakhverdov
Diane Snoey Appler - HI
Michael Baum - CO
Susan Bell - CO
Justin Bernhardt - MI
Cynthia Britain - CA
Paula Christen - WA
Fiona Craig - IL
Elizabeth Craumer - NH
Nancy Davidson - CA
Linda Dessaint - NH
Mary DeVincentis - NY
Suzanne Q. Egan - CA
Tobin Eason - NY
Marilyn Erickson - AZ
Daniel Finaldi - NJ
Ellen French - CA
Nathaniel Galka - TN
Wm. Gamradt - MT
Margaret Gohn - IN
Susan Gore Gardner - GA
Rani Garner - GA
Michael Gibbons - OR
Phyllis-Gillie-Jaffe - MD
Vezna Gottwald - CA






Erin Hanson
A life-long painter, as a teenager, she worked in a mural studio creating paintings for restaurants and casinos around the world. A graduate of UC Berkeley, She took pause from art to major in Bioengineering. Inspired by rock climbing Red Rock Canyon and the southern California desert, Hanson has since spent almost a decade painting the dramatic scenery of Utah, Nevada, Arizona and California. She has a unique style of her own, bringing elements of classic impressionism together with modern expressionism and adding a dash of "plein-air style." Her oil paintings stand out, bringing a fresh new look to contemporary Western landscapes. Website: http://www.erinhanson.com/


Jose Jimenez - NC
Tammie Lane - CO
Valerie Leri - MA
Jerri List - ID
Jude Lobe - NC
Dan Mackerman - MN
Robert Maniscalco - SC
William Mangum - NC
Barry Masteller - CA






Kevin McCain ID


Is a plein air artist painting the North and Southwest landscapes with an impressionist style. His paintings capture the vast and monumental feel of the west. He feels the nature of discovery should always be felt in his paintings. He works in and out of studio, painting outdoors on location, also referred to as painting in plein air, helps give a feeling of authenticity to the landscape. Color and light are his focus. The play of light and shadow is what gives a painting vibrant life. Having been raised in the West Kevin focuses on what he knows and loves, the western landscape.. Boise, ID, telephone: (480) 309-0039, Email: artist@kevinmccainart.com, website: http://mccainart.com/.


Sydney McKenna - FL
C. Nauman - IL
Arthur Norby - MT
Thu Nguyen - HI
Teresa Pennington - NC
Phillip Philbeck - NC
Jessica Pisano - RI
Michele Pope Melina - MN
Tracy Lynn Pristas - IL
Ronda Richley - FL
Nancy Romanovsky - AZ
Ayesha Samdani - CA
Steve Simon - AZ
Julia Sutliff - MD
Gina Tecson - CA
Vladimir Volosov - MA
Liz Thele - CO
David Warner - CO






Robert L. Wogrin - CO
A nationally known artist has placed his work in many local and national art shows. Including the American Artist Professional League and the Allied Artist of America shows in NYC. He is recognized as a fellow by the AAPL and the Hudson Valley Art Association. He is noted as a painter of western landscapes, especially the Colorado Mountains and has the distinction of being the only artist who has painted all of Colo's 54 peaks higher than 14,000 feet. This group now belongs in many national and private collections, as the Forbes magazine collection, and Museums. His paintings also depict the Southwest and Europe. Email: rwogrin@gmail.com, Website: http://wogrin-art.com/






June Yokell - CA
I'm currently working on paintings of California landscapes creating particular moments in paint of beauty and loss. My subject matter is derived from a place that I happen to be in when in a relaxed and open state. Early experiences in the Adirondacks and of the backyards of New Jersey along with my entire emotional and reflective responses to nature, to personal relationships and to the world at large are the ingredients in the work. Email: june@juneyokell.com, Website: http://www.juneyokell.com/.


Kenneth Young - NY



Mixed Media
Catherine Altice - NC
Adler Beegan - NY






Ralph Davis - OR
My intention has been to create works that are both beautiful and respect the viewer's intelligence. By presenting images and situations where immediate recognition and cursory viewing are insufficient to engage with the visual material. I have tried to avoid cognitive contrivance and elicit responses on both a conscious and unconscious level. Each painting leaves work to be done and invites participation and artistic engagement. Email: fortuna7@comcast.net, Website: http://ralphdavispaintings.com/


Braydee Euliss - IN
Gwen Faber-Terpstra - CA
Hans Feyerabend - FL
Becky Frehse - WA






M. Jane Johnson / MJ2art - VA
Mixed media paintings are built from layers of paint, collage, drawing, and at times oil paint creating richly colored and textured paintings. The work is process driven starting with loose broad strokes of paint and adding and editing as the piece progresses. Each painting has art papers, stencils, and mark making adding to the patterns and interesting textural quality of the work. Email: mj2makesart@gmail.com Website: http://www.mj2art.com/


Michel Lalou - NY
Lisa Levasseur - BC Canada
Jude Lobe - NC
Derek Lynch - CA






Gabriel Marquez - Painting & Mixed Media
A multi-disciplinary artist who works in mixed media painting, plaster-casting, photography and illustration. He studied painting and graphic design, after receiving his BFA in Studio Art (2012), Gabriel began to explore non-conventional materials. His assemblages are reminiscent of archetypal imagery with a focus on connection with the viewer. The paintings have the ability to transcend the viewer into another realm of spirituality, nature and death. www.gabrielmarquez.us


Ewa Mikucinska - CA
Lynette Miller - NC






Janet Mishner - FL
Paintings articulate experiences of psychoanalytic concepts as they relate to the process of creating art. Working with canvas or paper, I impulsively approach choice of materials and mark. My thoughts are replicated at a subconscious level, eliminating rationalizations for making aesthetic decisions. Janet Mishner's paintings have been exhibited in solo and group exhibitions in galleries and cultural centers. email: janetmishner@gmail.com.


Kristen Neveu - CA
Mary Elizabeth Peterson - CT
Alette Simmons-Jimenez - FL






Alfred Stone - OR
The imagery, themes and concepts in which Al work with are culturally-rooted, extending his interest in both anthropology and the environment. His focus is questioning perception, the act of looking and using the visual to compare contexts within culture, and using culture as a mode of measurement that allows for no "absolutes. He sees our world as a participatory universe in which our awareness of physical phenomena is defined by the questions we ask of them. Email: alfredstone@q.com Website: http://www.alfredstone.com/


Dan Strothers - FL
Shane Townley - NY
Lisa Tureson - VA
James Volkert - AR
Robert Bruce Weston - DE



Pop / Neo Pop / Pop Surrealism
Michael J. Auger - DC






John C. Kuchera - NY
Now living in Harlem, a downtown boy from the early 1980s is now enjoying the open spaces uptown. John C. Kuchera has been painting and drawing for years, his style is refreshing and enjoyable, he uses many a medium but he likes pen and ink and oils. A Printer, Photographer, a Porter at Columbia University, Farm worker, Security Guard in Maine (guarding Mice) a Janitor cleaning banks, even a copy writer, his most famous copy was, Yes, Virginia we do toilets (for a Cleaning service) ©Kuchera. Telephone: 646 750-6184, Email: info@kuchera.org, Website: http://www.kuchera.org/


Anna Sprage - TX



People / Portraits / Figurative
Leonid Afremov - FL
Alan Fine Art - HI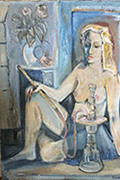 Andrey Allakhverdov - MA
Talented painter of "Eastern" village and city landscapes, still life, portraits, nudes and abstracts. He was born in 1947 in Baku, Soviet Union, into an Armenian family. From the time he was 14 years old, Andrey was practicing drawing and painting. He received his Bachelor's Degree in Fine Arts from Moscow State Art University for Textile and Design. Andrey is a Member of the Moscow Art Union since 1979 and a Member of the Union of Soviet (Russian) Artists since 1988. Oil paintings by Allakhverdov are done in a several styles such as: neo-realism, surrealism, abstract expressionism, and are distinguished by their striking use of bright colors. Website: www.allakhverdov.com or email: allandrey2014@gmail.com.


Antoinette Alcazar - IL
Teimur Amiry - CA
Audrey Frank Anastasi - NY
Eric Armusik - PA
Justin Bernhardt - MI
Rachel Black - PA
Julian Cardinal - VT
Benjamin Casiano - CT
Matthew Cherry - RI


JD Challenger - NM
Shawn Demarest - OR
Ewaldart - WIbr> Daniel Finaldi - NJ
Richio Galvez - CA






Robin Hiers - CA
A California based artist - my paintings of women and scenes, capture attitude through facial expression. I knew at a young age I would grow up to paint happy colorful paintings that would make a lot of people happy. My art collectors are my living proof that yes my art brings happiness to a room, just like a beautiful woman. I am influenced by fashion, the beach, pop culture, champagne and life in Southern California. I welcome studio visits by appointment, and specialize in commissions. Email: robinnoelart@gmail.com Website: http://www.robinhiersart.com or the Drizzle Gallery in Laguna Beach, CA. Best by appointment (949) 940-6662


Catherine Karnoff - NY
M Kungl - CA
Michelle Larsen - ID
Sherri Lenz - LA
Jude Lobe - NC
Robert Maniscalco - SC
Jane M McCabe - CA
Ralph Mantia SR - FL
Lynn Mayes - GA
Prenn Nguyen - CA
Thu Nguyen - HI






Michelle Oravitz - FL
I yearn to access a space where the unseen can be shown. If it has a voice, I want to hear it. If it has a face, I want to paint it. I feel that art is my therapy. It shows me a visual reflection of what happens inside my mind. I am able to sort out my thoughts and feelings through symbols and colors. My goal is for these symbols and colors to somehow touch and inspire the lives of people who are drawn to my paintings. I believe that art, like music has the ability to heal through vibration of colors rather than sounds. I hope to bring healing into this world in any way that I can. email: mystical-artist@hotmail.com


Kevin Red Star - MT
Don Eugene Seastrum - CO
E. Skallberg - FL






David Slader - OR
As an exponent of Digestive Expressionism, I believe that a painting should - indeed must - reflect the artist's meal from the previous evening. In the painting above, even a casual observer will notice that for dinner the night before, I had cheap red wine with a bowl of dolphin-safe tuna in spicy organic coconut sauce. Less obvious, perhaps, but apparent to more astute observers, was the breakfast of three double espressos with toasted gluten-free bread. I am represented by Gallery903 in Portland. dslader@spiritone.com






Sergey Stepanenko - CT
A classically trained, Russian born master artist. Perhaps best known for his exquisite murals & trompe l'oeil. Sergey is an artist of great skill, and is available for consultation as well as private commissions. His paintings can be found in private collections in many countries such as: Germany, Japan, India, Russia and the United States. Lacated in: Darien, CT, Email: sergeystepanenko@yahoo.com, telephone: (203) 570-3160, website: http://www.artstudiostepanenko.com/


Dr. Ivan Tirado - CT
Melvin Toledo - GA
Onna Jeanna Voellmer - AZ
Laurie Waite-Fellner - NJ






Joseph Warren - FL
The Dream Dancer paintings are a synthesis of my Disney experience, my experience in East Africa and everything in between. The surreal contrast of beauty and the beast provides a playful setting for the celebration of life and the joy that life brings. And what better way to express the joy of life than a dance? My Disney experience taught me about story telling, the 'suspension of disbelief', fantasy and the whimsical. Humor can certainly play a role in painting and that there is a place for 'cliché'. My experience in Kenya, East Africa placed me in the middle of the animal kingdom, animals large to small and wild, really wild. Each Dream Dancer painting should be thought of as a passage from a larger story. Artist Website: http://warrenpaintings.com/


Darlene Weaver - WI






Caroline Young - NV
My art is a contemporary interpretation of ancient themes of the Orient. The images on silk tell stories from Chinese and Japanese history and mythology. In this technology-driven age, there should be a place in our lives for serenity and romance, and appreciation for those who came before us in cultures thousands of years old, but who were driven by the same motivations of today: love, power, wealth and moral principles. Telephone: (775) 849-1801, email: CarolineYoungStudios@gmail.com, website: http://www.carolineyoungstudios.com



Realism
Diane Belfiglio - OH
CR Bryant - WA
Ed Cepiel
Ewaldart - WI






Nick Savides - NY
My paintings have a calming effect; if they were music, the melody would be soft and soothing. I'm inspired by the effects of light. Influenced by artists such as Vermeer and Hopper, I strive to create paintings that capture a sense of time and place. They draw you in with the familiar and invite you to interpret them by inventing the story behind them. The artistic process is a journey - one of discovery and expression. Each painting that I make is a stop on that journey. email: info@nicksavides.com, website: http://www.nicksavides.com/



Seascapes / Marine / Nautical






Barbara Applegate - ME
Nationally recognized painter of landscape and still life lives in Maine where she paints the seascape, gardens and villages of New England. Influenced by the early masters including Vermeer, Monet and Sargent. Her paintings are filled with dramatic light and complex compositions. "Creating the most refined and elegant statement from the chaos of detail all around me is my goal." Her gallery is nestled amid the towering pines in the coastal village of Bristol Mills on the Pemaquid Peninsula. Her first book "Barbara Applegate Painting Maine" a collection of her paintings is available at Amazon.com. Location: 1311 Bristol Rd, Bristol, Maine, telephone (207) 563-2141, website: http://barbaraapplegate.com


Diane Snoey Appler - HI
William Armstrong - GA
Cynthia Britain - CA
CR Bryant - WA
Donna Carver - WA
Bob Cronk - VA
Rani Garner - GA
Vezna Gottwald - CA
Rossana Kelton - GA
Valerie Leri - MA
Ralph Mantia SR - FL
Betsy Jones McDonald - SC
Robin Noel Hiers - FL
Michele Pope Melina - MN
Magda Moor - OR
Betty Ann Morris - RI
Jessica Pisano - RI
Kathleen M Robison - CA
Vladimir Volosov - MA
Bob Wilson - ID



Still Life / Objects
Barbara Applegate - ME
Amy Myers - CA
Douglas Newton - NY
Robin Noel Hiers - FL
Paula Peacock - CO
Melvin Toledo - GA
Vladimir Volosov - MA



Southwest / Native American / Western
Alexa Alexander - CA
Michael Baum - CO
Susan Bell - CO
JD Challenger - NM
Marilyn Erickson - AZ
Ritch Gaiti - NJ
Valerie Graves - NM






Michelle Larsen - Paintings
My art is inspired by the western lifestyle. Creating works that connect us to the magnificence of the west, the relationship we have to the land, and the independence of this wondrous way of life. My work has a striking appearance that draws you in, with dramatic texture and bold color. My methodology is consistent through texture on the canvas using tissue paper. Many of my paintings are three dimensional using the tissue paper in a sculpted display on canvas. Boise, ID, telephone: (208) 424-7754, Email: mountain.woman@gmx.com, website: http://www.poetrypainting.com.


Tammie Lane - CO
Steve Simon - AZ



Urban Landscape / City
Daniel Brents - TX
Leonid Afremov - FL
Teimur Amiry - CA
Shawn Demarest - OR
Georgi Dimov - FL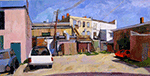 Nancy Flanagan - MI
Nancy Flanagan is a hard core painter who reports the urban landscape and how we have changed it. Urban and industrial landscapes are what we have done to the land. The things that many people don't notice or disdain are the very things she finds stimulating and compelling. The work is a combination of an introduction to a location and the narrative embedded in it; places are complex, ironic, incongruous, robust and melancholy, seeing what's there. South East Michigan and Ypsilanti. Born in St. Louis, she spent years as a student, teacher and administrator on the east Coast, and Is now living, painting and teaching in Michigan, for the foreseeable future. Artist Website


Caprice Glaser - MN
Crystal Moll - MD
Nick Savides - NY
Gina Tecson - CA
Kenneth Young - NY



Watercolors
Sally Baker - CA
Greg Burns - OK






Paula Christen - WA
Painting landscapes of the Pacific Northwest, I'm attracted to the sunlit graveled path, a high alpine trail or a one street town where the merchant doors are open during summer. My goal is provide a place for the viewer's eyes and mind to refresh and to keep connected to those special places removed from today's 70 mile per hour lifestyles. Website: www.paulachristen.com


Georgi Dimov - FL
G.E. Grey - NM
Varvara Harmon - ME
Jane Levy Campbell - OR






Michel Lalou - NY
A French-born artist, his imaginative pieces focus on the expressiveness of the face. His faces, born out of watercolor, are powerful shapes that reach out and touch the viewer's senses with bold colors and lines. For Lalou has a special relationship with color, he has the rare gift of synesthesia - he not only sees color, he feels it. Using minimum brush strokes, a myriad of feelings explode onto the canvas, expressing the right emotional state. Here only expression exists. Email: michellalou@gmail.com, Website: http://www.michellalou.com/


Jennifer Love - UT
Les McDonald, Jr. - TX
Marlies Merk Najaka - NY
Tracy Pollock - NJ
Caroline Young - NV



Whimsical / Humor
Suzanne Q. Egan - CA
Michael J. Auger - DC
Vicki Boatright - OH
Parks Reece - MT



General - Variety Subject Matter and Styles
David Beers - MD
Grace Carol Bomer - NC
A.F. Branco - WA






Robert Brennan - Painter, Constructivist
A multi-talented painter and constructivist; MA and advanced graduate studies in painting and printmaking, Columbia University; first prize, Silvermine Guild, Art of the Northeast, USA; multiple awards in Artslant; solo and group exhibits in NYC and CT. Work is held in private collections throughout New England and New York. Work may be viewed in studio, Easton, CT. Website: http://www.therestlesseye.com/, Contact info: 2brennan@optonline.net


Margo Buccini - FL
Bob Cronk - VA
Mary DeVincentis - NY
G.E. Grey - NM
Orlando Guerra - FL
Varvara Harmon - ME
Joshua Hunt - WI
Angelika Kade - FL
Jennifer Love - UT
Betsy Jones McDonald - SC
Manuel Miranda - TX
Magda Moor (GetMoorArt) - OR
P. Buckley Moss - VA
Prenn Nguyen - CA
Michael J. Palladino - NY
S. PintoSouza - TX
Peacock Art Studio - CO
Ronda Richley - FL
Chanse Roselli - CA
Sherri Silverman - CA
Beth Simpson - TX
Vigen Sogomonyan - CA
Anna Starkova -MAs
Julia Sutliff - MD
Aaron Thornton - CA
Melvin Toledo - GA
Mirjana Ursulesku - IL
Jennifer Vitalia - NJ
Jim Warren - FL
Darlene Weaver - WI
Jolyn Wells-Morant - WA
Payson Welch - ME
Corey West - CA
Jessica Wicken - CO
Patricia Hope Windrow - VA
Hilary Winfield - OR
Sue Ye - GA

---
Artist Services


PostcardsRUS
Whether you are an art gallery owner or an artist, having an effective offline brand presence is essential. One way to boost your brand presence is to have high-quality promotional materials. Postcardsrus.com, an online commercial printing company, makes this possible for many galleries and artists. We specialize in printing business cards, postcards, brochures, letterhead, posters and much more. Our "Design Online" features enable you to upload and customize your own print materials within minutes. With 7 printing facilities located across the US and 1 in Canada orders are printed and delivered quickly. Visit: Postcardsrus.com, or Email: Jobs@Postcardsrus.com, Tel: 800 986-2459



---
If you're looking for other types of visual art or artists select from the following links.

Painters | Photographers | Print Makers | Jewelry | Ceramics / Pottery and Crafts | Glass Art | Sculpture | Outsider Art | Other Visual Arts

---

Art Bookstore
Scroll through a great selection in our art bookstore, treating yourself to a visual feast of richly illustrated coffee-table and other books, magazines, and DVD's about the world of art.

Art-Collecting.com can also serve as your shopping portal to Amazon.com for all your other Internet shopping - whether for laptops or luggage, heels, hardware, or haberdashery. Just click here: Path to Amazon.




Amazon's Book of the Month Site for reading and gift suggestions.

Thanks for visiting Art-Collecting.com.

Here at Art-Collecting.com, we love art as much as you do. Please mention us to your friends, to galleries you visit, and feel free to share the site via Twitter, Facebook, Pinterest, Instagram, or other Social Media venues!

---

Home | Gallery Guides | Museums & Art Centers | Art Auctions | Art Fairs | Art News
Collecting Information | Types of Collecting | Bookstore | How to be Listed

---

Terms of Use | Privacy Policy | Contact | Mailing List
Copyright 2016 by Art-Collecting.com All Rights Reserved