PROTECTING NEW ART PURCHASES
How to Protect Your Art Investment
When purchasing art, consider the following related to your purchase. Make sure that you receive a full and detailed receipt, documenting each artwork purchased. Take care to protect your artwork from damage while transporting it to your home or office. What are your plans for the artwork and where will it hang? Is the artwork automatically covered by your insurance or do you need to contact your insurance company? What are your responsibilities as an art owner? This page provides you with information and tips that will help protect your art investment.

Documentation from the Gallery
Bill of Sale
You should always receive one, and keep a copy with the artwork.

Letter of Authenticity
Be sure to get one especially if the piece is limited edition.

Artist Resume and Biographical Information
Always have a current and updated artist information.

Artist Statement
Attach all of your artist information on the back of the artwork.

Type of artwork
It may seem obvious but find out if it's an original, limited edition, or reproduction.

Special Care and Handling Instructions
Make sure that you know how to protect and take care of your artwork.

Meet The Artist
Openings are a good place to meet the artist. You might also take the artist to dinner or drinks, or invite them to your home to see their work on your walls.

Gallery and Artist Mailing Lists
This is an easy way to follow artists career.

Transporting Artworks Home
Car / Van / Truck
Make sure you have a vehicle large enough to get the artwork home.

Supplies Needed
Cardboard and blankets can be used to protect the artwork.

Transportation Insurance
Do you have insurance while the artwork is being transported home?

Shipping Artwork
Gallery Advice and Recommendations
Your best source on information will from the gallery.

Art Transportation Companies
You will find this type of art service in large cities.

Crating and Packaging Services
Make sure they know how correctly package and protect artworks for shipping.
The gallery may have a service they use, be sure to ask them if needed.

Federal Express and Other Carriers
Be safe and go with a trusted carrier like Federal Express.

Framing
Archival Framing
Make sure your artwork is framed and protected with archival framing.

Glass or Plexiglass?
Glass breaks, but it's easier to clean and take care of.
If the artwork is expensive go with the added safety and protection of Plexiglass.

Hanging or Storage
Where to Safely Hang Artworks
Never hang expensive art over a fireplace.
Always protect it from heat and direct sunlight.

How to Hang
Use the appropriate type of art hangers. Go with a professional service when the artwork is expensive and you can afford it.

Type of Hangers Heeded
There are special types of picture hangers for artworks, ask the gallery about best type.
Professional framing stores and shops usually have hangers available for purchase.

Professional Installation Services
These are usually available in large cities and galleries can refer if needed.

Storage Options
Your walls might be already covered with artworks, so where do you put it?
Be careful with wet basements, and always keep artworks 3 inches off the floor.
Temperature and humidity, make sure the storage area is stable year around.

Artwork Documentation
Artwork Details
Document your artwork fully, be sure to include size, current condition, type of Artwork.
Also, makes notes about any identifying numbers or markings on the artwork and make sure you know the correct title and date of the artwork. How's it framed and what's the prominent subject matter of the art?

Photographs of Artwork
Digital camera work well, make sure to photograph from different angles.

Artwork Information and Records
Keep in a safe place like a safe deposit box or in a separate building in case of fire.
Other documentation to protect include your bill of sale, artist statements, appraisals, articles about the artist, etc. should be together in a safe place.

Books about the Artist
Purchase copies of all publications related to the artist.

Insurance Needs
Types of Insurance Coverage Available
Ask you insurance agent or the gallery you are purchasing from.

Homeowners vs Other Types of Coverage
Homeowners policies frequently cover art but check with your broker, you might have to list your artwork as a separate item.

Current Insurance Information
Keep you insurance company updated with current artwork value.
This should be done yearly or whenever the value of the artwork changes.

What Insurance Companies Pay?
Are you protected from damage or loss due to an earthquake and water damage?

Partial or Total Loss.
Will you be covered for the full value of the artwork or only a partial value?

We'll be adding additional insurance information in the near future.

Keep in Touch with the Artist
Loan Artwork to the Artist
Someday the artist might want to borrow your artwork for a major retrospective.

What Galleries Represent the Artist
Know the names of other galleries selling and representing the artists works.

Artist Mailing List
Contact the artist and ask to be added to their mailing and email list.

Artist News and Articles
Learn how to use "Google News Alerts" for information about the artist.

When You're on Vacation
Artwork Storage
You might consider placing the artwork in storage if you're away for long period of time.

Cover the Artwork
Ultraviolet light is one of artworks biggest enemies, covering it helps keep it from fading.

Artwork Appraisals
Professional Appraisals
You will need one when selling or donating the work to a museum.
Where to find Professional Art Appraisers

Finding price information online
The Internet will direct you to artist information, search for the artist name on Google or Bing.
Look for the artists website, next check for galleries representing the artist.

Auction Price Results
There are several companies that provide major auction results.
One of the largest online price resources is: Artprice.com.
---
Other Information on Collecting Art
Art Collecting Tips
Collecting art for love and profit is one of life's great pleasures.
Where do you start? When should you buy? Here're ten tips to help you get you
started collecting fine art.

Buying Fine Art Online
A fast growing option for anyone interested in purchasing art.

Protecting New Art Purchases
Learn how to protect your artwork and your art investment.

Internet Art Collecting Resources
Also, be sure to explore around our site for art resources, and our online gallery guides.

---

Art Bookstore
Our bookstore will introduce you to the latest art books.
Please click this link and visit our Art Bookstore.







Amazon's Book of the Month Site for reading and gift suggestions.

If you find Art-Collecting.com to be a useful online art resource, tell your art friends about us and mention it to galleries when visiting them. Also, if you have a Facebook page or Twitter account please mention Art-Collecting.com when you find something useful or interesting.

Thanks for visiting art-collecting.com.

---

Home | Art Gallery Guides | Museums & Art Centers | Art Appraisals | Art Fairs
Collecting Information | Types of Collecting | Auctions | Bookstore | How to be Listed

---

Terms of Use | Privacy Policy | Contact | Mailing List
Copyright 2015 by Art-Collecting. All Right Reserved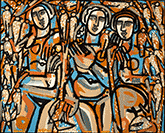 America Martin
Available from
JoAnne Artman Gallery
Laguna Beach, CA


David Shapiro
Available from
Leslie Sacks Contemporary
Santa Monica, CA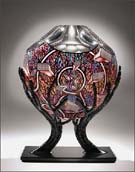 David Schwartz
Available from
Foster/White Gallery
Seattle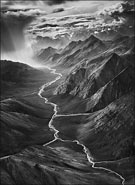 Sebastiao Salgodo
Available from
Peter Fetterman Gallery
Santa Monica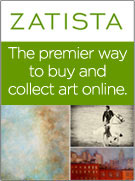 Access to over
4000 original artworks.
Browse Zatista collections

___________________________


Please follow us and share this guide with your art loving friends. Good comments and links on Social Media sites also help us.





To receive our Free monthly newsletter and an occasional email update, register below.


___________________________