ARTISTS
PAINTERS AND FINE ART PAINTINGS

Artists listed here are serious professional artists. Most are full time artists, some have studied extensively to master their skills and many have a degree in art. The artists are listed because they want you to become familiar with their artworks. Most of the artists are selling paintings or prints through their websites. They are always interested in new viewers discovering their work, and to learn about exciting opportunities to participate in exhibitions and art shows.

Art-Collecting.com provides comprehensive and easy to use gallery and art guides on the Internet. Our guides help you to easily discover art in various art communities whether you are visiting them, planning a visit, or living in them. Click on Art Gallery Guides in the top navigation and you'll find art guides for every state and thirty-seven major art cities. Links take you directly to the listed art businesses so that you can quickly see what's being featured. Explore around and discover the resources we offer, our gallery guides are also very useful for travelers that love art.

For the past 25 years, we've been providing online art and gallery guides. We do it because galleries, museums, non-profit art organizations, and artists are important, please support them whenever possible. Even though we've been around for years, we could use your support. If you have listed in the past, thank you, please renew. If you've never officially listed with us please do so today. Listing information can be found in "About Us" in the top navigation. You can also help by sharing our site with art friends and in Social Media, thanks in advance, it would be much appreciated. If you discover a favorite exhibition because of us, don't keep it a secret, tell the gallery and your friends.

The fine art painters listed have been loosely categorized by style; the styles range from Abstract to Botanical, Urban and Landscape to Whimsical. You will find painters from nearly every state: from Florida to Washington, California to Connecticut.


SUBJECT MATTER AND STYLES OF ART

Abstract
Animals / Wildlife
Botanical / Flowers
Contemporary / Conceptual
Landscapes / Nature
Mixed Media
People / Portraits / Figurative
Realism
Seascapes / Marine / Nautical
Still Life / Objects
Urban Landscape / City
Watercolors
Whimsical / Humor
General - Variety Subject Matter and Styles

ARTIST SERVICES

---

Abstract





Kathryn Arnold - CA
Kathryn Arnold is an artist working primarily with painting. Applying abstraction, Arnold formalizes the coincidental and emphasizes conscious process of composition. Colors in Arnold's paintings are variously jewel-like or subtly muted. The paint's texture varies, drawing the viewer in. In Kathryn's own words, "I allow for intense optical mixing as layers build upon each other with translucent effects integrating both on canvas and in the eye. I build up surfaces with marks. As I work, I notice a sense of personality and emotive nature developing and pursue it. Poetic gestures reveal the diaphanous character of thoughts and associations (processes of mind) in substantial and solid form." Located in San Francisco. Website: https://artistkathrynarnold.com/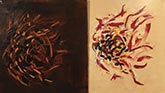 Keith Ferris / Studio 13 - CA
I've maintained a studio for forty years. Recently, collaborating with Lia Smith on an book project about MUNI of San Francisco. The book is made up of my drawings, made over several years, of riders that have interested me either by their fashion statement or relationship to other passengers, or both, and drawings of the operators who have volunteered their time to have their portaits drawn for this project. If you are interested in viewing and possibly purchasing work, please contact me for a studio visit at keith639@sbcglobal.net, I'm located in San Francisco. Website: https://www.keithstudio13.space/






Shelly Leitheiser - GA
I'm a life-long artist and for me, art is about conveying a mood and my ideas. I like to create art that others can relate to, or that makes people keep looking, which is why abstract art is so appealing to do. Abstract art and impressionist landscapes are where my art has evolved to from more representational art. I feel that these types of art are the most fun and rewarding for people to look at because everyone sees something different. The main ideas I try to convey in my art have to do with the environment, and how humanity and nature can become more connected. Art is available directly from my website, https://fineartsouth.net/, 470-304-5559.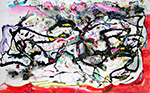 Wilbur M. Reeling - MD
My Abstract art is an alternative way for me to express my visual language of form, color and line to create a composition that places greater emphasis on a visual sensation than on a depiction of recognizable, realistic objects. Most of my paintings are done using pigmented paints that I hand grind and mix with special mediums to form my own unique color palette. Abstraction itself has been my subject matter for decades. Not an easily understood expression of painting, the observers must be able to comprehend and struggle for meaning in what is said, what is implied, and what is never completely described. Artworks available directly from the Artist, 443-252-5985. Website of Wilbur M. Reeling






Dorothea Sandra - MI
Dorothea Sandra is an evidence-based design (EDAC) trained and certified artist known for creating the quality of "happiness" within art. She has five equally popular brands. She enjoys the challenges of creating custom art and is a busy international and national commissioned artist. Her art has appeared in the Art Review sections of Condé Nast's House & Garden, World Of Interiors, and the Tatler. Her new book, 100 Days Of Happy Happy Art, Evidence-based Design, will be available spring 2023. She loves nature, and her studio is in a lovely town along the shores of one of the amazing Great Lakes. She is a happy, friendly artist and can be contacted at dorothea@dorotheasandra.com or (989) 255-9341. Visit her beautiful floral and landscape art at dorotheasandra.com. Visit her powerful abstract art at dorotheasandragallery.com.






TATE - TX
Steve Tate has worked out of the United States, Monte Carlo and France, selling his art internationally. He has over 20 years of experience working with paints and applications. He has been recognized by the COMITE NATIONAL MONEGASQUE OF MONTE CARLO MONACO AS A PROFESSIONAL INTERNATIONAL ARTIST. The resume history of many solo/group shows, along with interviews and videos is just a mere glimpse into his accomplished narration. His paintings hang in some of the finest homes in the world. Location: Grapevine, TX, telephone: 214-679-5690, website: https://www.tateartgallery.com/






Katie Willes - UT
I've always been touched by beauty. The sunset over the desert, or an orchard in full bloom can stop my breath. I try to infuse that joy of color into each painting. As an abstract expressionist artist, I paint intuitively. I try to bring balance and flow into each piece. I like to think my cheerful optimism shows through. When I can't help but smile when I look at each painting, I know I'm done. Artworks available directly from the Artist, 801-949-3629. Website of Katie Willes


Inez Andrucyk - NY
Nikita Coulombe - TX
Derek Des Islets - NY
Jessica Daly - CT
Cheryl Ehlers - CA
Kim Ford Kitz - CA
Shelley Heffler - CA
Sue Anne Hoyt - AL
Russell Jacobs - NV
Frank Kelley, Jr. - LA
Shelly Leitheiser - GA
Nipun Manda - MD
Barry Masteller - NM
Michael J. Palladino - NY
Richard Sperry - IL



Animals / Wildlife
Nikita Coulombe - TX
Jim Deckers - ME
Saundra Jones - Canada
Denice Peters - IA
Emily Rapport - IL
Linda Shoults - IN
John Stinger - TN



Botanical / Flowers





Rebecca Bangs - CA
"I grew up in the back hills of East Tennessee fishing, climbing trees, running barefoot through corn fields and chasing after baby bunnies. It is this deep connection with nature that brings me back time and time again to create paintings inspired by our natural world. Each painting is an exercise in mindfulness as I apply 7-8 layers of dots for their creation. Collected nationally and internationally, many remark on how joyful they make the viewer feel." Located in the San Francisco Bay area. Website: https://www.rebeccaebangs.com/


Marco Cutrone - NJ
Kelly Mellos - CA
Dorothea Sandra - MI



Contemporary / Conceptual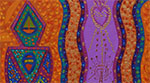 Anne Furnaris - MI
Anne is the originator and promoter of the Metaphysical-Hermetic Christogrammic Art. She brings the Arcane Gnosis of the Mystery Schools into the spheres of the visual arts. This artistic manifestation is connected to the esoteric sciences, while its symbolic content is the outcome of many years of Space-Time experimentation of the Scientific Remote Viewing and activation of the dormant mental telepathy. The Hermetic Christogrammic Art has the scientific, spiritual, and artistic purpose to evolve the human consciousness and connect it to the Cosmic Consciousness of the Eternal Creation. Email: wfurnaris@aol.com, artist website: https://www.fineartsinmichigan.com/


Cheryl Ehlers - CA
The Art of Alred A. Dolezal - OR
Christopher Hutchinson - MD
Andrea Maw - AZ
Adrian Panaitisor - CT
Tomasso Silvestri - IL



Landscapes / Nature





Philip J. Carroll - NJ
I do not choose the subjects that I paint they choose me I just happen upon them in my endless wandering for inspiration and they appear when I least expect them. Although I have painted landscapes in oils of city scenes and stop lights in an urban setting. I find I am drawn in later life back to my roots that of landscape and as I have always done still life. My most recent forays have been to Maine and Nova Scotia places I have always wanted to paint and now have the luxury of doing so. I am drawn to the scenery as many artists have been in the past and will be in future. Located in New Jersey, website: https://www.philipcarroll.com/






Carla Forrest Fine Art Studio & Gallery - NM
Carla Forrest Fine Art Studio & Gallery opened in September 2018, nestled in serene Patio Escondido in Historic Old Town Albuquerque, New Mexico. The petite gallery's exclusive focus is the spectral luminescent "New West" paintings by contemporary fine artist, Carla Forrest. Visitors will see the full range of her popular plein air landscapes, florals, and studio work inspired by direct observation of nature and life. "I approach painting as an observer of the soul, enlightening the viewer about the presence, wonder, and dignity of nature and life. I want the viewer to value place and person in a space of spirit and heart and bring this illumination into their personal environments." Location: 404 C-5 San Felipe Street NW, Albuquerque, New Mexico 87104, telephone: 505-410-2444, website: https://www.carlaforrest.com/






Puget Sound Group of Northwest Artists - WA
The Puget Sound Group will soon be celebrating it's 100th Anniversary as a prestigious art group in the western United States, the perfect time to share paintings and sculpture by its celebrated members. This is an historic first for art collectors and patrons as they may now acquire high quality artwork directly from these artists. Artwork above showing in our online fine art gallery by Jolyn Wells-Moran, Acrylic. Visit through the new online gallery, SAVOR, now.






Davina Perl - CA
Ever since I was a child, I have "thought" in pictures. As an emotional response to my subjects, I paint what I see and what I feel, capturing the subtleties of color and form, and nuances of light and shadow. She received at BFA from the College of Wooster in Wooster, Ohio and attended Parsons School of Design and the Art Students League in New York City. In 2021 she will participate in an exhibition at the Whistler House Museum of Art in Lowell, MA. Location: Northern California, artist website: https://davinaperlfineart.com/


Andrey Allakhverdov - MA
Rebecca Bangs - CA
Nancy Davidson - CA
Jim Deckers - ME
Kim Ford Kitz - CA
Mark Granlund - MN
Erin Hanson - CA
Russell Jacobs - NV
Charles H. Pabst - AZ
Nancy Romanovsky - WA
Linda Shoults - IN
Richard Sperry - IL
Santana Star - CA
Sinisa Saratlic - FL
John Stinger - TN
Jolyn Wells-Moran - WA



Mixed Media





K. Daphnae Koop - MN
K. Daphnae Koop creates mixed media paintings on hand-built carved wood panels. Often embellished with streams of shattered glass and objects found in nature, her paintings are a unique combination of non-traditional materials and techniques. Honoring the beauty in the basest of materials, they are an attempt to elevate the ordinary and render the invisible visible. Koop studied art and literature, earning a BFA from the Minneapolis College of Art and Design. Her work has been shown in New York, New England and throughout the Midwest, and is included in both private and public collections. Website: https://followthemuse.com/







Kathleen McSherry - PA
Born in Brooklyn, raised in Queens, NY. A graduate of the School of Visual Arts in NYC, Kathleen McSherry has had a long career in advertising and marketing in New York, Pennsylvania and New Jersey. "I spent my entire time in advertising working collaboratively. Now is my time to step out of the chorus and go solo. This art is mine, my own personal statement. You like it, great. You don't, that's fine too. I am not out to please everyone. I am following my passion." Location: Bucks County, PA, telephone: email: kamcsherry@verizon.net, website: https://www.mcsherryart.com/


Jessica Daly - CT
Christopher Hutchinson - MD
Nipun Manda - MD
Adrian Panaitisor - CT



People / Portraits / Figurative





Andrey Allakhverdov - MA
Andrey Allakhverdov received his Bachelor's degree in Moscow State Art University. He has been member of Moscow Art Union since 1979. Mr. Allakhverdov had numerous exhibitions in Russia, USA and Europe. His paintings could be found in many countries. Some of his most recent works are 37 paintings (40x30 inch.) dedicated to well known artist of 19-20 century. Andrey Allakhverdov currently lives in Boston, MA. Website: https://www.allakhverdov.com/ phone: 617-797-9561 email: allandrey2014@gmail.com.






Kevin Kuenster - NY
Recently, I began working with Buon Fresco, an ancient technique in which pigments are applied to a wet plaster surface. The plaster is a pure combination of aged lime putty and Carrara marble dust which is applied to a birch wood panel. When the plaster dries the surface becomes hard and smooth like stone with the pigment embedded in the surface. Etruscan and Roman frescos with their rich colors have endured centuries. I am fascinated with depicting 21st century humanity, increasingly fragile and threatened, using this ancient technique that embodies such permanence and stability. Website: https://www.kevinkuenster.com/home






Kelly Mellos Fine Art - CA
Kelly's artistic viewpoint is one depicting a reverence for life... a deep awe of the beauty within a human being and in nature. She hopes that by capturing the life force of her subjects and showing this to viewers, that this respect will be shared. A commitment to artistic excellence, grounded in the representational art traditions of the 19th century European ateliers, is the foundation of Kelly's work. Her portrait, figurative and landscape work has been shown in national galleries and museums, as well as international exhibitions. Location: Southern California, artist website: https://www.kellymellos.com/






Pam Singh - Paintings
Hi! I am an Indian-American Artist and Muralist based in Charlotte, NC. I've been sharing my work with a community of thousands of Art loving souls from around the globe through various galleries, art exhibits, art pop-up shows and self-representation. In order to shape my imagination on canvas, I have always felt the need to go beyond realism to create Art which is empowering and symbolizes feminine strength, beauty, dreams, energy and individuality of a woman. My motive behind every creation is to always find a visual language that best connects with my state of mind and the feelings of the viewer. The use of Acrylic and Oil Colors, Crayons, Marker Pens, Gold Leaf, Iridescent Paint, Glitter and Genuine Mother Of Pearl helps me breathe life into my paintings. Website: https://www.pamsinghstudio.com/






Stacey Well - Canada
Contemporary paintings, for rock stars and normal people. Colorful, stylistic, playful artwork and the artist takes commissions, so have a portrait created. Get an original work featuring your picture on a wine bottle. The collectable bottle series is the perfect canvas art to hang in your space and start a conversation. Wells RockStar Reflection series became immensely popular and inspired several series of bottle paintings. Much more so check out this artist. Artist Website: https://www.artistwells.net/






Gary L. Wilks - MO
Wilks' paintings capture the dynamism of the human figure and the power of expression. Through his unique style, Wilks employs modern techniques such as unmodulated layers of paint, splashes of color and strong surface texture to innovate the traditional genre of portraiture. Whether an iconic figure from pop culture or an everyday individual, his use of lighting, positioning and suggestively sketched or contrasting colored backgrounds visually elevate the subject allowing them to be the focus. Located in Lees Summit, MO. Email: brynne@wilksportraits.com, Website: https://wilksportraits.com/


Neil Brooks - CA
Ann-Marie Brown - Canada
Marco Cutrone - NJ
Laurie Goodhart - NY
Saundra Jones - Canada
Desiree Kelly - MI
Greg Kessler - NY
Emily Rapport - IL
Sinisa Saratlic - FL
Tony Schwab - NJ
Tamara Wasserman - IL
Jolyn Wells-Moran - WA



Realism





Andrea Maw - AZ
Artist-Painter specializing in Oil on Canvas in the style of Realism with a current series 'Light Through Glass, Gems + Jewels' capturing light through diamonds, chandeliers and running water into pretty glass. A Canadian, living in Scottsdale AZ, with works in this series submitted to the Luxembourg Art Prize 2021. Location: Arizona, artist website: https://www.andreamaw.com/

Douglas Newton - NY



Seascapes / Marine / Nautical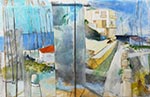 Neil Brooks - CA
Brooks is an artist that specializes in capturing the essence of South California beach communities. Recently, he ended a one person exhibition at the Channel Islands Maritime Museum in Oxnard. He works in a variety of mediums including mixed media, oil, watercolors and drawings. Seeking gallery representation and lives near Los Angeles. Artist website: https://www.neilbrooksart.com/






Santana Star - CA
Santana was born in Glasgow Scotland, grew up on the East Coast of Canada, lived in England for 20 plus years and now lives in Northern California. She has always loved beauty especially the beauty of nature. She loves being out in nature and her paintings express the majesty of nature with bold shapes and vibrant colors. Location: Northern California, website: https://santana-star.pixels.com/


Robin Hiers - CA
Charles H. Pabst - AZ
Davina Perl - CA



Still Life / Objects





Laurie Goodhart - NY
The diverse experiences of 40 years as a professional artist with a penchant for the details of lost cultures have fused with a simultaneous 30 years farming, also full time, and produced an extensive oeuvre I call The Remnants And Residents Of A Lost Sanctuary of Aphrodite. While its visual vocabulary owes much to ancient artifacts, the motives underlying each painting are both current and timeless: our need for sustenance and grace, and visions of women on their own terms. Website: http://lauriegoodhart.com/


Ann-Marie Brown - Canada
Philip J. Carroll - NJ
The Art of Alred A. Dolezal - OR
Mark Granlund - MN
Robin Hiers - FL
Douglas Newton - NY
Davina Perl - CA
Denice Peters - IA



Urban Landscape / City
Emily Rapport - IL



Watercolors
Lisa Garrison - CO



Whimsical / Humor
None listed at this time.


General - Variety Subject Matter and Styles
Michael J Palladino - NY
Tomasso Silvestri - IL

---

ARTIST SERVICES

Art Now Management - Career guidance for artists

---

Painters | Photographers | Print Makers | Sculpture | Other Visual Arts

---

About Art-Collecting.com

Art-Collecting.com is an online resource for all art enthusiasts. Art collectors, art travelers and artists will find our comprehensive online Gallery Guides and Museum Guides to be very useful. We feature guides for thirty-seven major art destinations as well as every state. Be sure to look at our Art Fairs Guide and our guides to Miami Art Week and New York Art Fairs which are up online year around.

When exploring around our site you'll find informative articles and guides for specific types of art like Latin American Art, Fine Art Photography and Native American Art. If you're looking for Art Appraisers, Art Advisors & Consultants, Art Auctions or other Art Services we're a good source.

Don't forget to visit our Artist Guides where you'll find links directly to artist websites. Our Painters and Photographers pages are very popular. The guides are very helpful when looking to discover new artists or if you prefer buying art directly from artists.

Here at Art-Collecting.com, we love art as much as you do and are always trying to improve our guides. If you have suggestions or notice listings that should be changed let us know. You can also help by mentioning us to your art friends and to galleries that you visit. Feel free to mention us and post links on your Social Media.

Thanks for stopping by Art-Collecting.com.
Visit our website often and be sure to explore around.
https://art-collecting.com


---

Home | Art Gallery Guides | Museums & Art Centers | Art Appraisals | Art Fairs

Collecting Information | Types of Collecting | Art News | Advertising | How to be Listed

---

Terms of Use | Privacy Policy | Contact

Copyright 2023 by Art-Collecting.com All Rights Reserved