LAGUNA BEACH ART GALLERIES
Art gallery guide and listing of fine art galleries located in Laguna Beach, California. These art galleries feature traditional fine art and contemporary art, California art, Seascape painting, Wildlife art, sculpture, fine art photography, and other types of visual art. If you're interested in collecting art or just like viewing art, these are the art galleries of Laguna Beach.

The first Thursday of every month most of the galleries in Laguna Beach participate in the monthly gallery walk. First Thursdays Art Walk is funded by Member Galleries, the lodging establishments and the City of Laguna Beach. A courtesy shuttle bus is available and the Museum is also offering free admission for the evening. Because of Covid, not sure this is still an ongoing event.

Art-Collecting.com provides comprehensive and easy to use gallery and art guides on the Internet. Our guides help you to easily discover art in various art communities whether you are visiting them, planning a visit, or living in them. Click on Art Gallery Guides in the top navigation and you'll find art guides for every state and thirty-seven major art cities. Links take you directly to the listed art businesses so that you can quickly see what's being featured. Explore around and discover the resources we offer, our gallery guides are also very useful for travelers that love art.

For the past 25 years, we've been providing online art and gallery guides. We do it because galleries, museums, non-profit art organizations, and artists are important, please support them whenever possible. Even though we've been around for years, we could use your support. For galleries and art organization that have never listed with us please do so. Listing information can be found in "About Us" in the top navigation. Individuals can also help by sharing our site with art friends and in Social Media, thanks in advance, it would be much appreciated.

---
LAGUNA BEACH GALLERY GUIDE
DOWNTOWN LAGUNA BEACH GALLERIES





Laguna Gallery of Contemporary Art
Laguna Gallery of Contemporary Art (LGOCA) is a unique contemporary gallery showcasing top regional and international artists. Our emphasis is on emerging and mid-career artists working with a variety of mediums. LGOCA offers a diverse mixture of paintings, sculpture, bronze, fused glass and metal creations. Not your typical white walled gallery affair, LGOCA promises to engage you in an experience you won't find anywhere else. Location: 611 South Coast Hwy, Laguna Beach, CA 92651, telephone: 949-677-8273, website: https://www.lgoca.com/


Dawson Cole Fine Art
Forest & Ocean Gallery
Hugo Rivera Gallery
Kush Fine Art
National Gallery of Fine Art
The Signature Gallery
Whitney Gallery



GALLERIES NORTH COAST HIGHWAY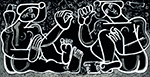 JoAnne Artman Gallery
Located in Laguna Beach on North Gallery row, JoAnne Artman Gallery pursues visually exciting art and artists who inspire and tap into pure imagination. The gallery displays work that reflects a bold yet timeless appeal in both figurative & abstract expressions. The award-winning artists represented have shown in museums and private collections both nationally & internationally! With rich palettes of color image and line, the diversity found within the gallery allows a treasure to be found by one and all. Hours: Wed-Sun 11am-5pm or by appointment. Location: 326 N Coast Highway, Laguna Beach, CA 92651, telephone: 949-510-5481, email: joanneartman@aol.com, website: https://www.joanneartmangallery.com/


484 North Gallery
Kelsey Michaels Fine Art
Lu Martin Galleries
Quorum Art Gallery
saltfineart + RAWsalt
Sandstone Gallery Laguna
Studio 7 Gallery
Sue Greenwood Fine Art
Art Organization & Alternative Spaces
Laguna Art Museum



GALLERIES SOUTH COAST HIGHWAY





Avran Art+Design
Showcases an extensive collection of unique, evocative glass works and original fine art from the international art scene. Demonstrating artistic instincts that have been fine-tuned to a perfect pitch, every captivating collection is comprised of museum-quality pieces created by renowned artists, with special emphasis placed on Eastern Europes rich legacy of artistic excellence. From exotic locales like Hungary and the Czech Republic to the more local artists' enclaves of Southern California, these visionaries are true masters of their mediums. Location: 540 South Coast Highway, Suite 106 Laguna Beach, CA 92651, telephone: 949-494-0900, website: https://www.avranart.com/






McKibben Studios Inc.
Established in197, McKibben Studios, Inc. is a Fine ART Gallery and Publisher created by an Artist for Artists offering 38 incredible Artists providing unique collections of diverse compositions styles and color palettes integrating each Artist lifestyle into their work offering a view into their world for clients who enjoy Island and Coastal living environments. Genres include Impressionism, Figurative, Landscapes, Seascapes, Plein Air, Floral, Still Life, Hyper-Realism, Surrealism and Sculpture. Location: 540 South Coast Hwy. # 110, Laguna Beach, CA 92651, telephone: 949-903-2537, website: https://www.mckibbenstudios.com/


Artist Eye Gallery
Coastal Eddy A Gallery
Cove Gallery
La Bottega Dell Acquaforte
Las Laguna Gallery
Nuance Home + Lifestyle
The Redfern Gallery
Wyland Galleries

---

ARTIST WEBSITES





Robin Hiers - Paintings
A California based artist - my paintings of women and scenes, capture attitude through facial expression. I knew at a young age I would grow up to paint happy colorful paintings that would make a lot of people happy. My art collectors are my living proof that yes my art brings happiness to a room, just like a beautiful woman. I am influenced by fashion, the beach, pop culture, champagne and life in Southern California. I welcome studio visits by appointment, and specialize in commissions. Email: robinnoelart@gmail.com, Website: https://robinhiersart.com/ or www.LGOCA.com. Best by appointment 949-940-6662






Maidy Morhous - Sculpture
Idiomatic titles like "Empty Dreams" (pictured) and "Don't kill the goose!" prompt viewers to seek metaphorical interpretations to these works. "What you see is definitely not what you get; a title can guide or mislead the viewer in what the work is really about." An accomplished print-maker and bronze sculptor, born in New York, Morhous' artwork is collected both privately and publicly in the U.S., Canada, Japan, Hong Kong, Europe and Australia. Location: Southern California, website: https://www.maidymorhous.com/


Alexa Alexander - Paintings
Cynthia Britain - Paintings
Kathleen M Robison - Paintings


ART ADVISORS, CONSULTANTS & PRIVATE GALLERIES
None listed at this time.


APPRAISERS, FRAMING AND OTHER ART SERVICES
Festival of Arts of Laguna Beach






Zatista Contemporary and Fine Art
Is the leading destination to buy original art online, giving you unrivalled access to exclusive collections from all over the world. With over 4000 highly curated works from the most talented emerging and established artists, Zatista provides access to the types of works previously only available to seasoned collectors. Buying online with Zatista is easy with their complimentary art consultation, certificates of authenticity and a buyer guarantee that allows you to try art in your home with free returns (as well as free shipping within the US for all purchases). Their platform makes it fun to discover art you love, with an experience so unique it's like you are right there in front of it. Browse the collections



LOS ANGELES GALLERY GUIDE

SANTA MONICA GALLERY GUIDE

SAN DIEGO & LA JOLLA ART GALLERIES

OTHER SOUTHERN CALIFORNIA ART GALLERIES

CALIFORNIA ART MUSEUMS AND ART CENTERS

ART GALLERY GUIDES FOR OTHER LOCATIONS
Gallery guides for every state and thirty seven major art cities.

---

About Art-Collecting.com

Art-Collecting.com is an online resource for all art enthusiasts. Art collectors, art travelers and artists will find our comprehensive online Gallery Guides and Museum Guides to be very useful. We feature guides for thirty-seven major art destinations as well as every state. Be sure to look at our Art Fairs Guide and our guides to Miami Art Week and New York Art Fairs and Los Angeles Art Fairs which are up online year around.

If you're looking for Art Appraisers, Art Advisors & Consultants, Art Auctions or other Art Services we're a good source. Our Artist Guides is where you find links directly to artist websites. Our Painters and Photographers guides are very popular. You'll discover new artists and that you can buy directly from or be referred to galleries representing their art.

Thanks for stopping by Art-Collecting.com.
Visit our website often and be sure to explore around.
https://art-collecting.com


---

Home | Art Gallery Guides | Museums & Art Centers | Art Appraisals | Art Fairs

Collecting Information | Types of Collecting | Art News | Advertising | How to be Listed

---

Terms of Use | Privacy Policy | Contact

Copyright 2023 by Art-Collecting.com All Rights Reserved