LOS ANGELES ART GALLERIES
This gallery guide features galleries and museums located within the city of Los Angeles and Los Angeles County. The art galleries are listed and grouped into locations so that you can easily identify other galleries and museums in the same vicinity. Included are important art districts like: Culver City, Beverley Hills, Santa Monica. and Bergamot. We take pride in producing comprehensive guides so you can explore find the art and galleries you're looking for.

Los Angeles is a great city for visual arts and it's one of the most important cities in the world for visual art. Many of the home grown galleries are producing world class exhibitions and are respected throughout the art world. Several of the worlds most prestigious art galleries have opened galleries in Los Angeles. Plus, there is no shortage of up and coming galleries that feature immerging artists. Los Angeles has become an important stop on the International art fair circuit on a par with New York, Miami, London and Berlin. Also, L.A. has world class art museums and art organizations. Get out and enjoy the arts in this incredible city.

Art-Collecting.com is an international art resource for collectors, art travelers and art enthusiasts. Our guides make it easy for you to find art galleries, museums, and art fairs around the United States. Become familiar with our top navigation, where you'll find links to thousands of art related websites and information. We feature gallery guides for the major art cities, as well as every state, and much more.

If you'd like to be listed or featured in this guide or our website, look under "About Us" in the top navigation. We also suggest, that you support local art galleries, artists, art organizations and art museums whenever possible. Please tell your art friends about Art-Collecting.com and mention this guide in Social Media. Come back soon.

Downtown Los Angeles Gallery Guide
Central Downtown || Industrial East of LA River || Chinatown || Southside of Downtown

Los Angeles Gallery Guide - Other Areas
Fairfax / La Brea / Melrose || Hollywood || West Hollywood || Mid-Wilshire - Miracle Mile
Korea Town/ Echo Park / Silver Lake || Culver City & West Side || Other Los Angeles Art Galleries

LA County Gallery Guide
Beverly Hills || Bergamot || Culver City || Santa Monica
San Pedro || Other LA County Art Galleries

Laguna Beach || San Diego & La Jolla || Other Southern California

---
Los Angeles Gallery Guide

Downtown & Near Downtown Galleries





BertaArt Studio Gallery
BertaArt Studio Gallery is the working studio and exhibition space for International award-winning artist Clara Berta. Her dynamic, highly textural abstract paintings have been shown in the United States and collected worldwide. Location: 120 East 8th #202, Los Angeles, CA 90014, telephone: 818-692-0465, website: https://bertaart.com/

Baert Gallery
BertaArt Studio Gallery
The Box
Cartwheel Art
Chateau Shatto
DAC Gallery
Denk Gallery
Durden and Ray
Dove Biscuit
Garis & Hahn
Gloria Delson Contemporary Arts
Hauser & Wirth
The Hive Gallery
Howard Griffin Gallery
James Wright Gallery
Jason Vass
The Last Bookstore (art on Mezzanine)
Maxwell Alexander Gallery
REN Gallery
Royale Projects
Spring Arts Collective
Superchief Gallery L.A.
SUGAR PRESS
Tiger Strikes Asteroid
Track 16 Gallery
Von Lintel Gallery (new location)
Wilding Cran Gallery
Museums and Art Organizations Downtown
Art Share L.A.
The Broad
California African American Museum
Chinese American Museum
Gallery at REDCAT
The Geffen Contemporary at MOCA
ICA LA
Japanese American National Museum
L.A. Artcore
Los Angeles Center for Digital Art
MOCA - The Museum of Contemporary Art
MOCA Grand

Industrial East of LA River
Corey Helford Gallery
Little Big Man Gallery
Maccarone
Museum as Retail Space (MaRS)
Nicodim Gallery
Parrasch Heijen Gallery

Chinatown
Charlie James Gallery
Coagula Curatorial
The Good Luck Gallery (closed)
Human Resources
Tierra del Sol (new space soon)

Southside of Downtown






Simard Bilodeau Contemporary
With seven years of experience operating a successful Fine Art Gallery with a location in Los Angeles, California and The Peninsula Shanghai Hotel, the team behind Simard Bilodeau Contemporary also offers customized art consultation. Our expert art professionals use their ample qualifications and extensive connections to regional and international artists, ranging in styles from classical to contemporary as well as in prices, to create a personalized, boutique-like experience when aiding in art consultation for corporate, residential and public collections. Location: 11923 S Santa Fe, Los Angeles, CA 90021, telephone: 213-935-8253, website: http://simardbilodeau.com/


Cirrus Gallery
Ghebaly Gallery
The Mistake Room
MIXOGRAPHIA
Night Gallery
Simard Bilodeau Contemporary

Korea Town / Echo Park / Silver Lake
Gabba Gallery
Gaga & Reena Spaulings Fine Art
Michael Benevento
River
SMART OBJECTS
Subliminal Projects

Hollywood
Diane Rosenstein Fine Art
Freedman Fitzpatrick
Gavlak
The Hollywood Sculpture Garden
Kohn Gallery
Jeffrey Deitch
La Luz de Jesus Gallery
The Lodge
Noysky Projects
Overduin & Co.
Parker Gallery
Regen Projects
Steve Turner
Tanya Bonakdar Gallery
Various Small Fires
Non-Profit Art Organizations
LAXART

Fairfax / La Brea / Melrose





Artspace Warehouse
Is one of the world's leading galleries for savvy contemporary art collectors. With galleries in Zurich and Los Angeles, Artspace Warehouse specializes in guilt-free international urban, pop, graffiti and abstract art. The gallery is unintimidating and gives a new meaning to shopping for museum quality art within one's budget. Open every day. Location: 7358 Beverly Blvd, Los Angeles, CA 90036, telephone: 323-936-7020, website: www.artspacewarehouse.com/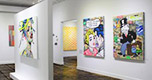 Artplex Gallery
The gallery specializes in high quality original contemporary art representing a broad spectrum of major international artists. The large gallery is open every day. Location: 7377 Beverly Blvd, Los Angeles, CA 90036, telephone: 323-452-9628, website: https://www.artplexgallery.com/


5Art Gallery
AA | LA
Artplex Gallery
Artspace Warehouse
Fahey/Klein Gallery
Gallery 1988
Gemini G.E.L.
KP Projects
Meliksetian | Briggs
The Loft at Liz's
Moskowitz Bayse
Richard Telles Fine Art
Shulamit Nazarian
Non-Profit Art Organizations
Launch LA

West Hollywood
Art Angels
George Stern Fine Arts
Hamilton-Selway Fine Art
HOFA Gallery
Ibid Gallery
Louis Stern Fine Arts
Matthew Marks Gallery
M+B
M+B PHOTO
Morán Morán
Nino Mier Gallery
Radiant Space
Trigg Ison Fine Art
Non-Profit Art Organizations
Gallery 825 / Los Angeles Art Association
MAK Center for Art & Architecture


Mid-Wilshire / Miracle Mile
1301PE
David Kordansky Gallery
Kayne Griffin Corcoran
Ltd. Los Angeles
Galerie XII Los Angeles
Praz-Devallade
Sprüth Magers
TAG Gallery
Non-Profit Art Organizations
Craft and Folk Art Museum
Korean Cultural Center
Los Angeles County Museum of Art


Culver City and West Side
Anat Ebgi
Baik Art
Blum & Poe
Bruce Lurie Gallery
Chimento Contemporary
Fabrik Projects Gallery
FP Contemporary
George Billis Gallery
Honor Fraser
Klowden Mann
Kopeikin Gallery
the Landing
Luis De Jesus Los Angeles
Philip Martin Gallery
Susanne Vielmetter Los Angeles Projects
Thinkspace
Walter Maciel Gallery
Zevitas Marcus
Non-Profit Organizations
Washington Reid Gallery

Other Los Angeles Art Galleries
Ernie Wolfe Gallery
Fathom (Brentwood)
Grice Bench
ODD ARK LA (Pasadena)
Redling Fine Art (Frog Town)


San Pedro Art Galleries
huZ galleries
South Bay Contemporary
Studio 345 / Pat Wooley & Gloria Lee

---
---

Los Angeles County Art Galleries


Beverly Hills Art Galleries





Anderson Galleries
The Anderson Galleries are dealers and agents of museum quality 19th and 20th century paintings, drawings and sculpture. We specialize in European academic, realist, impressionist, post-impressionist and modern works. Renoir, Monet, Pissarro, Sisley, Guillaumin, Vuillard, Bouguereau, Le Sidaner, Lebasque, Corot and many other historically significant artists are featured in our gallery collection throughout the year. Appointments are recommended. Member: Appraisers Association of America, Art and Antique Dealers League of America, Fine Art Dealers Association. Location: 354 North Bedford Drive, Beverly Hills, California 90210, telephone: 310-858-1644, website: http://www.andersongalleries.com/






Denis Bloch Fine Art
Located in Beverly Hills, our gallery specializes in Modern, Contemporary & Street Art: original prints, drawings, vintage posters, sculptures and Picasso Ceramics. Artists: Bacon, Bochner, Braque, Calder, Chagall, Dine, Dubuffet, Francis, Haring, Hockney, Hirst, Indiana, Kelly, Koons, Le Corbusier, Leger, Lichtenstein, Magritte, Matisse, Matta, Miro, Mr. Brainwash, Picasso, Rauschenberg, Renoir, Stella, Tamayo, Thiebaud, Warhol, Wesselmann, and others. We also buy art and do appraisals. Location: 9626 Brighton Way, Beverly Hills, CA 90210, telephone: 310-270-4880, website: https://denisbloch.com/


Anderson Galleries
Art One Gallery
Denis Bloch Fine Art
Galerie Michael
Gagosian Gallery
Garboushian Gallery
Jonathan Novak Contemporary Art
Marc Selwyn Fine Art
Spencer Jon Helfen Fine Arts
Timothy Yarger Fine Art
UTA Artist Space


Santa Monica Galleries
Bergamot Art Galleries


Other LA County Art Galleries





Silvana Gallery
Is honored to represent THE MASTERS OF FINE ART OF OUR DAY. You are cordially invited to view the solo exhibit of traditional oil paintings by Fongwei Liu. New original artworks created just for our collectors and buyers. Location: 1731 West Glemoaks Blvd. Suite 200, Glendale, CA 91201. Telephone: 818-662-7070, website: http://www.silvanagallery.com/


artbarltd (El Segundo)
ArtPic (North Hollywood)
Beacon Arts Building (Inglewood)
Egenoff Gallery (Burbank)
Gallery Nucleus (Alhambra)
Parker Gallery (near Griffith Park)
The Perfect Exposure Gallery (Alhambra)
Topanga Canyon Gallery (Topanga)

---

Art Appraisers

Anderson Fine Art Appraisals
Kevin Zweyer Anderson, AAA
354 North Bedford Drive
Beverly Hills, CA 90210
310-858-3767 Fax 310-858-1643
info@art-appraisals.net
http://www.art-appraisals.net
Specialists in Paintings, Watercolors, Drawings, Prints and Sculpture: 19th Century, Impressionist, Modern and Contemporary. Certified appraiser since 1989. We work with private collectors, estates, insurance adjusters, attorneys, CPAs and institutions. All appraisals we prepare conform to the best practice of the Appraisers Association of America, the Uniform Standards of Professional Appraisal Practice and the IRS.


Saylor Rice Appraisals
Bridgette Saylor, ASA and Brooks Rice, ASA
We provide personal property appraisals in all areas of fine art, including modern and contemporary paintings, prints, photographs, sculptures and works on paper. We also appraise public art and site-specific properties, as well as archives, ephemera, popular culture memorabilia and vinyl records.. PO Box 412061, Los Angeles, CA 90041, telephone: 323-551-7013, email: brooks@saylorriceappraisals.com, visit website for additional information: http://www.saylorriceappraisals.com


Stuart H. Salsbury Appraisal Services
Fine Art, Antiques, and Gemological Appraisal Services,
Also available to serve as an expert witness and consultations. 7308 Pacific View Drive, Los Angeles, CA 90068, telephone: 323-874-6781, email: stuartsalsbury@artappraisals.com, visit website for additional information: http://www.artappraisals.com/


Timothy Gordon Appraisals & Brokerage - Gappraisals.com
Timothy Gordon AOA, ISA-CM
Fine Art, Rare Items and Collections
406-728-1812
timbgordon@mac.com
http://www.gappraisals.com/
Expert appraisal of Fine Art for individuals / Museum Collections/Estates. We often set record brokering prices. Also, antiques, rare historic items. Nationally respected-25 years experience-USPAP compliant! We have appraised millions of objects. Licensed, Insured. As seen on television!


Art Asset Management Group Inc.
Bravado Fine Arts & Appraisal Services
Chemers Appraisals (Tusin, CA)
Aline Mayer and Associates
Jacqueline Silverman & Associates, Inc.
Elizabeth Wells Appraisals & Fine Art Services, ISA

---

Art Consultants, Art Advisors and Private Dealers
And Galleries Currently Appointment Only





Artbarltd
Online and Pop-up Gallery based on Los Angeles. Featuring the work of award-winning and emerging modern artists. Offering limited edition photography and illustration prints. Custom curation available. Website: https://www.artbarltd.com/ Email: curator@artbarltd.com Telephone: 310-991-2867


Perkey Fine Art
Services for Art Collectors Since 1990. Perkey Fine Art, art consultant and collection manager, works with prominent collectors and beginning art enthusiasts, helping clients to acquire top quality art at the best price, and build and maintain their collections. Services include acquiring, selling, valuation, cataloging, conservation, custom framing and installation. Los Angeles, CA, telephone: 310-204-2787


Art Duet
Couturier Gallery
Hannah Hoffman
Harmony Murphy
Jack Rutberg Fine Arts
Kevin Barry Fine Art (Art Advisors)
M. Hanks Gallery (Huntington Beach)
Tobey C. Moss
Western Project

---

Art Services: Framing and Other Services





Artspace Warehouse
Artspace Warehouse features high quality original artworks from established and emerging international artists at affordable prices for every budget. This new concept makes fabulous contemporary art accessible for everyone! Our international clientele includes first-time as well as established collectors, museums, museum curators, celebrities, designers, set decorators and global corporations. Art can also be rented to enhance the appearance of any residential and office environment. Artspace Warehouse will achieve the finest results enhancing the look of your walls and other areas while reflecting your individual or corporate vision and tastes. Choose from an amazing selection of international and local emerging and established artists for every budget and lifestyle. Location: 7358 Beverly Blvd, Los Angeles, CA 90036, telephone: 323-936-7020, website: https://www.artspacewarehouse.com/






Castelli Framing & Art Services
Fine art framing, archival materials and handling, custom milled hardwood frames to every piece's exact specifications. Castelli offers full line printing on any substrate, custom crating/packing and shipping arrangement domestically / internationally, pickup/delivery in Southern California, art storage, acrylic boxes, canvas stretching. We are the "one-stop shop" for the fine art business assisting many of the top contemporary artists, photographers and galleries in the Los Angeles area. Location: 5440 W. Washington Blvd, Los Angeles, CA 90016, 310-204-6830, info@castelliframing.com, website: https://www.castelliframing.com/






Los Angeles Modern Auctions (LAMA)
LAMA is the premier auction house for Modern and Contemporary Fine Art & Design. Auctions are held at least two times a year in Southern California and offer material ranging from fine art and furniture to sculpture and decorative art. The director, Peter Loughrey, is an expert authority in Modern Fine Art and Design and is an appraiser on PBS's Antiques Roadshow. 16145 Hart Street, Van Nuys, CA 91406 / Email: peter@lamodern.com / Visit our website for additional information: https://lamodern.com/






Zatista
Is the leading destination to buy original art online, giving you unrivalled access to exclusive collections from all over the world. With over 4000 highly curated works from the most talented emerging and established artists, Zatista provides access to the types of works previously only available to seasoned collectors. Buying online with Zatista is easy with their complimentary art consultation, certificates of authenticity and a buyer guarantee that allows you to try art in your home with free returns (as well as free shipping within the US for all purchases). Their platform makes it fun to discover art you love, with an experience so unique it's like you are right there in front of it. Browse the collections


California Archival Framing (gilded frames)
Darger HQ - (online gallery)
Michael Dawson (books)

---

Artist Websites





Barry Masteller - Paintings
He studied painting and life drawing during the sixties with artist Walton Craig Titus, additionally studying painting & art restoration techniques with several independent art conservators and artists He established his own painting studio and gallery doing art restoration and hand carved gilded frames specializing in the ancient technique of water gilding. He has had numerous shows and has work in many public and private collections. Including the Crocker Museum of Art, Monterey Museum of Art, Santa Cruz Museum of Art and History and The San Jose Museum of Art. Email: info@barrymasteller.com, website: http://www.barrymasteller.com/






Michael J Palladino - Paintings
Art has been a passion of mine in which I have channeled my energy and emotions for over the past 5 decades. With the use of brushes, oils, watercolors, pastels, strokes and color I have created an area in my life that I cannot enter into except for while creating art. There is balance between the delicacy and strength with the use of art mediums I have been able to extract art from my mind and soul. Website: http://michaeljpalladino.com/

Duncan Artistry - Photography / Mixed Media
Robby Gordon - Paintings / Mixed Media
Vezna Gottwald - Paintings
M Kungl - Paintings, Prints & Graphics
Jane M McCabe - Paintings
Kristen Neveu - Mixed Media
Karrie Ross - Paintings
Vigen Sogomonyan - Paintings
Joan Weber - Painting
Davyd Whaley - Paintings

---

Non-Profit Art Organizations and Alternative Exhibition Spaces
18th Street Arts Center (Santa Monica)
Annenberg Space for Photography
Armory Center for the Arts (Pasadena)
Angels Gate Cultural Center (San Pedro)
Building Bridges Art Exchange
The Corita Art Center
The dA Center for the Arts (Pomona)
LA Plaza de Cultura y Artes
LA Artcore (Union Center for Fine Arts)
LACE - Los Angeles Contemporary Exhibitions
Los Angles Art Associaiton
Los Angeles Center for Digital Art
LAUNCH LA
LAXART - The Alternative Art Space in Los Angeles
MAK Center for Art and Architecture
Pasadena Society of Artists (Pasadena)
REDCAT - CALARTS Downtown Center for Contemporary Arts
Skirball Cultural Center
South Bay Contemporary
Watts Towers Arts Center

---

Los Angeles and LA County Museums
Autry Museum of the American West
The Broad
California African American Museum
California Heritage Museum (Santa Monica)
Chinese American Museum
Craft and Folk Art Museum
Fowler Art Museum (UCLA)
The Getty Center
The Getty Villa (Pacific Palisades)
Institute of Contemporary Art, Los Angeles
Hammer Museum (UCLA)
Japanese American National Museum
Latino Art Museum (Pomona)
Los Angeles County Museum of Art
Los Angeles Museum of the Holocaust
MOCA - The Museum of Contemporary Art
MOCA The Geffen Contemporary
MOCA Grand
Museum of Neon Art (Glendale)
The Museum of Tolerance
MUZEO Museum and Cultural Center (Anaheim)
Norton Simon Museum (Pasadena)
USC Pacific Asian Museum (USC Pasadena)
Vincent Price Art Museum



CALIFORNIA GALLERY GUIDE

LOS ANGELES GALLERY GUIDE | CULVER CITY GALLERY GUIDE
LAGUNA BEACH GALLERY GUIDE | SANTA MONICA GALLERY GUIDE

OTHER SOUTHERN CALIFORNIA ART GALLERIES

CALIFORNIA ART MUSEUMS AND ART CENTERS

ART GALLERY GUIDES FOR OTHER LOCATIONS
Gallery guides for every state and thirty seven major art cities.

---

About Art-Collecting.com

Art-Collecting.com is an online resource for all art enthusiasts. Art collectors, art travelers and artists will find our comprehensive online Gallery Guides and Museum Guides to be very useful. We feature guides for thirty-seven major art destinations as well as every state. Be sure to look at our Art Fairs Guide and our guides to Miami Art Week and New York Art Fairs which are up online year around.

When exploring around our site you'll find informative articles and guides for specific types of art like Latin American Art, Fine Art Photography and Native American Art. If you're looking for Art Appraisers, Art Advisors & Consultants, Art Auctions or other Art Services we're a good source.

Don't forget to visit our Artist Guides where you'll find links directly to artist websites. Our Painters and Photographers pages are very popular. The guides are very helpful when looking to discover new artists or if you prefer buying art directly from artists.

Here at Art-Collecting.com, we love art as much as you do and are always trying to improve our guides. If you have suggestions or notice listings that should be changed let us know. You can also help by mentioning us to your art friends and to galleries that you visit. Feel free to mention us and post links on your Social Media.

Thanks for stopping by Art-Collecting.com.
Visit our website often and be sure to explore around.
https://art-collecting.com


---

Home | Art Gallery Guides | Museums & Art Centers | Art Appraisals | Art Fairs
Collecting Information | Types of Collecting | Art News | Advertising | How to be Listed

---

Terms of Use | Privacy Policy | Contact
Copyright 2019 by Art-Collecting.com All Rights Reserved
Daniel Richter
H.P (jah allo)
June 29 - August 17, 2019
Regen Projects
Los Angeles


New American Paintings
2019 Pacific Coast Review
July 13 - August 24, 2019
Including: Tyler Scheidt
Zevitas Marcus
Los Angeles / Culver City


Andy Warhol
On Exhibition
June 15 - July 20, 2019
Leslie Sacks Gallery
Santa Monica / Bergamot


SameSource
Reinterpreted
June 29 - July 27, 2019
Fabrik Projects Gallery
Los Angeles / Culver City


Michael John Kelly
Exhibition
July 20 - August 24, 2019
Anat Ebgi
Los Angeles / Culver City


Jacub Gagnon
On Exhibition
June 29 - July 20, 2019
Thinksspace
Los Angeles / Culver City


Punch
Curated by Nina Chanel Abney
June 29 - August 17, 2019
Including: Pat Phillips
Jeffrey Deitch
Los Angeles


Craig Kauffman
Paper, Plastic & Wood
June 29 - August 17, 2019
Cirrus Gallery
Los Angeles


Herbert List
Still Lifes & Young Men
June 27 - August 31, 2019
Fahey/Klein Gallery
Los Angeles


Tracey Sylvester Harris
Exhibition
June 15 - July 20, 2019
Skidmore Contemporary Art
Santa Monica / Bergamot


Eric Fischl
On Exhibition
June 19 - August 30, 2019
Sprüth Magers
Los Angeles


Cindy Ji Hye Kim
On Exhibition
June 28 - August 2, 2019
François Ghebaly
Los Angeles


Siro Cugusi
Available from
Steve Turner
Los Angeles


Skylar Hughes
Warn Into The Day
June 8 - July 27, 2019
The Lodge
Los Angeles


Stephen Shore
On Exhibition
June 19 - August 30, 2019
Sprüth Magers
Los Angeles


Sergei Inkatov
Available from
Artspace Warehouse
Los Angeles


Kiki Kogelnik
Available from
Kayne Griffin Corcoran
Los Angeles


Seattle Art Fair
August 1 - 4, 2019
Seattle, WA


Soul of a Nation:
Art in the Age of Black Power
Mar 23 - September 1, 2019
Including: Roy DeCarava
The Broad
Los Angeles


Black Is Beautiful:
Photography of Kwame Brathwaite
April 11 - September 1, 2019
Skirball Cultural Center
Los Angeles


Bauhaus Beginnings
June 11 - October 13, 2019
Including: Léna Bergner
The Getty Center
Los Angeles


Whitney Biennial 2019
May 17 - September 22, 2019
Whitney Museum
New York, NY





Kathleen Gemberling Adkison
Studied with Mark Tobey
Available from
Art-Collecting.com
253-304-2808


Teis Albers
Mixed Media on Canvas
Zatista.com


Len Harris
Sculpture
Zatista.com


Access to over
4000 original artworks.
Browse Zatista collections


___________________________



Please follow us and share this guide with your art loving friends.