BERLIN GALLERY GUIDE
Berlin is one of the most important contemporary art cities in the world, this Berlin Gallery Guide will take you to many of the galleries. It features galleries located in Berlin, Germany and will be growing in the months ahead, it also includes a few other German cities. The art galleries listed feature primarily contemporary art but some offer traditional fine art, prints, sculpture, fine art photography, and other types of visual art. Many of the galleries are located in the Berlin Gallery District near Checkpoint Charlie. If you're at all interested in collecting art or just viewing art while in Berlin, these are some of the art galleries you might want to visit.

Art-Collecting.com provides one click, easy to use gallery guides and art resources on the Internet. The guides will help you to easily find and view online art and exhibitions. They are particularly useful to see what your favorite gallery is showing and for discovering new ones. Click on "Gallery Guides" above and you'll find guides for every state and thirty-seven major art cities. Also, explore around the site and discover other useful information.

For the past 25 years, we've been providing art and gallery guides. Why? Because art galleries, art museums, non-profit art organizations, and artists are important. Even though we've been around for years your support is also important. If you've listed in the past, thank you, please renew. If you've never officially listed with us please do so today. Listing information is in "About Us" located in the top navigation. Thanks in advance, your support is much appreciated.

---
BERLIN GALLERY GUIDE
Alexander Ochs Galleries
Aurel Scheibler
Barbara Wien
BASTIAN
Berlinische Galerie
BQ
Buchmann Galerie
Brutto Gusto
Camera Work
Capitain Petzel
carlier | gebauer
Circle Culture Gallery
Contemporary Fine Arts
Croy Nielsen
Daad Galerie
Dorothée Nilsson Gallery
EDITION BLOCK
Esther Schipper
Fischer Kunsthandel & Edition
Galerie Albrecht
Galerie Barbara Thumm
Galerie Barbara Weiss
Galerie Berinson

---



MIAMI AND MIAMI BEACH ART FAIR GUIDE
Miami Art Week will be the first week of December 4 - 10, 2023, and we've created two free planning guides. Check them out and you'll discover why Miami Art Week has become the largest and most important art event in the world. The first guide provides everything related to the art fairs. It's a busy week with more than a dozen art fairs scheduled. Top galleries from Europe, Latin America and the United States will be exhibiting amazing artists and museum quality artworks at Art Basel, Art Miami, NADA, Scope, Aqua, Design Miami and other fairs.

MIAMI ART WEEK GUIDE
Our second guide, provides information on what else is going on during the art fair week, now commonly referred to as Miami Art Week. This is where you'll find information on Art Museums, Non-Profit Organization, Private Art Collections, and Special Events. Even if you're not attending the guides are worth looking. Tell your art friends and anyone headed to Miami about our guides and they'll appreciate it. It's a great week for viewing and learning about contemporary art, filling up on visual stimulation, and hopefully some warm weather. Best viewed on a computer or tablet.


---

Galerie Berlin
Galerie Berlin Baku
Galerie Brokcstedt
Galerie Buchholz
Galerie Carlos Hulsch
Galerie Deschler
Galerie Dittmar
Galerie Eigen + Art
Galerie Fahnemann
Galerie Friedmann-Hahn
Galerie Georg Nothelfer
Galerie Guido W. Baudach
Galerie Hartwich Rügen
Galerie Horst Dietrich
Galerie Isabella Bortolozzi
Galerie Juliane Hundertmark
Galerie Jochen
Galerie Kornfeld
Galerie Max Hetzler
Galerie Michael Haas
Galerie Nagel Draxler
Galerie Neu
Galerie Nordenhake
Galerie Sievi
Galerie Springer Berlin
Galerie Tammen
Galerie Thomas Schulte
Galerie Zink Waldkirchen
Gerhardsen Gerner
janinebeangallery
Jarmuschek + Partner
Kewenig Galerie
Kicken Berlin
Klemm's
KM
König Galerie
Konrad Fischer Galerie
Köppe Contemporary
KOW
Kraupa-Tuskany Zeidler
Kuckei + Kuckei
Kunsthandel Wolfgang Werner Bremen
Läkemäker
Loock Galerie
Luisa Catucci Gallery
mianki Gallery
Michael Reid
Mehdi Chouakri
Meyer Riegger
Moeller Fine Art
Peres Projects
photo edition berlin
PODBIELSKI CONTEMPORARY
Poll Berlin
PSM
Rasche Ripken
ROBERT MORAT GALERIE
SCHMALFUSS BERLIN
Societe
Soy Capitan
Sprüth Magers
Springmann
Tanya Leighton Gallery
Taubert Contemporary
Westphal - Berlin
WENTRUP
WICHTENDAHL GALERIE

---

Art Consultants, Art Advisors and Private Dealers
None listed at this time


Art Services: Appraisers, Framing and Other Services
None listed at this time


Berlin Art Museums
Berlinische Galerie - Museum of Modern Art
Brücke Museum
Staatliche Museen zu Berlin
Hamburger Bahnhof - Museum für Gegenwart
Käthe-Kollwitz Museum
Bauhaus Archives - Museum of Design
Museum of Asian Art
Museum Berggruen
Museum Island Berlin
Museum of Photography
National Gallery
New National Gallery
PRAXES Center for Contemporary Art
Staatliche Museum

MUSEUMS PORTAL BERLIN



ART MUSEUMS IN THE UNITED STATES

ART GALLERIES IN THE UNITED STATES
Gallery Guides to the major US art cities and every state.

---

About Art-Collecting.com

Art-Collecting.com is an online resource for all art enthusiasts. Art collectors, art travelers and artists will find our comprehensive online Gallery Guides and Museum Guides to be very useful. We feature guides for thirty-seven major art destinations as well as every state. Be sure to look at our Art Fairs Guide and our guides to Miami Art Week and New York Art Fairs which are up online year around.

When exploring around our site you'll find informative articles and guides for specific types of art like Latin American Art, Fine Art Photography and Native American Art. If you're looking for Art Appraisers, Art Advisors & Consultants, Art Auctions or other Art Services we're a good source.

Don't forget to visit our Artist Guides where you'll find links directly to artist websites. Our Painters and Photographers pages are very popular. The guides are very helpful when looking to discover new artists or if you prefer buying art directly from artists.

Here at Art-Collecting.com, we love art as much as you do and are always trying to improve our guides. If you have suggestions or notice listings that should be changed let us know. You can also help by mentioning us to your art friends and to galleries that you visit. Feel free to mention us and post links on your Social Media.

Thanks for stopping by Art-Collecting.com.
Visit our website often and be sure to explore around.
https://art-collecting.com


---

Home | Art Gallery Guides | Museums & Art Centers | Art Appraisals | Art Fairs

Collecting Information | Types of Collecting | Art News | Advertising | How to be Listed

---

Terms of Use | Privacy Policy | Contact

Copyright 2023 by Art-Collecting.com All Rights Reserved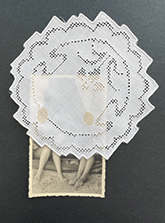 Lost in Transition
September 11 - November 11, 2023
Including: Yukiko Terada
Galerie Deschler Berlin
Berlin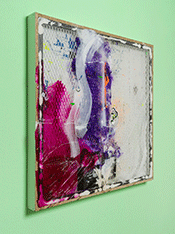 David Douard
Sept 15 - November 11, 2023
Including: Yukiko Terada
Konrad Fischer Galerie
Berlin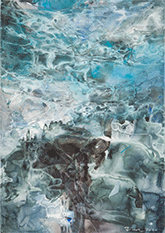 Frank Rödel
Exhibition
Dec 2 - January 2, 2024
Köppe Contemporary
Berlin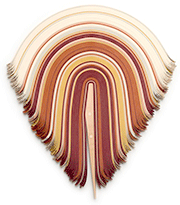 Derrick Velasquez
On Close To The Memory Of
Nov 7 - December 22, 2023
Pentimenti Gallery
Philadelphia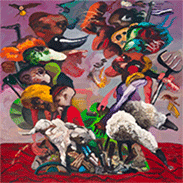 Dana Schutz
Jupiter's Lottery
Nov 2 - December 16, 2023
David Zwirner
New York / Chelsea








Art Basel Miami
December 8 - 10 2023
Miami Beach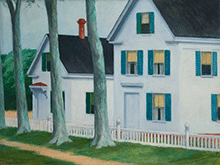 Edward Hopper
as Puritan
Oct 26 - February 17, 2024
Craig Starr Gallery
New York / Upper Eastside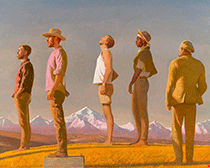 Bo Bartlett
Exhibition
Oct 26 - December 9, 2023
Miles McEnery Gallery
New York / Chelsea



Please follow us and share site and guide with your art friends.