MIAMI ART WEEK EVENTS
SPECIAL EVENTS AND EXHIBITIONS 2021

Guide to Miami and Miami Beach Art Organizations and to special events November 29th - December 5th. Most of the traditional art fairs have been scheduled and now it's time to take a look at some of the other amazing art exhibition going on. Below, we've put together information about what's going throughout Miami and Miami Beach. Please keep in mind that it's a very busy art week, so plan carefully. Our ART FAIR GUIDE is located on another page.


MIAMI ART EVENTS
MUSEUMS, PRIVATE COLLECTIONS & ART ORGANIZATIONS
Fun and interesting events that you should know about, organized by location.

MIAMI BEACH EVENTS
MUSEUMS & ART ORGANIZATIONS
Don't forget to visit the beach.

MIAMI & MIAMI BEACH ART FAIR GUIDE
Complete listing with important art fairs details.

MIAMI GALLERY GUIDE
Comprehensive listing of Miami area art galleries from Art-Collecting.com.

ART WEEK MAP
Where are the art fairs, museum and art organizations?
Our map will help guide you, to be added later.


If you're attending please pay close attention to the Covid Protocals that each art venue has in place. Because of Covid be respectful of others and social distance. Tickets might be limited so purchase them early and look for entrance details. Wear good comfortable shoes and carry a snack. Lastly, bookmark this guide and add it to your cell phone for reference.


---

MIAMI ART EVENTS
MUSEUMS, PRIVATE COLLECTIONS & ART ORGANIZATIONS

They make a special effort to welcome guests during Miami Art Week. Many are hosting special events like opening and receptions, lectures, tours and brunches during the week. Visit each of their websites for additional Miami Art Week details.

------------------------------------------------------------------------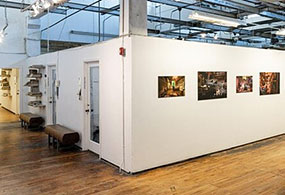 BAKEHOUSE ART COMPLEX
561 NW 32nd Street, Miami, FL 33127, 305-576-2828

Baker's Brunch: Open Studios, Thursday, December 2nd, 9am - Noon.
Join the Bakehouse Art Complex for its annual Miami Art Week event. Visit artist studios, indoor and outdoor exhibitions and installations throughout our campus. This is one of the easiest Miami Art Week events to attend. It's free with easy parking. Each artist provides some goody for the bruch, you might even find that a Mimosa or Bloody Mary. Great opportunity to purchase directly from the talented artists.

------------------------------------------------------------------------


CIFO CISNEROS FONTANALS ART FOUNDATION
1018 North Miami Avenue, Miami, FL 33136, 305-455-3333
Currently (11/23/21) their website is not showing an exhibition or hours.


------------------------------------------------------------------------


DIMENSIONS VARIABLE
101 nw 79th Street, Miami, FL 33150, 305-606-0058
Hours: Thursday and Friday, 1pm - 5pm and by appointment.

Can I Sit Next To You? November 19 - January 28, 2022
How do we form new and meaningful connections through exclusively virtual means during a global pandemic? How do we collaborate and genuinely create with one another across the new virtual landscape? What is the creative nature of distance? A small group of artists have converged in Miami at Dimensions Variable to consider these questions and, through their respective and collaborative work, co-exist and see each other in their own work. Can I Sit Next to You? features works by artists Nicole Doran, Jacin Giordano, Coe Lapossy, Loretta Park, and Brandon Opalka.


------------------------------------------------------------------------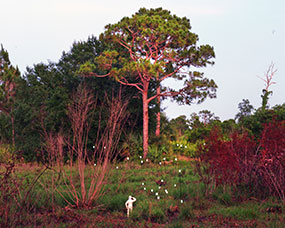 Artwork by William Keddell

EDGE ZONES
3317 NW 7th Ave. Cir. Miami, FL 33127, 305-303-8852
* Familiar Distances, curated by Victoria Ravelo, November 19 - January 7, 2022
* William Keddell / Facing East - Binocular Worship, November 19 - January 7, 2022
* Caribbean Links / Converstion & Breakfast, Dec 3, 9am - Noon, food & drink reception.

Edge Zones has a 23-year history of supporting artistic practices in the public domain. EZ produces events located specifically and contextually in Miami and the Caribbean. Edge Zones is an artist and volunteer - run contemporary arts non-profit dedicated to the research, conceptualization and execution of events that strengthen the contemporary art environment in Miami.. EZ seeks to make contemporary art accessible, to engage audiences and to create a focal point for international research and awareness. The art center is uniquely positioned in the Allapattah Arts District. The exhibition space is divided into 3 individual galleries. Our smaller gallery serves as labs especially useful for younger artists and students who want to create smaller, experimental projects. Visit there website for additional information.


------------------------------------------------------------------------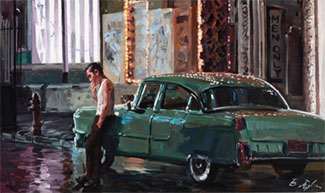 Artwork by Bob Dylan

FROST ART MUSEUM
Florida International University, 10975 SW 17th ST, Miami, FL 33199, 305-348-2890
Hours: Tuesday - Sunday, 11am - 5pm, closed Mondays.
* Annual Breakfast in the Park: Alfredo Jarr, Sunday, Dec 5, 11am - 2pm (RSVP info and zoom)

* Retrospectrum: Bob Dylan, November 30 - April 17, 2022
Tickets Online, Timed Entry.

Retrospectrum, the most expansive and in-depth exhibition of Bob Dylan's artwork ever seen on U.S. soil, will have its U.S. debut at the Patricia & Phillip Frost Art Museum at Florida International University on November 30, 2021, during of Miami Art Week. The exhibition debuted at the Modern Art Museum (MAM) Shanghai in 2019, developed by the museumss Artistic Director, Shai Baitel. This U.S. debut will also feature the world premiere of a brand new series of Dylan paintings. Bob Dylan is generally regarded as one of the world's most influential and groundbreaking artists. In the decades since he first burst into the public's consciousness via New York City's Greenwich Village folk music scene in the early 1960s, Bob Dylan has sold more than 125 million records, including some of the most popular songs the world has ever known.

------------------------------------------------------------------------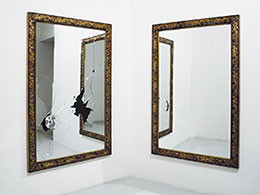 Artwork by Michelangelo Pistoletto

MARGULIES COLLECTION AT THE WAREHOUSE
591 NW 27th Street, Miami, FL 33127, 305-576-1051
* Arte Povera / Postwar Italian Art from the Margulies Collection, October 20 - April 30, 2022
* Anselm Kiefer / Leviathan und Behemoth, October 20 - April 30, 2022
* New Vision / European Photographs 1923 - 1955, October 20 - April 30, 2022

Housed in a 50,000 square foot warehouse in the Wynwood Arts District. The Warehouse presents seasonal exhibitions from the collection of renowned collector Martin Z. Margulies as well as educational programs, special exhibitions and an international loan program. Ongoing exhibits include: Anselm Kiefer. Richard Serra, Willem de Kooning, George Segal, Isamu Hoguchi, Michael Heizer and Nancy Rubins, plus many others. Extended hours during Miami Art Week, November 29th - December 4th, from 9am - 5pm. An amazing collection of artworks, don't miss it. Visit their website for more information.

------------------------------------------------------------------------


MUSEUM OF ART + DESIGN AT MIAMI DADE COLLEGE
Exhibitions held at Freedom Tower, 600 Biscayne Blvd., 305-237-7700
* Nreinn Fridfinnsson: For the Time Being, November 7 - May 1, 2022
* Jorge Parda: Mongrel, November 7 - May 1, 2022
* Loriel Beltrán: Constructed Color, November 7 - May 1, 2022

MUSEUM OF GRAFFITI
299 NW 25th Street, Miami, FL 33127, 789-580-4678
Special Hours: December 1 - 5, 11am - 7pm each day.
* FUZI: Defaced, Opening December 1, 2021, 11am - 4pm
For the opening day, the artist will be in attendance to tattoo custom Fuzi-drawn tattoos in his signature style. Open to the Public, purchase tickets online at museum website.

NATIONAL YOUNGARTS FOUNDATION
2100 Biscayne Boulevard, Miami, FL 33137, 305-377-1140
Miami Art Week Hours: December 1-5, 11am - 6pm.
* The Choreographers' Scores, December 1 - March 2, 2022

PÉREZ ART MUSEUM MIAMI (PAMM)
1103 Biscayne Blvd., Miami, FL 33132, 305-375-3000
* Zhivago Ducan: Pretentious Crap, November 30 - Sept 25, 2022
* Meleko Mokgosi: Your Trip to Africa, February 28, 2021 - January 9, 2022
* Allied with Power: African and African Diaspora Art, November 7, 2020 - February 6, 2022
* Jedd Novatt: Monotypes and More, October 14 - June 26, 2022
* Marco Brambilla:Heaven's Gate, June 17, 2021 - February 1, 2022


------------------------------------------------------------------------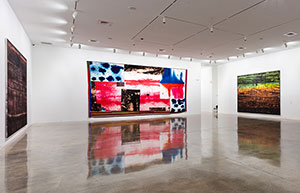 RUBELL MUSEUM
1100 NW 23 Street, Miami, FL 33127, 305-573-6090

Rubell Museum opened their new space in Miami's Allapattah neighborhood in December 2019. The 100,000-Square-Foot campus provides for long-term Installations and special exhibitions drawn exclusively from unparalleled collection of 7,200 works by 1,000 artists built over 54 years. The Rubells created their collection by looking at art, talking with artists, and trusting their instincts. They started collecting 56 years ago when Don was in medical school and Mera was teaching at Head Start, and continue to follow the same practice today, now with their son Jason. They acquired their first work after a studio visit and were only able to do so by paying on a modest weekly installment plan.

------------------------------------------------------------------------


W MIAMI & KIWI ART GROUP - PRESENT A MIAMI ART WEEK SHOWCASE
Featuring in-person appearances by contemporary artists Amanda Valdes, Jay Bellicchi "Remote", The Producer BDB and in her Miami debut Lebanese/French artist Rachel K. Tuesday, November 30th from 6pm - 8pm. Enjoy complimentary bites by ADDiKT Modern Kitchen & sips by Bodvár Rosé on the 15th floor of W Miami at Icon Brickell. Location: W Miami, 485 Brickell Avenue, Miami. RSVP to attend.


------------------------------------------------------------------------


WYNWOOD WALLS
2520 NW 2nd Avenue, Miami, FL 33127. Conceived by the renowned community revitalizor and placemaker Tony Goldman in 2009. He was looking for something big to transform the warehouse district of Wynwood, and he arrived at a simple idea: "Wynwood's large stock of warehouse buildings, all with no windows, would be my giant canvases to bring to them the greatest street art ever seen in one place." Starting with the 25th-26th Street complex of six separate buildings, his goal was to create a center where people could gravitate to and explore, and to develop the area's pedestrian potential.



---

ART IN THE MIAMI DESIGN DISTRICT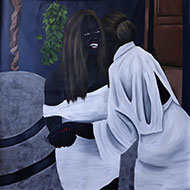 Artwork by Zandile Tshabalala, 2021

CRAIG ROBINS COLLECTION
The Craig Robins Collection, exhibited within the Miami Design District headquarter offices of DACRA, is a private collection of contemporary art and design. Based on the belief that art should be shared, highlights from the collection are constantly rotated and put on view within the workspaces at DACRA, the innovative development company founded by Craig Robins in 1987. The annual re-hanging of Craig Robins' contemporary art collection highlights 45 artworks by celebrated American conceptual artist John Baldessari (1931-2020), including highlights John Baldessari Clement Greenberg 1966-1968 and John Baldessari Kissing series: Simone Palm Trees (Near), 1975, The collection also features recent acquisitions including work by Kenturah Davis, Sayre Gomez, Urs Fisher, and more. Encompassing the disciplines of design, art, and architecture, the multifaceted collection also features pieces by established favorites such as Zaha Hadid, Jean Prouvé, Richard Tuttle, and Marlene Dumas. Dates: December 2nd and 3rd | 9am - Noon, Location: DACRA Headquarters: 3841 NE 2nd Avenue, Miami Design District.

------------------------------------------------------------------------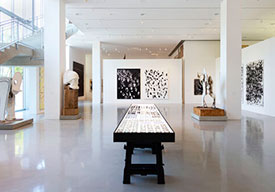 THE DE LA CRUZ COLLECTION
23 NE 41st Street (Design District), Miami, FL 33137, 305-576-6112
Special Miami Art Week Hours: November 30 - December 4, 9am - 4:30pm, Admission Free
* There is Alway One Direction - Current Exhibition

In the late 1980's, Rosa and Carlos de la Cruz started collecting from their home which they opened to the public by appointment only. From 2001 to 2007, Rosa founded and chaired the non-profit Moore Space, a kunsthalle located in the Design District. It was then that Rosa and Carlos started planning and building the present de la Cruz Collection on 41st Street, a 30,000 square foot museum which opened in 2009. The de la Cruz Collection is a private museum and is not government funded. Visit their website for more information.

------------------------------------------------------------------------


GALERIE LELONG
Galerie Lelong & Co., New York, is launching a new temporary exhibition space at Paradise Plaza in the Miami Design District from November 28th to February 28th, 2022. The opening will coincide with Miami Art Week and Art Basel: Miami Beach 2021, where the gallery has participated since its first edition in 2002. Galerie Lelong & Co. looks forward to furthering a deeper conversation with the vibrant and growing community in Miami by presenting pieces of historical and timely content from artists in the program, showing works that encompass a diverse range of media including painting, work on paper, sculpture, and photography. Location: 151 Northeast 41st Street, Suite 121, Miami Design District.


------------------------------------------------------------------------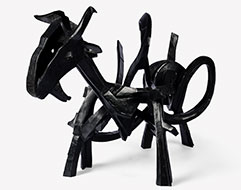 Artwork by William Kentridge, 2021

GOODMAN GALLERY Is pleased to present an exhibition of new and existing bronze sculptures from William Kentridge's ongoing series of bronze glyphs, alongside a drawing from his most recent animated film, City Deep. Kentridge's glyphs are a visual dictionary of sorts made up of a series of sculptures that form a vocabulary of symbols, representing a collection of everyday objects, suggested words, or icons that are ubiquitous in the artist's practice. The glyphs started as ink drawings and paper cut-outs, each on a single page from a dictionary. The drawings were transformed into bronzes, to embody the weight and character their shapes on paper suggested. In their smaller formation, the glyphs can be arranged in order to construct sculptural sentences and rearranged to deny meaning. An example of this can be found in Drawing for City Deep (A Fault to be Discovered Later). City Deep is Kentridge's most recent film from his Drawings for Projection series. The film, grounded within Kentridge's home city of Johannesburg, can be viewed as a counterpoint to the 1990 film, Mine, which depicts images of the deep-level mining industry. City Deep extends this depiction to the informal, surface-level "zama zama" miners who illegally work decommissioned mines on the edges of the formal mining economy. Dates: November 24th - end of January 2022, Location: 151 NE 41st Street, Suite 123, Miami Design District.

------------------------------------------------------------------------


HAITIAN HERITAGE MUSEUM
4141 NE 2nd Avenue, Miami, FL 33137, 305-371-5988

Introspective Noir with Addonis Parker and Pierre Jean Baptiste, opening December 2nd at 6pm.
The show presents contemporary works by Afro Caribbean and African American artists, that circumspect the narratives of identity and reflective themes of self-awareness in our communities. There will be an Artists Talk moderated by Professor Mikki Taylor of Howard University Fine Arts Department. The exhibition will run from December 2, 2021 thru January 30, 2022.


------------------------------------------------------------------------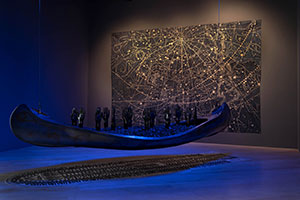 INSTITUTE OF CONTEMPORARY ART, MIAMI (ICA Miami)
4040 NE 2nd Avenue, Miami, FL 33137 (Design District), 305-901-5272
Miami Art Week Hours: Special hours 11am - 6pm.

Featured exhibtion is Betye Saar: Serious Moonlight, October 28 - April 17, 2022.
Admission to the Institute of Contemporary Art, Miami is free of charge. Advance tickets are highly recommended for guaranteed entry. Guests who arrive without tickets may be unable to enter based on building capacity. Entry and Covid Protocols. Located in the Miami Design District and next to the de la Cruz Collection, you'll see amazining art on this block.

------------------------------------------------------------------------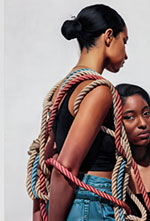 Artwork by Delfin Finley, 2021

JEFFREY DEITCH PRESENTS: 'SHATTERED GLASS'
The Moore Building, 191 NE 40th Street, Miami Design District.
Shattered Glass - November 29th - December 5th, Opening November 28, 5-8pm.
Hours: Tuesday - Saturday, 10am - 8pm, Sunday, 10am - 6pm.

The acclaimed exhibition of new art by emerging artists of color, which was shown at Jeffrey Deitch Los Angeles last spring, will be presented in an expanded version in the Moore Building in the Miami Design District. The Los Angeles version of Shattered Glass, curated by Melahn Frierson and A.J. Girard, was more than an exhibition, it was a phenomenon, attracting 1,000 visitors per day in its final weeks on showcase. Shattered Glass connected with a diverse art audience, giving visitors a rare opportunity to see art that reflected their own life experience. The expanded Miami version of Shattered Glass will include fifteen new artists. The painting, sculpture, and photographic works in the exhibition are all figurative. The subject matter is often the artists' family and friends. Their primary subject is their own life and their community. The participating artists are all strongly socially engaged; many of whom incorporate powerful social messages into their work. The exhibition represents a remarkable new generation that connects with a new art audience. Jeffrey Deitch has been presenting exhibitions and public art projects in the Miami Design District since 2002.

------------------------------------------------------------------------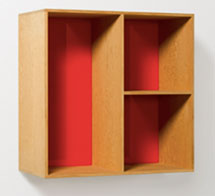 Artwork by Donald Judd

JUAN CARLOS MALDONADO ART COLLECTION
3841 NE 2nd Avenue, Suite 201, Miami Design District
The Poetics of Exactness - November 30th - December 5th, 10am - 6pm.

Exhibition aims to explore the manifestations of a typically modern expressive desire that still remains present in the works of many contemporary artists: how can that order be accomplished - that minimum gesture whose materialization can cause a maximum effect in the psyche of its beholders? Drawing the boundary that separates an everyday object (one manufactured by industry, for example) from that special object that, for the lack of a more accurate descriptor, we still call a 'work of art'. Establishing this trait that separates a work of art from other objects of the world is, therefore, the job of many contemporary artists who, like many of their modern predecessors, produce what we could call a calculated, precise aesthetic - the poetics of exactness.

------------------------------------------------------------------------


LOCUST PROJECTS
3852 North Miami Avenue, Miami FL 33127, 305-576-8570
* Nadia Hironaka, Matthew Suib, Field Companion, November 20 - February 5, 2022

Locust Projects presents three new exhibitions featuring a new immersive video installation by Philadelphia-based artists Nadia Hironaka and Matthew Suib; a group installation guest curated by Adler Guerrier and Laura Novoa; a two-part video series guest curated by Beatriz Santiago Muñoz; and an Art Baselocean screening of Antonia Wright's video And so with ends comes beginnings at UNTITLED ART FAIR. Together, all relate to our co-existence and relationships with nature from reverence, resilience, wonder, and joy to a longing, precariousness, fragility, chaos, and loss.


------------------------------------------------------------------------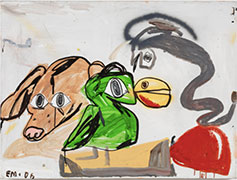 Artwork by Eddie Martinez, 2006

MITCHELL-INNES & NASH
151 NE 41st Street, Suite 125, Miami Design District.
* Eddie Martinez & seven outsider artists, Nov 29 - Dec 4, noon to 8pm, and Dec 5, noon to 6pm.

This is a special winter exhibition space opening on Wednesday, November 24th. The first exhibition will be a group show featuring early works by Eddie Martinez alongside works by self-taught and American art brut artists that Martinez collects or is otherwise inspired by: Hawkins Bolden(1914-2005), Freddie Brice (1920-1998), David Butler (1898-1997), Willie Jinks (1921-2012), Ike Morgan (b. 1958), Mary T Smith (1904-1995) and Billy White (b. 1962). Taken together, the exhibition emphasizes a set of shared formal mannerisms between the artists: flatness rather than a sense of perspective, a graphic outline rather than finely wrought draughtsmanship. The work contains a sense of speed, immediacy and improvisation.

------------------------------------------------------------------------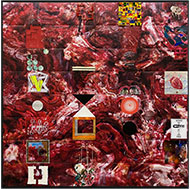 Artwork by Mark Engel

UNCOOL ARTISTS
An independent art exhibition that speaks to our time by interrogating wholeness, remoteness, isolation, and the use of technology to maintain human connection; while reviving the Mail Art network that was extremely important during the 60s and 70s in Latin America. For the exhibition 'DO write [right] to me,' Uncool Artist invited artists from its community to think through their artworks about the idea of remote communication, asking questions, proposing action, reflection, and dialogue. Uncool Artist is based in Brooklyn. Dates: Nov 30th - December 5th | 10am - 4pm, Location: 3930 NE 2nd Ave Suite 202, Miami.

------------------------------------------------------------------------


VITRINALAB FOUNDATION
Ivan Navarro "Fight for Your Land" November 30th to December 5th
Art Installation in the Design District, Location: 15 NE 41st, next to de La Cruz Collection.
Iván Navarro has been working with neon light as his primary medium over the past two decades. Born in Santiago, Chile in 1972, just prior to the advent of the military coup that deposed and murdered popularly elected president Salvador Allende and placed General Augusto Pinochet in power for the next seventeen years, he grew up in an atmosphere of repression and censorship. His move to New York in 1997 determined the direction of his art, but Chile has always remained close to his heart and mind.

VitrinaLab is the first foundation dedicated to promoting and supporting contemporary Chilean art in the United States, creating opportunities and positioning visual artists within the American market.


OTHER ART IN THE MIAMI DESIGN DISTRICT
Be sure to look for other Art Pop-ups throughout the district. There's so much art in the MDD that one can easily spend a day. You'll also find the Institute of Contemporary Art, Miami (ICA Miami), David Castillo Gallery, Opera Gallery, Swampspace, and lots of contemporary public art.


---

MIAMI BEACH ART EVENTS
MUSEUMS & ART ORGANIZATIONS

Many are hosting special events like opening and receptions, lectures, tours and brunches during the week. Visit each of their websites for additional Miami Art Week details.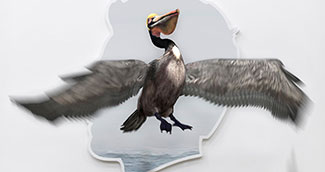 Artwork by Alex Israel

THE BASS
2100 Collins Avenue (between 21st & 22nd), Miami Beach, FL 305-673-7530
Speical Miami Art Week Hours: November. 28 - December 5 from 10am - 5pm
December 1st, extended museum hours and an exclusive member reception, from 10am to 10pm!
* Naama Tsabar - Perimeters, November 28 - April 17, 2022
* Species of Spaces, November 28 - April 17, 2022
* Alex Israel - Alex Israel X Snapchat, November 29 - May 1, 2022

Alex Israel x Snapchat is a unique collaboration between the Los Angeles-based artist and Snap. Invited to work with Snap's advanced augmented reality team to expand upon his multi-disciplinary practice, Israel has created five augmented reality experiences, each linked to one of his Self-Portrait paintings. Five Lenses, unleashed in your smartphone, overlay Snap's groundbreaking AR onto Israel's physical works to give viewers an entirely new experience of painting.

------------------------------------------------------------------------


JEWISH MUSEUM OF FLORIDA - FIU
301 Washington Avenue, Miami Beach, FL 33139, 305-672-5044
* Martin Kreloff: A Retrospective, November 30 - March 2022
* Hello Gorgeous, October 14 - February 20, 2022
* Festival of Lights, November 28 - February 20, 2022

OOLITE ARTS
924 Lincoln Road, Miami Beach, FL 33139, 305-674-8278
* Feels Like 97º, Curated by Michelle Lisa Polissaint, November 20 - January 23, 2022

THE WOLFSONIAN - FIU
Florida International U., 1001 Washington AVE, Miami Beach, FL 33139, 305-531-1001.
Miami Art Week Hours: 10am - 6pm, except Friday closing at 5pm. Free Admission all week.
* Strange Objects, New Solids, and Massive Things, Dec 2, 6pm - 7pm.
* Shameless: A Wolfsonian Art Basel Miami Beach VIP Party, Dec 3rd, 7pm - 10pm.
* Aerial Vision, November 19 - April 24, 2022


------------------------------------------------------------------------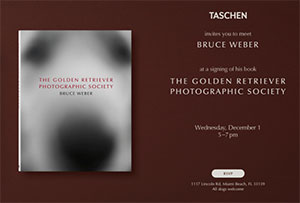 Bruce Weber book signing event

TASCHEN - BRUCE WEBER BOOK SIGNING
December 1st, from 5pm - 7pm at TASCHEN Store Miami, 1111 Lincoln Road, Miami Beach. RSVP Photographer and filmmaker Bruce Weber first rose to international prominence in the early 1980s on the success of images that combined classical styling with more visceral underpinnings of mood and sexuality. His ability to construct a seamless sense of romance and drama created the central public images for fashion houses like Ralph Lauren, Calvin Klein, Versace, and Abercrombie and Fitch, as well as earning him an enduring presence as a contributor to magazines at the very highest levels in the industry. Throughout his career, Weber has worked in various forms–he has directed seven short- and feature- length films, published more than 37 books, and has held more than 60 exhibitions worldwide - extending his lifelong exploration of the nature of human relationships. https://www.taschen.com/


------------------------------------------------------------------------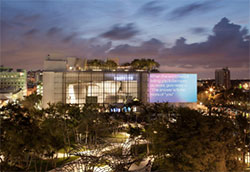 PAULA CROWN'S EMANARE
500 17th St, Miami Beach. Date: Nov 30th and Dec 1st, 7pm - 11pm.

During Miami Art Week, the New World Symphony will present EMANARE, an interactive installation by Chicago-based artist Paula Crown. Known for her multimedia practice incorporating cutting edge technologies and social activism, this presentation, traveling from New York's Rockefeller Center, will be EMANARE's largest iteration yet. This participant-generated artwork will be projected onto the building's famed WALLCAST®, and invites an audience from across the globe to activate the work by entering messages of positive intention and affirmation via QR-code, or through the artist's website by answering the question, "What positive message do you want to emanate into the world today?" Inspired by Buddhist prayer wheels, EMANARE, Latin for emanate, scrolls these positive messages in a ruminative, meditative fashion across WALLCAST®, pulsating with calming colors, and a soundscape developed for the artwork in collaboration with New World Symphony Fellows: Douglas Aliano, Amelia del Cano, Ben Fryxell, Zoë Merrill, Zachary Ragent, and Marcelina Suchocka. These messages layer, conjoin and merge into one another, transforming the work into a collection of each participant's unique contribution, inspiring us to be present, consider others, and continue to spread positivity. Free and an Outside Event.

Thoughout the week, other projects will be presented on the wall.
In the past, this area was called SoundScape Park (not sure about now).


---

OTHER AREA ART EVENTS
ART MUSEUMS AND ART ORGANIZATIONS


FAIRCHILD TROPICAL BOTANIC GARDEN
10901 Old Cutler Road, Coral Gables, FL 33156, 305-667-1651.

LOWE ART MUSEUM
1301 Stanford Drive, Coral Gables, FL 33124, 305-284-3535
* An American Master at Home and Abroad: Gari Melchers (1860-1932), Nov 18 - February 13, 2022
* American Impressionism: Treasures from the Daywood Collection, Nov 18 - February 13, 2022

MUSEUM OF CONTEMPORARY ART NORTH MIAMI (MOCA)
770 NE 125th Street, North Miami, FL 33161, 305-893-6211
* My Name is Maryan, Curated by Alison Gingeras, November 17 - March 20, 2022
Reception: December 2nd

VIZCAYA MUSEUM & GARDENS
33251 South Miami Avenue, Miami, FL 33129, 305-250-9133
Hours: Wednesday - Monday, 9:30am - 4:30 (last admission is 4:30), Tickets Online.
A great place to get outside, relax and enjoy the Florida weather. A breathtaking Gilded Age estate on Biscayne Bay surrounded by ten acres of formal gardens, a mangrove shoreline and rockland hammock. Be inspired by Vizcaya's natural beauty, connect with Miami's past and discover this unique cultural gem. A National Historic Landmark, Vizcaya offers an experience to delight your senses



No new information add to this guide after November 30th.
Also, we do our best to provide you with current and accurate event information.
Please visit Art-Collecting.com often and tell your art friends about us and this guide.


MIAMI & MIAMI BEACH ART FAIR GUIDE

MIAMI GALLERY GUIDE

NATIONAL and INTERNATIONAL ART FAIR GUIDE

ART MUSEUMS AND ART CENTERS GUIDE

ART GALLERY GUIDES FOR UNITED STATES
Gallery guides for every state and thirty seven major art cities.
Easy to use and the most comprehensive gallery guides on the Internet.


---

Art-Collecting.com is an online resource for all art enthusiasts. Art collectors, art travelers and artists will find our comprehensive online Gallery Guides and Museum Guides to be very useful. We feature guides for thirty-seven major art destinations as well as every state. Be sure to look at our Art Fairs Guide and our guides to Miami Art Week and New York Art Fairs and Los Angeles Art Fairs which are up online year around.

If you're looking for Art Appraisers, Art Advisors & Consultants, Art Auctions or other Art Services we're a good source. Our Artist Guides is where you find links directly to artist websites. Our Painters and Photographers guides are very popular. You'll discover new artists that you can buy directly from or be referred to galleries representing their art.

Let us know how we can support your art community. Send us information about what's going on in your cummunity "you most likely know it better than we do" and we'll share it with our viewers. Are there important upcoming art events, new galleries or art organizations that should be included? Help us make the best and most useful art guide for your community. If you like what we doing mention our guides to your art friends. We have various advertising and listing options available. Be sure to support local art galleries, Non-Profit art organizations and art museums whenever possible.

Thanks visiting Art-Collecting.com.
Come back often and be sure to explore around.
https://art-collecting.com


---

Home | Art Gallery Guides | Museums & Art Centers | Art Appraisals | Art Fairs

Collecting Information | Types of Collecting | Art News | Advertising | How to be Listed

---

Terms of Use | Privacy Policy | Contact

Copyright 2022 by Art-Collecting.com All Rights Reserved