MIAMI ART WEEK
SPECIAL EVENTS AND EXHIBITIONS 2022
Guide to Miami Art Week special events hosted by art museums, art organizations, and galleries. This year Miami Art Week is scheduled for November 28 - December 4, 2022. It's a very busy week so you'll want to plan and schedule your time carefully to maximize your art experience. It's a great week for viewing and learning about contemporary art and for visual stimulation, and hopefully warm weather.

ART-COLLECTING.COM has been attending Miami Art Week for several years and we realize how easy it is to miss something. The week is filled with exciting exhibitions, special events, opening and previews, brunches, art discussions and much more. We love to share our enthusiasm so we've created two guides to assist you in planning your visit. This is our MIAMI ART WEEK GUIDE expore around, it provides the "Who, What, When and Where Information" related to other events outside of the art fairs.

For information about the art fairs go to our MIAMI AND MIAMI BEACH ART FAIR GUIDE. It provides practical information like locations, hours, admission prices, and a brief description of each art fair. Miami Art Week has become the largest and most important art event in the world. Top galleries from Europe, Latin America and the United States showcase amazing artists and museum quality artworks. Even if you're not attending Miami Art Week our guides are worth looking, you just might get excited enough to plan for next year. Also, please tell your art friends and anyone headed to Miami about our guides, they'll appreciate it.


MIAMI ART EVENTS
MUSEUMS, PRIVATE COLLECTIONS & ART ORGANIZATIONS
Fun and interesting events that you should know about, organized by location.

MIAMI BEACH ART EVENTS
MUSEUMS & ART ORGANIZATIONS
Don't forget to visit the beach.

MIAMI & MIAMI BEACH ART FAIR GUIDE
Complete listing with important art fairs details.

MIAMI GALLERY GUIDE
Comprehensive listing of Miami area art galleries from Art-Collecting.com.


OTHER IMPORTANT CONSIDERATIONS
Because of Covid be respectful of others and social distance (you might consider wearing a mask), purchase tickets online (when available), wear good comfortable shoes and carry a snack and water. Don't forget your cell phone charger (portable battery chargers are recommended). Know where you're headed and have the address easily available (don't expect your driver to know where you're going). If you're driving know where to park. BOOKMARK this guide and add to your cell phone so you can easily find it.


---

MIAMI ART EVENTS
MUSEUMS, PRIVATE COLLECTIONS & ART ORGANIZATIONS

During Miami Art Week, most art organizations make a special effort to welcome guests and present art. Many are hosting special events like opening and artist receptions, lectures, tours and brunches during the week. Below you'll find a few, visit each of their websites for additional Miami Art Week details.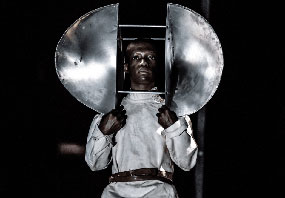 ADRIENNE ARSHT CENTER FOR THE PERFORMING ARTS
1300 Biscayne Boulevard, Miami

William Kentridge Performance, December 1 - 3, 8pm - 10pm.
African artist William Kentridge's The Head & the Load shines a light on the nearly 2 million African porters and carriers who served German, French and British forces during World War I in Africa. Boasting an international cast of singers, dancers, actors and musicians. Guests will be whisked backstage and onto the largest custom-built stage in Arsht Center history to be embedded in a moving, visually striking live performance where all the elements of Kentridge's singularly original practice coalesce. The show has been described as "electrifying" (The Independent) and a "fiercely beautiful historical pageant" (New York Times). Four performances, get your TICKETS early.


------------------------------------------------------------------------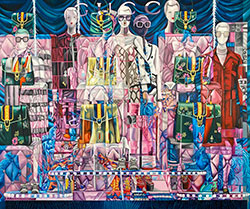 Artwork by Michele Utley Voigt

ASTON MARTIN RESIDENCES
300 Biscayne Boulevard Way Miami

Michele Utley Voigt is featured at the Aston Martin Residences Art Gallery located on the 52nd floor on their amazing building. The building has great views and is located in downtown Miami. Voight's exhibit is called "Domestic Situation" and explores the systematic domestication of women, transcendentalism, and modernization of pragmatic feminism. These works gambol between the modern world through digital technology and the traditional world via oil paint on canvas. Organized and represented by Contemporary Art Projects of Miami. For additional information and a virtual tour visit Voight's website.


------------------------------------------------------------------------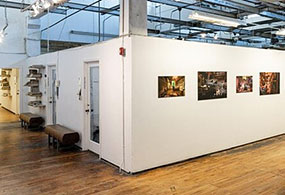 BAKEHOUSE ART COMPLEX
561 NW 32nd Street, Miami, FL 33127, 305-576-2828

Baker's Brunch: Open Studios, December 1, 9am - 11am.
Their signature event for Miami Art Week, usually takes place on Thursday morning. It's an artist inspired brunch, where each artists contributes something tasty the brunch, you might even find that a Mimosa or Bloody Mary. Most of the studios will be open and they also feature two exhibition spaces. This is one of the easiest Miami Art Week events to attend, because it's free and has easy parking. It's a great opportunity to meet and purchase art directly from talented artists.


------------------------------------------------------------------------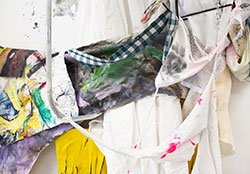 Artwork by Clara Varas

DIMENSIONS VARIABLE
101 NW 79th Street, Miami, FL 33150, 305-606-0058
Hours: Thursday and Friday, 1pm - 5pm and by appointment.

Dimensions Variable (DV) is a nonprofit led by artists committed to the education, presentation, and support of contemporary art in Miami. Through a supportive community, DV provides studios, curates exhibitions, produces external projects, manages art acquisitions, publishes content, hosts discussions, develops education, organizes events that engage the community, and supports challenging and experimental art practices. They are located in the Little River district of Miami, several very fine galleries are also in the area.


------------------------------------------------------------------------


EDGE ZONES
3317 NW 7th Ave. Cir. Miami, FL 33127, 305-303-8852

Edge Zones has a 23-year history of supporting artistic practices in the public domain. EZ produces events located specifically and contextually in Miami and the Caribbean. Edge Zones is an artist and volunteer - run contemporary arts non-profit dedicated to the research, conceptualization and execution of events that strengthen the contemporary art environment in Miami. EZ seeks to make contemporary art accessible, to engage audiences and to create a focal point for international research and awareness. The art center is uniquely positioned in the Allapattah Arts District. The exhibition space is divided into 3 individual galleries. Our smaller gallery serves as labs especially useful for younger artists and students who want to create smaller, experimental projects. Visit there website for additional information.


------------------------------------------------------------------------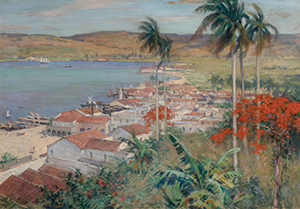 Artwork by Willard L. Metcalf, Havana Harbor, 1902

FROST ART MUSEUM
Florida International University, 10975 SW 17th ST, Miami, FL 33199, 305-348-2890
Hours: Tuesday - Sunday, 11am - 5pm, closed Mondays.

* Annual Breakfast in the Park, Sunday, December 4, 11am - 2pm (additional info)


------------------------------------------------------------------------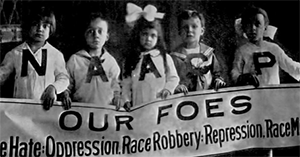 HistoryMiami Museum
101 West Flagler Street Miami, FL 33130

* Black Citizenship in the Age of Jim Crow, October 14 - April 9, 2023
* Traversing The Wilderness: Transportation Across the Everglades, Nov 4 - April 29, 2023

HistoryMiami Museum, a Smithsonian Affiliate located in downtown Miami, safeguards and shares Miami stories to foster learning, inspire a sense of place, and cultivate an engaged community. Through exhibitions, artistic endeavors, city tours, education, research, collections and publications, HistoryMiami Museum works to help everyone understand the importance of the past in shaping Miami's future. HistoryMiami Museum connects people by telling the stories of Miami's communities, individuals, places and events. Miami Street Photography Festival will be on display during Miami Art Week. Visit their website for more information.


------------------------------------------------------------------------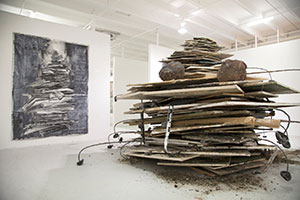 Artwork by Anselm Kiefer

MARGULIES COLLECTION AT THE WAREHOUSE
591 NW 27th Street, Miami, FL 33127, 305-576-1051

* The Italians, October 19 - April 29, 2023
* The Bitter Years Photography Dorothea Lange, Walker Evans & Others, Oct 19 - April 29, 2023
* New European and American Painters and Sculptors, October 19 - April 29, 2023
* New Media, October 19 - April 29, 2023

Extended hours during Miami Art Week, 9am to 5pm daily. Housed in a 50,000 square foot warehouse in the Wynwood Arts District. The Warehouse presents seasonal exhibitions from the collection of renowned collector Martin Z. Margulies as well as educational programs, special exhibitions and an international loan program. Ongoing exhibits include: Anselm Kiefer. Richard Serra, Willem de Kooning, George Segal, Isamu Hoguchi, Michael Heizer and Nancy Rubins, plus many others. An amazing collection, don't miss it. Visit their website for more information.


------------------------------------------------------------------------


MUSEUM OF ART + DESIGN AT MIAMI DADE COLLEGE
Exhibitions held at Freedom Tower, 600 Biscayne Blvd., 305-237-7700

MUSEUM OF GRAFFITI
299 NW 25th Street, Miami, FL 33127, 789-580-4678

NATIONAL YOUNGARTS FOUNDATION
2100 Biscayne Boulevard, Miami, FL 33137, 305-377-1140
Miami Art Week Hours: November 28 - December 3, 10am - 6pm.
* Mark Fleuridor, Sunshine, September 30 - December 10, 2022


------------------------------------------------------------------------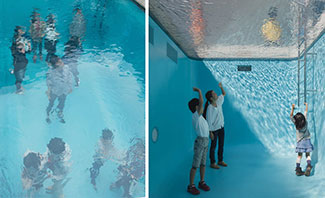 Artwork by Leandro Erlich

PÉREZ ART MUSEUM MIAMI (PAMM)
2100 Biscayne Blvd., Miami, FL 33137, 800-970-2787
* George Segal: Abraham's Farewell to Ishmael, through April 16, 2023
* Carlos Cruz-Diez: Chromosaturation, ongoing


------------------------------------------------------------------------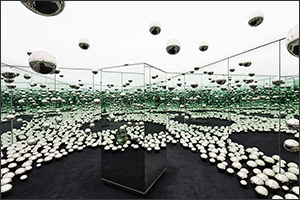 Artwork by Yayoi Kusama

RUBELL MUSEUM
1100 NW 23 Street, Miami, FL 33127, 305-573-6090

Three new exhibitions will be opening on November 28 and 29, from 10am - 3:30pm. A solo show by artist Alexandre Diop, a presentation of new acquisitions, and highlights from the collection.

Rubell Museum opened their new space in Miami's Allapattah neighborhood in December 2019. The 100,000-Square-Foot campus provides for long-term Installations and special exhibitions drawn exclusively from unparalleled collection of 7,200 works by 1,000 artists built over 54 years. The Rubells created their collection by looking at art, talking with artists, and trusting their instincts. They started collecting 56 years ago when Don was in medical school and Mera was teaching at Head Start, and continue to follow the same practice today, now with their son Jason. They acquired their first work after a studio visit and were only able to do so by paying on a modest weekly installment plan. With Infinity Rooms reopened, the museum now features three major Kusama installations.


------------------------------------------------------------------------


WYNWOOD WALLS
2520 NW 2nd Avenue, Miami, FL 33127.

Conceived by the renowned community revitalizor and placemaker Tony Goldman in 2009. He was looking for something big to transform the warehouse district of Wynwood, and he arrived at a simple idea: "Wynwood's large stock of warehouse buildings, all with no windows, would be my giant canvases to bring to them the greatest street art ever seen in one place." Starting with the 25th-26th Street complex of six separate buildings, his goal was to create a center where people could gravitate to and explore, and to develop the area's pedestrian potential.


---

MIAMI DESIGN DISTRICT
MUSEUMS, PRIVATE COLLECTIONS & ART ORGANIZATIONS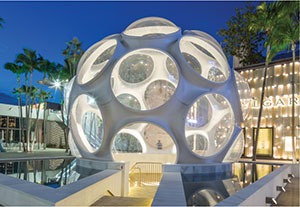 During Miami Art Week, make an effort to visit the MIAMI DESIGN DISTRICT for amazing public art and architecture. For more than twenty years, Craig Robins has been nurturing the development of this unique neighborhood. Today, the principal owner of the neighborhood is Miami Design District Associates, a partnership between Robins' company Dacra and L Catterton Real Estate, a global real estate development and investment fund, specializing in creating luxury shopping destinations.

Buckminster Fuller's Fly's Eye dome is the centerpiece of Palm Court which also houses one of the largest concentrations of watch and fine-jewelry retailers in the world including IWC Schaffhausen, Van Cleef & Arpels and Vacheron Constantin. Paradise Plaza features the restaurants ZZ's Sushi Bar & Club by Major Food Group and L'Atelier and Le Jardiner by Joel Robuchon. Over 200 stores and showrooms, 30 restaurants and bars call the Design District home, including: the following luxury brands: Alexander McQueen, Balenciaga, Bulgari, Cartier, Celine, Christian Louboutin, Chrome Hearts, Dolce & Gabbana Fendi, Givenchy, Gucci, Hermès, Dior, Louis Vuitton, Off-White, Prada, Rolex, Saint Laurent, Tiffany & Co., Tom Ford, Valentino and Versace.


------------------------------------------------------------------------


GAGOSIAN & JEFFERY DEITCH | 100 YEARS
Buick Building 3841 NE 2nd Avenue, Miami, FL 33137

100 Years, is the seventh group exhibition - including an online incarnation in 2020 - organized by Gagosian in collaboration with Jeffrey Deitch in Miami's Design District during Miami Art Week. 100 Years, on view at the historic Buick Building, the exhibition explores the interplay of past, present, and future through works by contemporary artists who are in dialogue with the sweeping cultural and environmental changes of the past century, as well as those who anticipate future possibilities. The contributors to 100 Years, who include Refik Anadol, Theaster Gates, Douglas Gordon, Urs Fischer, Tom Friedman, Austin Lee, Jamian Juliano Villani, Rick Lowe, Keiichi Tanaami, and Taryn Simon, among others, recognize the critical nature of the titular period, sloughing off a sense of weariness with time itself to consider past and future with new optimism.


------------------------------------------------------------------------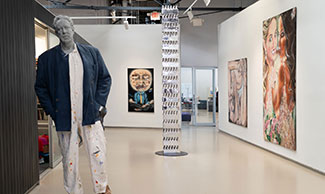 Sculpture on left by Urs Fischer, Standing Julian

CRAIG ROBINS COLLECTION
DACRA Headquarters: 3841 NE 2nd Avenue, Miami Design District.

The Craig Robins Collection, is exhibited within the Miami Design District headquarter offices of DACRA, and is a private collection of contemporary art and innovative design. This year, "Two of The Same Kind" highlights the work of Marlene Dumas and Jana Euler, two artists whose painting and drawing practices are broadly represented in the Collection holdings. More than a hundred works on view present an expansive overview of figurative art from the last three decades. The multifaceted Collection also features design pieces by the recently acquired Sasha Gordon and by established favorites such as Zaha Hadid, Jean Prouvé, Marc Newson and Maarten Baas. Open to Art Basel and Design Miami VIP Cardholders only, November 30th onward, hours 10am - Noon.


------------------------------------------------------------------------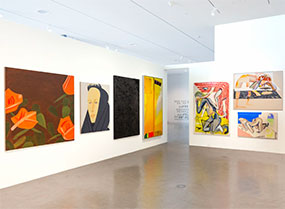 THE DE LA CRUZ COLLECTION
23 NE 41st Street (Design District), Miami, FL 33137, 305-576-6112
Special Miami Art Week Hours: November 30 - December 4, 9am - 4:30pm, Admission Free

* Together, At The Same Time - Current Exhibition

In the late 1980's, Rosa and Carlos de la Cruz started collecting from their home which they opened to the public by appointment only. From 2001 to 2007, Rosa founded and chaired the non-profit Moore Space, a kunsthalle located in the Design District. It was then that Rosa and Carlos started planning and building the present de la Cruz Collection on 41st Street, a 30,000 square foot museum which opened in 2009. Three floors of artworks and admission is free. The de la Cruz Collection is a private museum and is not government funded. Definitely worth a visit when in the Miami Design District. Visit their website for more information.


------------------------------------------------------------------------


HAITIAN HERITAGE MUSEUM
4141 NE 2nd Avenue, Miami, FL 33137, 305-371-5988

Founded in 2004 to commemorate Haiti's Bicentennial, the Haitian Heritage Museum (HHM) is a 501c3 organization that is committed to highlighting and preserving Haiti's rich culture and heritage globally. Our goal is to provide a cultural Mecca for Little Haiti where individuals outside of our community and within our community boundaries can come to enjoy beautiful Haitian art, historic artifacts, ethnic sounds of Haitian music, view Haitian films and enjoy a collection of Haitian literary works.


------------------------------------------------------------------------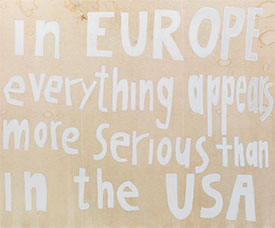 INSTITUTE OF CONTEMPORARY ART, MIAMI (ICA Miami)
4040 NE 2nd Avenue, Miami, FL 33137 (Design District), 305-901-5272
This is a free museum, but you need to reserve a visit time online.
Miami Art Week Hours: Special hours 11am - 6pm.

* Michel Majerus: Progressive Aesthetics, November 28 - March 12, 2023
* Nina Chanel Abney: Big Butch Energy, November 28 - March 12, 2023
* Hervé Télémaque: 1959–1964, November 28 - April 30, 2023
* Jiang Cheng, November 28 - May 7, 2023

ICA Miami presents "Progressive Aesthetics," the first US museum survey for Michel Majerus, which explores the late artist's prescient work by taking up his rich and varied interpretations of capitalism and cultural imperialism as they relate to art in American culture. Created at the threshold of the twenty-first century, Majerus's works expound on themes of transformation and are characterized by a fascination with speed, openness, and transmission. The artist's works explore his passion for technology, youth culture, and art history—all united by his obsession with the power of art and institutions. November 28 - March 12, 2023


------------------------------------------------------------------------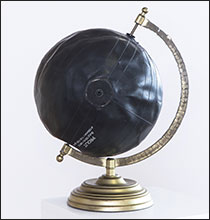 Artwork by Ronny Quevedo

LOCUST PROJECTS
3852 North Miami Avenue, Miami FL 33127, 305-576-8570

Founded by artists for artists in 1998, Locust Projects is Miami's longest running nonprofit alternative art space. They produce, present, and nurture ambitious and experimental new art and the exchange of ideas through commissioned exhibitions and projects, artist residencies, summer art intensives for teens, and public programs on contemporary art and curatorial practice. As a leading incubator of new art and ideas, Locust Projects emphasizes boundary-pushing creative endeavors, risk-taking and experimentation by local, national and international artists.



OTHER MIAMI DESIGN DISTRICT ART
Be sure to look for Art Pop-ups throughout the district. There's so much art in the MDD that one can easily spend a day exploring around. You'll also find galleries, including: David Castillo Gallery, Mora Studio + Gallery, Opera Gallery, Swampspace, The Office, and lots of amazing contemporary public art.



---

MIAMI BEACH ART EVENTS
MUSEUMS, PRIVATE COLLECTIONS & ART ORGANIZATIONS

Miami Beach is know for it's fabulous hotels and the incredible beach. Many of the hotels are worth exploring and feature artwork and special exhibitions. Below are just a few of the highlights you'll want to check out. Take a relaxing evening stroll down Collins Avenue, you'll find art, food and much more.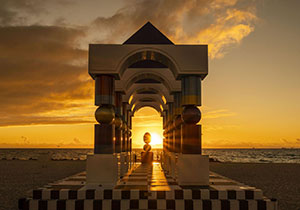 Hall of Visions and Hatch, 2021 on Faena Beach

FAENA HOTEL MIAMI BEACH
3201 Collins Avenue, Faena District, Miami Beach FL, 33140, 305-534-8800

The Faena Hotel and Faena Art, a 501(c)3 nonprofit organization commissions, produces, and houses cross-disciplinary artistic experiences. A catalyst for innovative, site-specific, and immersive practices, Faena Art bridges the popular and the experimental making art accessible to all. Faena Art fosters new models for social interaction transcending the traditional boundaries of art, science, philosophy, and social practice. Throughout Miami Art Week you'll find amazing artwork on their beach and around the hotel.

Faena Art now has a dedicated space in Miami Beach, the Project Room serves as a platform for experimentation and development of innovative ideas. The Project Room encourages artists to explore new facets of their practice and hosts an artist residency, a series of artists talks, and fosters new models for social interaction that transcend the traditional boundaries of art, science, philosophy, and social practice. Location: Faena Art Project Room 3420 Collins Avenue, Miami Beach, 33140. Hours: Tuesday - Saturday 11am - 6pm

For a full list of exhibitions and featured artwork, visit their website.

------------------------------------------------------------------------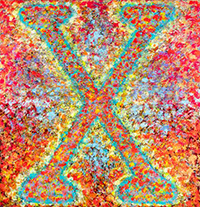 Artwork by Vaughn Spann

THE BASS
2100 Collins Avenue (between 21st & 22nd), Miami Beach, FL 305-673-7530
Speical Miami Art Week Hours: November. 28 - December 5 from 10am - 5pm

It is Miami Beach's contemporary art museum. Focusing on exhibitions of international contemporary art, The Bass presents mid-career and established artists reflecting the spirit and international character of Miami Beach. The Bass seeks to expand the interpretation of contemporary art by incorporating disciplines of contemporary culture, such as design, fashion and architecture, into the exhibition program. The exhibition program encompasses a wide range of media and artistic points of view that bring new thought to the diverse cultural context of Miami Beach.

For a full list of exhibitions and featured artwork, visit their website.

------------------------------------------------------------------------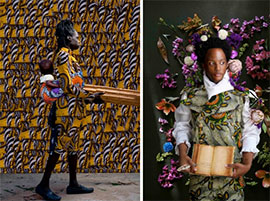 Photographs by Tamary Kudita

THE BETSY SOUTH BEACH
1440 Ocean Drive, Miami Beach, Florida 33139, 844-539-2840

The Betsy-South Beach, one of the preeminent global art hotels, will once again be presenting art for Miami Art Week. Exhibitions are curated by Betsy co-owner Lesley Goldwasser. Works will include photography by Tamary Kudita (Zimbabwe), Nadia Huggins (Trinidad/Tobago), and Eric Kroll (USA), and a mixed media collection by Ray Tenorio (Cuba). Also exhibited is new work by conceptual multi-media artist Sri Prabha (India) and a dance work by Peter London (Trinidad/Tobago). The Betsy will also celebrate Alessandro Sarno and Carlos Andres Cruz's new artist books. They are located a short walk from Untitled Art and Scope Miami Beach. When wondering around South Beach you can explore their exhibits after hours, they are open 24/7, plus they feature music and have an outdoor sculpture garden.

For a full list of exhibitions and featured artwork, visit their website.

------------------------------------------------------------------------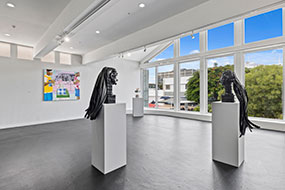 Installation photograph by Diana Espin

OOLITE ARTS
924 Lincoln Road, Miami Beach, FL 33139, 305-674-8278

Oolite Arts is one of Miami's largest support organizations for visual artists. Three decades ago our founder and potter Ellie Schneiderman, sought affordable work spaces for our city's visual artists. Today, Oolite Arts continues Schneiderman's mission, to, as she said, "help artists help themselves." They are both a community and a resource, providing artists with the free studio space, exhibition opportunities, direct support and programming they need to advance their careers.


------------------------------------------------------------------------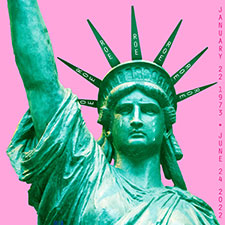 Artwork by Bonnie Lautenberg

JEWISH MUSEUM OF FLORIDA - FIU
301 Washington Avenue, Miami Beach, FL 33139, 305-672-5044

* Lady Liberty: A Bonnie Lautenberg Retrospective, November 6 - April 2, 2023

The Jewish Museum of Florida-FIU is unique as the only place that collects, documents, preserves and interprets Florida Jewish history. The museum is housed in two interconnected historic buildings that once served as Congregation Beth Jacob. The galleries not only contain exhibits, but evoke the beauty and aura of the Art Deco era in which the museum was built.


------------------------------------------------------------------------


THE WOLFSONIAN - FIU
Florida International U., 1001 Washington AVE, Miami Beach, FL 33139, 305-531-1001.

Miami Art Week Hours: 10am - 6pm, except Friday closing at 5pm. Free Admission all week.
* Turn the Beat Around, October 28 - April 30, 2023

Rooted in the greatest century of growth and change humanity has ever known 1850 to 1950; The Wolfsonian traces the odyssey from agrarian to urban, colonial empires to Cold War superpowers, the first spike of the Transcontinental Railroad to the advent of television. With more than 200,000 objects, the collection contains a vast universe of ideas: household appliances that sped the pace of work; designs that bridged cultures; architectural plans fueled by ambition; and propaganda that helped turn the tides of war. Located near the art fairs of Untitled Art and Scope in South Beach.


------------------------------------------------------------------------


TASCHEN BOOK SIGNING
1111 Lincoln Road, Miami Beach, FL 33139, 305-538 6185.

In the past this amazing art book store has featured book signings at their Miami Beach store. This year they'll be focusing on Art Basel in the Convention Center and featuring artist Jorge Pardo a Cuban-American artist. If you're a book or a design collector you'll want to be aware of this opportunity to get a signed first edition Jorge Pardo book, featuring his incredible lamps. https://www.taschen.com/


------------------------------------------------------------------------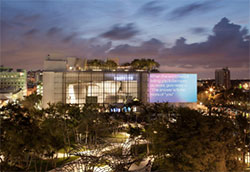 NIGHTLY ART FILMS
New World Symphony, 500 17th Street, Miami Beach

During Miami Art Week, free art films and videos are shown on their large outside wall and presented in conjunction with Art Basel Miami Beach, You'll usually find them Wednesday thru Saturday from 7pm to 11pm. This is a relaxed and casual experience located close to Art Basel and worth a short evening walk.



---

OTHER MIAMI AREA ART EVENTS
MUSEUMS, PRIVATE COLLECTIONS & ART ORGANIZATIONS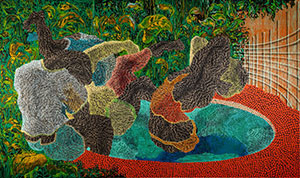 Artwork by Didier William

MUSEUM OF CONTEMPORARY ART NORTH MIAMI (MOCA)
770 NE 125th Street, North Miami, FL 33161, 305-893-6211

* Didier William: Nou Kite Tout Sa Dàyà, November 2 - April 16, 2023
The first major solo museum exhibition for the artist. It connects the artist's personal experiences of growing up in North Miami, the precarity of Black life in America, the urgent longing for Black joy, and affirmation of Black queer humanity. Guest curated by Dr. Erica Moiah James.

* Leah Gordon: Kanaval, November 2 - April 16, 2023
The exhibition by photographer and filmmaker Leah Gordon will feature a series of black and white photographs taken over a period of over twenty years in Jacmel, Haiti, coupled with a film that follows an oral history project of the various community troupes.

Reception: Thursday, December 1, 8pm - 10pm, RSVP required info@mocanomi.org

------------------------------------------------------------------------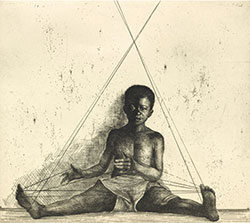 Artwork by Charles White

LOWE ART MUSEUM
1301 Stanford Drive, Coral Gables, FL 33124, 305-284-3535

* A Fine Line: Highlights from the Berkowitz Contemporary Foundation, Nov 17 - Feb 26, 2023
* 200 years of British Watercolors from BNY Mellon Collection, Nov 4 - February 5, 2023

* Charles White: A Little Higher, November 10 - February 26, 2023
Solo exhibition featuring nearly fifty works by Chicago-born artist Charles White (1918-79), all drawn from the Primas Family Collection. Best remembered for meticulously rendered drawings and paintings of his fellow African Americans, White's "images of dignity" invite us to contemplate his subjects' humanity, self-worth, and agency while also acknowledging the nefarious effects of systemic racism.


FAIRCHILD TROPICAL BOTANIC GARDEN
10901 Old Cutler Road, Coral Gables, FL 33156, 305-667-1651.


VIZCAYA MUSEUM & GARDENS
33251 South Miami Avenue, Miami, FL 33129, 305-250-9133
Hours: Wednesday - Monday, 9:30am - 4:30 (last admission is 4:30), Tickets Online.
A great place to get outside, relax and enjoy the Florida weather. A breathtaking Gilded Age estate on Biscayne Bay surrounded by ten acres of formal gardens, a mangrove shoreline and rockland hammock. Be inspired by Vizcaya's natural beauty, connect with Miami's past and discover this unique cultural gem. A National Historic Landmark, Vizcaya offers an experience to delight your senses


------------------------------------------------------------------------


We will continue to add information to this guide until November 26th.
Also, we do our best to provide you with current and accurate event information.
Please visit Art-Collecting.com often and tell your art friends about us and this guide.


MIAMI & MIAMI BEACH ART FAIR GUIDE

MIAMI GALLERY GUIDE

NATIONAL and INTERNATIONAL ART FAIR GUIDE

ART MUSEUMS AND ART CENTERS GUIDE

ART GALLERY GUIDES FOR UNITED STATES
Gallery guides for every state and thirty seven major art cities.
Easy to use and the most comprehensive gallery guides on the Internet.


---

Art-Collecting.com is an online resource for all art enthusiasts. Art collectors, art travelers and artists will find our online Gallery Guides and Museum Guides to be useful. We feature guides for thirty-seven major art destinations as well as every state. Be sure to look at our Art Fairs Guide and our guides to Miami Art Week and New York Art Fairs and Los Angeles Art Fairs which are up online year around.

If you're looking for Art Appraisers, Art Advisors & Consultants, Art Auctions or other Art Services we're a good source. If you like what we doing mention our guides to your art friends. We have various advertising and listing options available. Be sure to support local art galleries, Non-Profit art organizations and art museums whenever possible.

Thanks visiting Art-Collecting.com.
Come back often and be sure to explore around.
https://art-collecting.com


---

Home | Art Gallery Guides | Museums & Art Centers | Art Appraisals | Art Fairs

Collecting Information | Types of Collecting | Art News | Advertising | How to be Listed

---

Terms of Use | Privacy Policy | Contact

Copyright 2022 by Art-Collecting.com All Rights Reserved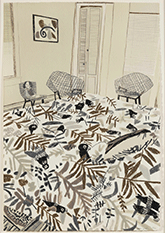 Jonas Wood
On Exhibition
Nov 18 - December 30, 2023
Leslie Sacks Gallery
Santa Monica, CA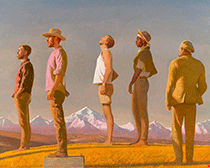 Bo Bartlett
Exhibition
Oct 26 - December 9, 2023
Miles McEnery Gallery
New York / Chelsea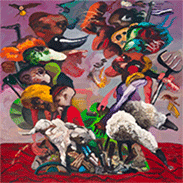 Dana Schutz
Jupiter's Lottery
Nov 2 - December 16, 2023
David Zwirner
New York / Chelsea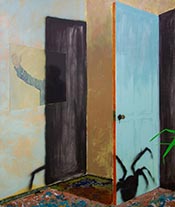 Mohammed Sami
Muzzle of Time
September 8 - Oct 28, 2023
Luhring Augustine
New York / Chelsea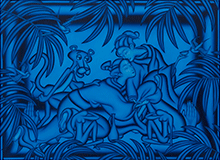 Mathew Tom
Secrets of the Garden
Dec 2 - January 13, 2024
The Hole
New York / Tribeca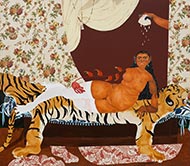 Bony Ramirez
Tropical Apex
Sept 9 - October 21, 2023
Jeffrey Deitch
New York / Lower Manhattan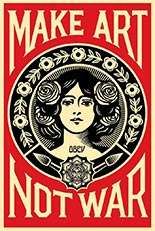 Shepard Fairey
Available from
Corridor Contemporary
Philadelphia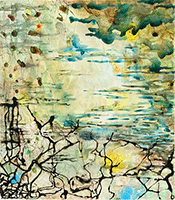 Cris Bruch
On Exhibition
Nov 2 - December 23, 2023
Greg Kucera Gallery
Seattle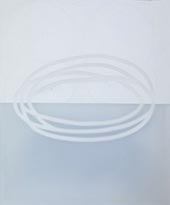 Udo Noger
Exhibition
Nov 15 - January 15, 2024
Diana Lowenstein Gallery
Miami / Magic City District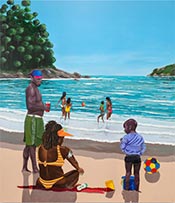 No Martins
Encontros Políticos
Sept 15 - October 28, 2023
Mariane Ibrahim
Chicago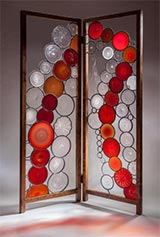 Dick Weiss
Leaded Glass Screen
Available from
Traver Gallery
Seattle








Art Basel Miami
December 8 - 10, 2023
Miami Beach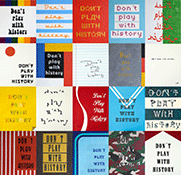 Text / Image
Nov 16 - January 6, 2024
Curated by Ross Karlan
Including: Hander Lara
Pan American Art Projects
Miami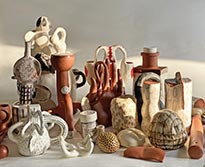 Elsa Mora
Available from
Thomas Nickles Project
New York / Lower Eastside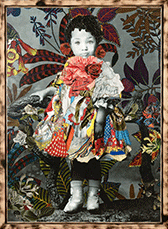 Stan Squirewell
We Speak In Rivers
Nov 10 - January 13, 2023
Claire Oliver Gallery
New York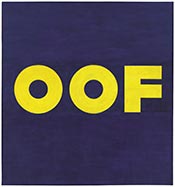 Ed Ruscha / Now Then
Sept 10 - January 13, 2024
MoMA
New York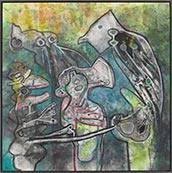 Roberto Matta
Available from
Pace Gallery
Palm Beach, FL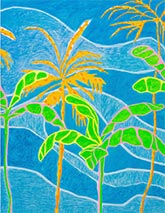 Tyson Reeder
Available from
Acquavella
Palm Beach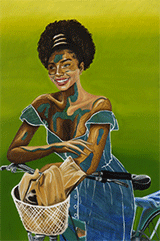 Rugiyatou Jallow
Available from
Albertz Benda
New York / Chelsea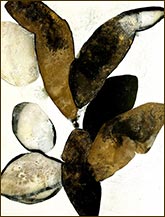 Meredith Pardue
Flow States
Oct 7 - November 11, 2023
Also: Lucrecia Waggoner
Laura Rathe Fine Art
Dallas